I wasn't going to fish this Saturday but when I saw Acorn advertise they were running an open, I couldn't resist it so phoned and booked in. We met at Nick's for breakfast, which was very nice and as he wouldn't accept any payment, another £15 went in the Nugget-O-Meter. After arriving at the fishery we popped into the shop and paid our pools and bought some bait along with the inevitable bits and bobs.
Des announced the draw and got Jenny to pull out a number for him and he was happy with peg 7, a good area. Nick got 34 by one of the bridges where I was in the last match, Steve P was on 19, the same peg he had on his first visit and I was on 16. We had loads of room, two empty pegs between me and Mr Parker and the next peg on my right was 13. It was flat calm and there were quite a few fish moving which hopefully meant we'd be in for a good day.
I set up a Drennan 0.4 gram Carp 1 for top two plus two and also 11.5 metres angled to the right  plus a 0.3 gram Guru F1 Slim for 13 metres across where it was around four foot, both rigs had size 18 SFL-B hooks to 0.11mm. On the side tray I had lots of red and white maggots, disco pinkies plus some Bait-Tech Special G F1 and Dark groundbait.
On the whistle I fed little nuggets of groundbait with a few pinkies on the short line and across while the 11.5 metre line received just a helping of maggots. I started on the 13 metre line with single red maggot on the hook and was toss potting in maggots plus catapinging (my new word) a few on the two longer lines and throwing some on the short line.
Jerry Salisbury on peg 13 was into a carp before I'd finished feeding my lines and it didn't take Des long to latch into his first fish either. After a few minutes my first bite resulted in a lovely roach and I was getting regular indications mainly from nice roach with the odd perch, skimmer and a couple of small carp.
Steve P was getting the odd fish and Brian Slipper by the bridge on 21 was landing some decent carp. I did hook a fish that steamed off but turned out to be 1.5lb tench foulhooked in the wing which was nice! Paul Faiers was on the island (peg 3) which was directly in my line of sight and I could see him striking regularly and it looked like he was targeting silvers as well.
I was getting little runs of fish and every time I thought about trying another line, the float would go under again and I ended up spending most of the match across at 13 metres. In hindsight I should have rotated round the lines after every couple of fish or even started another line across and swapped between the two. It was lovely fishing though and I didn't know what I was going to hook next, quality roach, decent skimmers, carassio, a big F1, small carp and even had a couple of perch to 1.5lb.
In the last few matches, 15-17lb has been a good silvers weight and I felt I was well on my way to that, I hadn't seen Nick catch much so thought if I could beat Paul, I'd be there or thereabouts. I was keeping an eye on him and worked out that his right hand net (on the left as I looked at it) was his silvers net, so every time he landed a better fish, I could tell if it was a carp or a silver! He did land a big tench and seemed to be catching more skimmers than me and with a couple of hours to go, I felt he was edging ahead. Up until this point, I'd only bumped off a couple of roach but then lost two decent skimmers in as many chucks which didn't help matters.
With around an hour to go, I hooked a big fish which I initially thought was a carp but the longer I had it on, started to think it might be a big tench, there was a tail swirl which looked very tinca like and it was! I had a bit of squeaky bum time going on and stood up to net a gorgeous tench that had to be 4lb plus. By my reckoning, I now thought there was nothing between Paul and me, next chuck I had another decent roach. We were now into the last 45 minutes and I hadn't tried any of my other lines yet and as Paul now seemed to be hooking a few carp, I thought I'd have a quick look on the top two plus two line where I'd been feeding maggots since the start and give it five minutes.
First put in, after a couple of minutes, the float sailed away and as soon as I struck I knew it was a tench by the jagging scrap and safely netted a 1.5lb fish, next chuck I had one of a pound followed by a decent perch and then another tench, this one around 12oz. Of course it had to happen and I hooked a lumpy carp on the next put in and after a lengthy battle, landed a 7lb common. Back out I hooked another but this one slipped the hook, I decided if I hooked another I'd spend the remaining time across.
The next bite resulted in another tench and my last fish was a perch around the pound mark, what a lovely day! I finished up with 40 silvers (6 tench, 5 perch plus skimmers and quality roach) and a few accidental carpy things. I was pretty sure I had over 20lb and thought if I beat Paul, I'd be in with a shout for the silvers.
As we packed up, the scales started round the other side and when they got across to Brian on 21, I had a quick look at the weighboard, Paul had weighed a brilliant 22lb 13oz of silvers and then I noticed Nick had 23lb 8oz and I thought he'd struggled! I hoped I might have a little bit more than that but then saw Kev Perry over on 37 had weighed 29lb 15oz of silvers and I knew I didn't have that.
Brian went into the overall lead with 98lb 12oz but Des was admitting to over 100lb, Stevie P was next and had 9lb 10oz of carp plus 7lb 11oz of silvers which included a cracking 2lb+ perch. My carp went 14lb 14oz and then my silvers weighed 27lb 11oz so not quite enough but I'd had an awesome days fishing. *Photos courtesy of Acorn Fishery
Jerry on 13 had 71lb 5oz, Mark on 11 weighed 19lb 8oz, Darren on 9 had 49lb 1oz and then last but not least was Des, who after all his nets were totted up, won with a brilliant 130lb 5oz which included 19lb 2oz of silvers. Brian was second and Rich Major on peg 5 was third with 92lb 2oz.
1 – Des Shipp (Preston Innovations) – 131lb 5oz
2 – Brian Slipper (Acorn) – 98lb 12oz
3 – Rich Major (Acorn) – 92lb 2oz
Silvers
Kev Perry (Acorn) – 29lb 15oz
I won the £3 side bets which went back into the pot along with the £15 from breakfast plus Parker 'The Pole' very kindly donated his £4 from last week so the Nugget-O-Meter rocketed up to £123 – great stuff!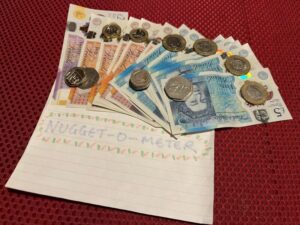 Another lovely days fishing but I seem to be 'the nearly but not quite' man at the moment, on my last visit I was ounces away from a section win and today I wasn't far away again and had missed/bumped/lost enough to win the silvers and although I fished a half tidy match, I don't think I'd done it quite right. I have to say the silvers fishing is incredible and the fish are in great condition, as the weather warms up there could be some stonking weights although obviously the carp will be more and more active as well.
There's still a great offer running if you fancy treating yourself to some new fishing gear, use the exclusive discount code AgainstMenandFish10 to get 10% off when you shop online at Somerset Angling
If you're not venturing out because of the weather, the next best thing is reading about fishing, I still have copies of my book available from eBay here or Amazon here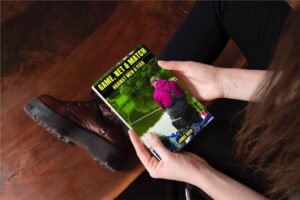 And if you could spare five minutes to leave a nice review on Amazon, it would be very much appreciated.
Next up – Summerhayes
Coming soon – Lots more match reports
Check Out – My last match