If 2022 was a brilliant year fishing wise for me, 2023 so far has been anything but! At least the weather was a bit better today, the temperature a couple of degrees warmer and there would be no ice-breaking required this week. Breakfast as always was superb (thanks Charlotte) and the banter was top notch as we waited for the draw. The last time we'd fished the river it had been tricky to say the least and I was expecting more of the same today. I said to a few people that a chub peg would be required and I fancied 122 (which turns out wasn't actually in today), 123, 124 or possibly Redbridge.
Draw time arrived and I pulled out H2, the first peg above the bridge at Hambridge, a great peg (although not a chub swim), very capable of winning and I thought I'd be in for a good day, my only slight concern was that it had blanked in the last match (the Xmas Fayre). Fieldy was the first swim below the bridge (another good one) and then Dave Pope was above me (H1) and Neil P was on H4 downstream and to be honest I wouldn't have fancied either of those.
When I got there, the river looked nice but very low and clear and there weren't any fish topping which I always think is a bit of a warning sign, Graham did say a pike rolled when he got there so surely it was there for a reason!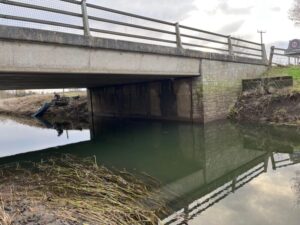 I set up a 1.5 gram bodied float to fish three sections to hand and a 0.6 gram DH16. Both had size 18 Guru Match Specials to 0.10mm. On the side tray I had red maggots, casters and Bait-Tech Super Seed hemp.
Fieldy got us underway and I started on the heavier rig, I've said it lots on the blog, if there are lots of small fish there, you'll normally catch quite quickly. After trying to run the rig through with single red maggot on the hook, I'd snagged up several times and Graham was having the same problem. I shallowed up a few times but there were obviously lots of stick ups still about which surprised me after all the frosts and floods we've had.
No bites on maggot or caster so I tried the lighter rig with the same result and then fished under the bridge with the heavier rig where it was deeper. No indications at all and I said to Fieldy that we were going to blank today despite only being an hour in.
With four hours gone, we were all still blanking and a phone call to Redbridge revealed they were struggling there as well although a few minnows had been caught. With time running out, I was fishing to my left under the bridge by the marginal cover and as I lifted and dropped the rig, it settled and just kept on going! I struck (hitting the bridge in the process) and was into a big fish, I was hoping it was going to be a perch but it was just solid and then everything went slack and I'd been bitten off by a pike. It must have been hungry to take a single maggot!
Well that was the last of the action (I use the term loosely!) and we all blanked, back at the results and Redbridge hadn't been much better with Danny B winning the section with 3oz of minnows. There were a few fish caught at Isle Brewers, Steve 'The Pole' Parker on 123 had the top weight with 6lb 8oz (two chub and some small fish), Max had one chub and a few bits for 3lb 14oz on 124 and Rob Cox had 2lb 2oz (mainly one chub) from 126.
For the second match running, my name was in the hat with the other blankers and Graham was the jammy angler to be drawn out as my luck seems to have deserted me on all levels! *No photos of fish from my section and nobody else sent me any!
1 – Steve Parker (Ilminster) – 6lb 8oz
2 – Mark Nicholas (Ilminster Warehouse) – 3lb 14oz
3 – Rob Cox (Ilminster) – 2lb 2oz
Sections
A – Danny Blunn (Ilminster) – 3oz
B – Tony Coubrough (Ilminster) – 11oz
C – Graham Field (Taunton) – Blank (drawn out of the hat)
I really don't know what's the matter with the river at the moment, the quality roach seem to have done a disappearing act, which is a bit of a worry. That's now my third blank on the trot at Hambridge (twice last year) and the weights have dropped right off. I remember not that long ago when 20lb weights were commonplace and Baz was ounces short of 30lb in the open, I finished fifth in the section of seven with 13lb and there were loads of roach, perch and chub caught.
Last year the fishing was a bit patchy on the river and I began to look into all the past results (since the blog started) to see if there were any patterns to it. In the end I parked it but given how the river has fished this season so far, I've decided to revisit it and I'll endeavour to publish that post (probably in two parts) over the next couple of weeks.
Here's the league table after three rounds (according to the licence all results count although this needs clarification along with if we're fishing four or five rounds after the first one was cancelled),
Chris Haines – 6 pts
Neil Purchase – 7 pts
Rob Cox – 8 pts
Tony Coubrough – 9 pts
Jamie Rich – 10 pts
Dave Pope – 10 pts
Steve Parker – 12 pts
Danny Blunn – 25 pts
Graham Field – 26 pts
Nick Payne – 26 pts
Max – 26 pts
There's still a great offer running if you fancy treating yourself to some new fishing gear, use the exclusive discount code AgainstMenandFish10 to get 10% off when you shop online at Somerset Angling
If you're not venturing out because of the weather, the next best thing is reading about fishing, I still have copies of my book available from eBay here or Amazon here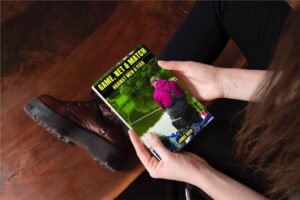 And if you could spare five minutes to leave a nice review on Amazon, it would be very much appreciated.
Next up – Acorn Fishery
Coming soon – Lots more match reports
Check Out – My last match