When I saw Trinity had advertised a silvers open, I booked in along with Parker 'The Pole' and Nick P. While I was Acorn the previous day, Mish messaged to say they were iced over but they would break it to hopefully make it easier for us the next day, which was nice. Another really cold morning greeted me as I loaded the car and then I met the other two at the bowling club where Charlotte looked after us with a fantastic breakfast.
We got to Trinity in good time and there were a couple others already there, it was iced over but quite thin so when Mish arrived we decided to use pegs 22-29 and set about breaking the ice while we waited for the rest to turn up.
Only eight of us fishing today and Mish said she would pay the top three, I drew peg 24 with Mark Broomsgrove on my right (23) and Steve P the other side. My swim was broken out to around 8.5 metres which I didn't think would be far enough especially when Mark proceeded to break his to around 14.5 metres. What I should have done was borrowed an ice breaker and cut out a longer channel but I just cleared my hole of the floating chunks and began setting my gear up.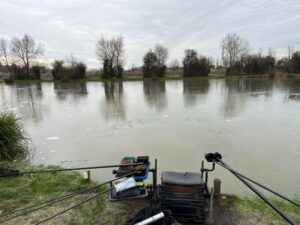 Only one rig today, a 0.5 gram Drennan Pencil with a size 20 F1 Maggot to 0.08mm for 8.5 metres against the ice where there was a nice depth. On the side tray I had maggots and disco pinkies plus Bait-Tech Special G F1 and Dark groundbait. I was ready in plenty of time so wandered down to see Nick, I said my money was on Mark to win but I still thought we'd get a few bites, probably later in the match.
On the whistle, I potted in a walnut of groundbait with a few pinkies and went over it with a single disco pinkie on the hook. I wasn't expecting much early on and there were no surprises as far as I was concerned, Mark on the other hand had a roach and missed a couple of bites. After an hour, I hadn't had anything resembling a bite so went for a wander and it was the same story with everyone else.
When I got back, Mark said he'd caught another roach and when not long after he had a decent skimmer, taking the time to cut a longer channel was certainly paying off. Everybody else was fishing at various lengths but apart from Mark, nobody had caught a fish or even had a bite!
Over the next few hours, Mark continued to catch the odd decent skimmer while the rest of us blanked. The temperature actually began to feel slightly warmer and the ice was beginning to thaw but it wasn't melting fast enough for me to be able to fish any longer than I was. I still thought somebody would catch a fish or two but the longer it went on, the more likely it was looking the rest of us were going to blank.
With about half an hour to go I changed my hookbait as my pinkie looked bored to death and as I flicked it in the pond, a tiny fish swirled for it! I thought my eyes were deceiving me so chucked a couple more in and sure enough there were some very small fish there. Quickly shipping back, I tried lowering the rig in to catch one but it was all a bit half hearted and I wasn't even sure they were big enough to get the hook in their mouths!
I went back to fishing by the edge of the ice at 8.5 metres and when the whistle went, I was a blanker (possibly a typo there!). Mark said his mate Kev had phoned just before the end to say he'd caught a tiny roach that was on as he went to ship out and that would be enough for second place. Rich on peg 22 had lost a carp earlier and that was the only other fish hooked during the day.
Weighing in didn't take long and Mark had a lovely net of skimmers for 10lb 6oz to win by a country mile and make it a very successful weekend for him. Kev was second with his fish that barely registered on the scales and we had to draw third place out of a hat, Steve 'Jammy' Parker was the name picked.
1 – Mark Broomsgrove (Trinity) – 10lb 6oz
2 – Kev Perry (Trinity) – 0.1oz
3 – Steve Parker (Ilminster) – Blank (drawn out the hat!)
So a really tough day for everyone except Mark but I must admit I'm sure there were fish there to be had if I'd have cleared a longer channel (I really must get myself a decent ice-breaker!). I am actually surprised that one of the big firms like Preston or Guru hasn't brought one out yet, similarly I reckon a side tray heater (like these bivvy heaters that are popular at the moment) would sell like 'hot' potatoes (pun intended!).
We're back on the Isle this weekend and I reckon there's a good chance that might be hard going as well (roll on spring!).
On a more positive note, another £3 went into the charity pot and the Nugget-O-Meter has broken treble figures already and now stands at £101.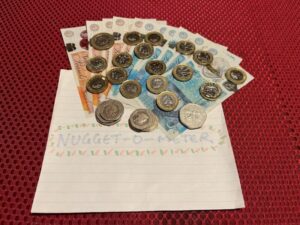 There's still a great offer running if you fancy treating yourself to some new fishing gear, use the exclusive discount code AgainstMenandFish10 to get 10% off when you shop online at Somerset Angling
I still have copies of my book available from eBay here or Amazon here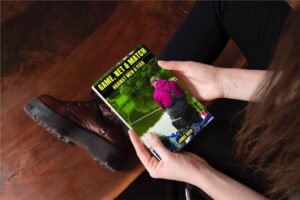 And if you could spare five minutes to leave a nice review on Amazon, it would be very much appreciated.
Next up – River Isle
Coming soon – Lots more match reports
Check Out – My last match