I really enjoyed my first two visits to Acorn and when I saw Chris Fox was running some Saturday opens, I booked in for the first one and Nick said he fancied it too. Once again the weather decided to kick us squarely in the spuds, not wind and rain this time but freezing temperatures with fisheries iced over and matches called off all over the place.
A rude 5:45 alarm got me out of bed to a dark and decidedly chilly morning. After loading and defrosting the car, I met Nick in Ilminster before we headed off to Acorn via a quick pitstop in Bridgwater for breakfast. Pulling into the fishery, Paddock lake had a lid on but apparently it wasn't too thick. We popped into the shop, Cadbury Angling, to get some bait and both ended up buying more tackle including some top kits that were elasticated for us by none other than a certain Mr Shipp.
Chris announced the draw and said he'd be paying the top two, three sections and best silvers today. The 18 anglers fishing delved into the bag of dreams/doom, I looked at my ping pong ball and I was on 34, a great peg by one of the bridges, Nick also drew by a bridge on peg 40. Then it was time for the ice-breaking, not something I've ever done very much of. I broke a channel along the edge of the bridge using a sledgehammer Nick had in the van and then Allan Oram who was on 36 very kindly let me borrow his breaker and I cut a channel angled to the left about five sections out.
I set up a Drennan 0.4 gram Carp 1 for the left hand line and a Drennan 0.4 gram Pencil for 8.5 metres by the bridge, both rigs had size 18 SFL-B hooks to 0.11mm. On the side tray I had red and white maggots, live and dead disco pinkies plus some Bait-Tech Special G F1 and Dark groundbait.
On the whistle I decided to feed really sparingly with the aim to get a bite first and go from there, the left hand line got a marble of groundbait with a few dead pinkies while the bridge swim received around twenty maggots. I started on the left with single pinkie on the hook and was expecting to wait a while before anything happened.
Mark Broomsgrove on 38 had cut out a lovely channel right the way across to the island and was rewarded with an early carp on bread. After about ten minutes I had a little indication which I missed, then next put in, the float lifted up and on the strike lots of my new number 11 Dura Slip elastic streamed from the pole tip under the ice. I shipped back to the top kit but the hook pulled and I'm pretty sure it was foul hooked.
Not long after, I was into another carp that gave me the run-around and I eventually netted a two pounder that was hooked in the cheek. That fish stirred up the bottom quite a bit and I was just thinking about trying the bridge swim when the float went and I was into a lump. I took my time, mindful of the relatively light hooklength, before landing a nice fish that was probably 6lb. Now I'm not the greatest fan of carp but I have to say, I don't mind them too much in the cooler months when they're not going crazy and the weights aren't silly, it's also exciting stuff playing them through the ice!
No more bites so I fed a little thumbnail of groundbait and a few pinkies and had my first look by the bridge. I really thought I might catch quite quickly but after ten minutes I hadn't had a touch. As far as I could tell, most people were getting the odd fish but nobody was really bagging except Martin Rayet who was landing some big fish.
Back to the left, my next fish was a foulhooked 8oz skimmer and then I hooked something rather large which took me an age to get in but it was worth it and a 8lb common (hooked outside the mouth) was a nice bonus! Nick and Mark were both catching some skimmers and Allan had a couple of nice perch and a carp.
I could only seem to get a couple of bites from the left hand line before having to feed it and leave it alone for ten minutes. Back by the bridge I've had my first fish from there, a small carp on single white maggot and then two decent 5lb carp from the left in quick succession and I was starting to think a good weight was on the cards with ninety minutes left. Repeating the process, I refed the left and went to the bridge but missed a bite and then had my second skimmer from the left hand line.
With three quarters of an hour remaining, I fed the left again and had another look by the bridge but no more bites there so the last half an hour was spent to the left. I was fully expecting a couple more fish to finish with a flourish and although I missed a couple of indications, I didn't manage to add anymore fish. The final scores on the doors for me were six carp and two skimmers which I thought would go around 25-26lb.
It got very cold towards the end and I was glad I'd done a flask in the morning, Chris started the weigh in on the far side so I loaded the car and asked Nick how he'd got on, he'd caught a couple of carp, six skimmers and some roach. The scales worked their way around the lake and as they headed onto the island (pegs 1-5) we went to see how they'd done. A quick glance at the weigh board revealed it had fished quite hard and John McLennan was leading with 39lb 1oz from peg 9.
Stu Stevens on peg 1 had 14lb 8oz, Mark Birdseye on 2 weighed 10lb 10oz, Brian Slipper on peg 4 had 30lb 1oz and then Martin Rayet on peg 5 plonked some lumps in the scales to go into the lead with 58lb 15oz which would be enough for a comfortable win. Nick was next and had 18lb 6oz which included 5lb 10oz of silvers, Mark Broomsgrove on 38 had 9lb 13oz of skimmers along with a couple of carp and then Allan weighed 10lb 12oz.
I was last to weigh as the chap on the other side of the bridge (peg 33) had chucked back, I needed to beat Brian's 30lb to win the section and I thought I'd be a little short of that but it was actually a lot closer than I thought. My two skimmers went 1lb 6oz so my carp would have to weigh 28lb 12oz and agonisingly I was short by 5oz which about sums up my fishing at the moment. I still really enjoyed the day though and I'm looking forward to the next one already.
1 – Martin Rayet (Acorn) – 58lb 15oz
2 – John McLennan (Acorn) – 39lb 1oz
Sections
A – Brian Slipper (Acorn) – 30lb 1oz
B – Chris Fox (Acorn) – 16lb 14oz
C – Jerry Salisbury (Acorn) – 28lb 7oz
Silvers – Mark Broomsgrove (Acorn) – 9lb 13oz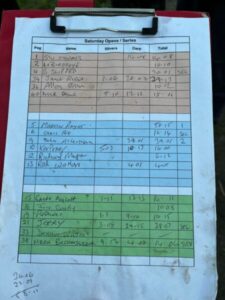 So considering we had to break the ice in the morning, it's fished really well with some close weights. I was actually fourth overall and as I'd missed quite a few indications, I wasn't too far away. I also wish I'd broken a channel straight across to the island as I'm sure having another line further over would have caught me a few more fish but this ice breaking is all a bit new to me and it also might have been worth feeding a bit more towards the end of the match.
Nick won the £2 which we'd had on silvers and that went back into the pot as the Nugget-O-Meter reached £98.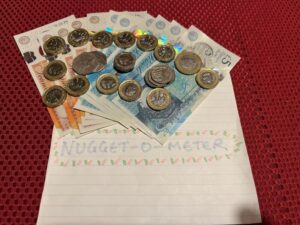 There's still a great offer running if you fancy treating yourself to some new fishing gear, use the exclusive discount code AgainstMenandFish10 to get 10% off when you shop online at Somerset Angling
I still have copies of my book available from eBay here or Amazon here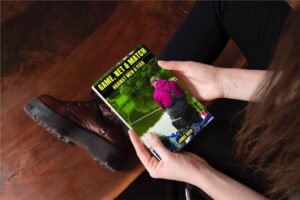 And if you could spare five minutes to leave a nice review on Amazon, it would be very much appreciated.
Next up – Trinity Waters
Coming soon – Lots more match reports
Check Out – My last match