With the river flooded, we were at Dillington Pond for round two of the winter league where hopefully we should all get a few bites. Breakfast at the bowling club was lovely as always and we were well looked after by Drew and Charlotte. When it came to draw time, Rob entrusted the 'Wheels of Doom' to me and when my name came out, the pegs on my wish list were 2 or 23 or failing that, anywhere on the near bank where the wind would be off my back. I pressed the button, the wheels came to a halt and it was peg 10 on the far bank in a cold corner with the wind and rain straight in my chops!
Well that's it, my drawing arm is officially kaput, it doesn't matter whether I stick my hand in the bucket, somebody else does or I press the button on an app, if there's a peg, pond or area I don't want, I'm drawing it at the moment. No wonder I'm not winning anything on the lottery! When I got out the pond, there were five of us in a row which probably wouldn't do us any favours either and I looked over in envy at the lucky anglers on the far bank with loads of room. I think that's enough excuses and whinging for now!
Nobody really knew what to expect as we hadn't fished the pond since Bob's match last year when Bagger Burton won with 13lb odd which included a near 5lb carp. With all the crazy weather we'd been having Chris H thought it might be hard with 3lb a good weight unless some big fish showed, while I was a bit more optimistic and thought you'd need 8lb to do well. The pond was very coloured and while we were setting up there were quite a few small fish topping, which was hopefully a good sign.
Now despite me saying I thought 8lb would do well, I was expecting that to include a bonus fish of some description (chub, skimmer or vermin) and I felt 5-6lb of small fish would possibly sneak in the frame. With that in mind I decided to be very single minded and just set up a 0.4 gram Perfect Gloucester with a 0.10mm bottom to a size 18 Guru Pole Special hook. On the side tray I had casters, maggots, disco pinkies, hemp (thanks to Rob as I'd left mine at home) plus Bait-Tech Pro Nat Fine Lake Dark and Extra.
For company I had 'Bagger' Burton on my left although he was in the other section and Rob C was on peg 9 to my right. On the whistle I cupped in two balls of groundbait containing a few casters, maggots and pinkies at 11.5 metres and went straight over it with single disco pinkie on the hook. It didn't take long to get a bite from a small roach, next put in I had another and was getting regular indications.
In a bid to increase the stamp of fish I went to maggot and then double maggot but the roach were still on the small size with the majority an ounce or less. After an hour I had 30 fish for probably 1.5lb and most people seemed to catching small fish but already Tony C over on peg 20 had landed a couple of carp which put him in the lead at this early stage. Going into the second hour, I was still getting quite a few bites but it started raining yet again and it was freezing cold, almost like sleet – lovely! Neil D also turned up to take some photos and once again got some fantastic shots, take a look at his page  – ND Photography.
I got to around 50 fish and then my bites just stopped, I tried cupping in a little satsuma sized ball of groundbait but it didn't really spark the peg into life. Simon Garbutt on 18 had landed what looked like a big chub and Nick P on 23 netted two big fish in quick succession, fishing long to the bush and already it felt like we needed snookers unless a big fish or two showed up. Les on peg 6 was fishing the feeder and Rob kept trying it but as far as I could tell, they hadn't had much on it, so that wasn't the answer (not that I had mine with me anyway!).
Finally the rain stopped and the sun put in an appearance, it was actually quite pleasant apart from the fact that I now couldn't see my float because of the sun's reflection right where I'd put my groundbait (another excuse). By fishing to the left and right of it, I struggled on putting the odd fish in the net, mainly roach with a couple of 2-3oz perch. Chris had started fishing a little strung out rig through the water and was now catching really well, of course I hadn't set one up so carried on going through the motions like a clampit!
Into the last hour, I began getting a few bites again as the light faded. Simon G had landed another chub and Dave Phillips also had a decent fish so there would be some good weights in the other section. With fifteen minutes to go, I landed my best fish of the day, a nice 6oz roach, I unhooked it and then as I went to put it in the keepnet, my arm caught the sidetray and I missed the net with it! That about summed my day up and I was hoping it wouldn't cost me.
I managed a few more fish in the remaining time to end up with 73 fish (with 50 of those in the first two hours!). Chris said he'd ended up with 81 fish and as he'd netted a few better roach (and not chucked them back!), I was sure he'd beaten me.
Rob had the scales so we went round to start the weigh in with Nick on 23, he had a big chub, a nice bream and a few bits for 7lb 12oz, Tony on 20 had two carp and some roach on bread punch for 9lb 11oz but had lost a decent carp as well. Then Simon G on 18 had two chub plus around 5lb of roach to go into the lead with 10lb 4oz.
On peg 17, Dave Phillips had also caught a chub and along with a small carp and some roach weighed 5lb 7oz, Dave Pope on 14 had a nice bream and a chub for 5lb 11oz on lobworm but also lost a decent fish early on, 'Bagger' Burton was the last peg in that section and had lots of small fish for 3lb 11oz.
I was next and my fish went 4lb, Rob C had 2lb 7oz, Steve P weighed 2lb 1oz and then Chris H had 5lb 1oz which included some better roach, Les had 4lb 6oz which included a small carp of 1lb 12oz and a skimmer and then Neil on peg 2 had 4lb 9oz so our section had been hard but fair.
1 – Simon Garbutt (Taunton) – 10lb 4oz
2 – Tony Coubrough (Ilminster) – 9lb 11oz
3 – Nick Payne (Ilminster) – 7lb 12oz
4 – Dave Pope (Stoke) – 5lb 11oz
Sections
A – Chris Haines (Haines Angling) – 5lb 1oz
B – Dave Phillips (Taunton) – 5lb 7oz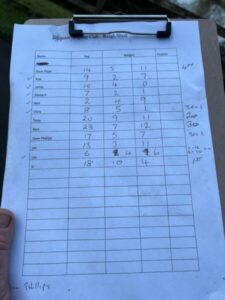 So definitely a tale of two sections, the top five weights came from the other side which all included two bonus fish while our section was very close with four weights between 4lb and 5lb 1oz, nearly all small fish. As for me, chucking that roach back cost me a point and I'm mad at my own laziness for not setting up a strung out rig. I also think caster might have caught me a few better roach but despite feeding it all day, I inexplicably never put one on the hook (I blame hypothermia!).
Nick won the £4 side bets which he donated to the pot and the Nugget-O-Meter has now already reached £96 which is just brilliant.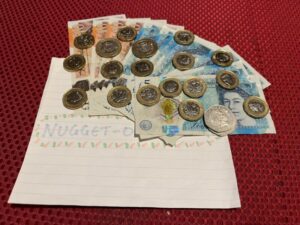 Here's the league table after two rounds (all results count),
Chris Haines – 2 pts
Neil Purchase – 3 pts
Rob Cox – 6 pts
Jamie Rich – 6 pts
Dave Pope – 6 pts
Tony Coubrough – 6 pts
Simon Garbutt – 7 pts
Steve Parker – 11 pts
Ian Burton – 12 pts
Graham Field – 22 pts
Jake Woodard – 23 pts
Danny Blunn – 23 pts
Les Braunton – 23 pts
Nick Payne – 23 pts
Also a couple of people mentioned the Summer League this morning as the final table wasn't published so here it is (after one round was cancelled due to the heatwave, the league was shortened to four matches with the best three counting). The format of the league was three points per ounce for silvers and one point per ounce for carp.
1 – Jake Woodard – 5041 pts (dropping 0 pts)
2 – Nick Payne – 3630 pts (dropping 0 pts)
3 – Graham Field  – 3609 pts (dropping 0 pts)
4 – Jamie Rich – 3573 pts (dropping 0 pts)
5 – Tony Coubrough – 2927 pts (dropping 0 pts)
6 – Neil Purchase – 2848 pts (dropping 243 pts)
7 – Steve Parker – 2806 pts (dropping 0 pts)
8 – Chris Norton – 2263 pts (dropping 93 pts)
9 – Andy Saunders – 2034 pts (dropping 0 pts)
10 – Dave Pope – 1970 pts (dropping 81 pts)
There's still a great offer running if you fancy treating yourself to some new fishing gear, use the exclusive discount code AgainstMenandFish10 to get 10% off when you shop online at Somerset Angling
If you're not venturing out because of the weather, the next best thing is reading about fishing, I still have copies of my book available from eBay here or Amazon here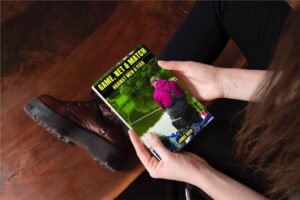 And if you could spare five minutes to leave a nice review on Amazon, it would be very much appreciated.
Next up – Acorn Fishery
Coming soon – Lots more match reports
Check Out – My last match