I was really looking forward to this one and it's great to see fisheries holding more silvers matches although once again the weather was looking grim and I'm beginning to expect nothing less at weekends! Norts joined us for breakfast before we headed to Revels, only seven of us fishing today (several cried off due to the weather) with three on Middle and the rest on Dead Tree. With nearly a 50:50 chance, would I finally get on Middle lake for the first time?
Jason stuck his hand in the bucket and pulled out…….. peg 48 on Dead Tree – gutted! Although it can be a great silvers peg, the last time I drew it, I got proper carped out, hooking something like 29 during the day. As for the rest of 'The Breakfast Club', Steve P was next door on 49 (as he was the last time we were on here), Nick was on 51 and then lucky Norts was down on Middle peg 59.
The pond level was right up and where you normally sit on dry land, was actually underwater! I set up the usual Guru 0.3 gram AR's and on the side tray I had two pints of maggots, disco pinkies, casters plus Bait-Tech Special G F1 and Dark. With it being so windy I plumbed up three lines at top two plus three where I could hold the pole and also 10 metres for when the wind hopefully eased up later.
On the whistle I fed modest amounts of loose groundbait on the three shorter lines and started straight out with single disco pinkie on the hook. After a couple of minutes, the float sunk from view but as soon as I struck I knew I'd hooked a carp, it was only a small one but I felt sure it was a bad omen. Parker 'The Pole' had a small perch and then Nick was into a carp followed by another and this was going to be carnage.
I moved lines and had a chunky perch followed by a little roach but then the next fish was a carp and every time I swapped lines it was a similar story. After an hour, the strong winds, heavy rain and endless carp were doing my head in but if anything, Nick was having even more 'fun' than me and his carp count had already reached 15 and my record of 29 was in serious danger.
Thankfully it stopped raining after about two hours but I was still only getting the odd perch and nobody on our lake had caught a skimmer yet while Nick 'The Verminator' was having a nightmare and one particularly feisty carp took his rig, elastic and everything. I did have a little chuckle at him sat there holding his empty top kit but I should have known better as karma then paid me a visit with the same result!
The wind had died down a little so I started new lines at 10 and then 11.5 metres all over the swim but the result was always the same, odd perch and then carp, lots of carp! I did have a 3oz perch as I shipped out so began flicking a few maggots on the top two line and had a little run of perch before hooking two lumpy carp one after another.
By the end of the match, my clicker was reading a rather sorry 26 fish (1 roach and the rest perch), it's crazy as there are loads of skimmers in there and in my last three visits, I've caught one! We'd landed loads of carp of all sizes to around 8lb with some rather colourful koi type things and Nick even had a goldfish (which don't count).
Jon Bass on 47 had done well with 7lb 3oz of mainly perch with a few decent roach, my fish went 3lb 8oz, Steve P weighed 1lb 4oz and Nick had 3lb. Then on Middle, Wayne C had 1lb 10oz on 54, Norts weighed 3lb 11oz and then Craig Whelan on 56 had a lovely net of skimmers and roach for 8lb 9oz and his first win – well done mate!
1 – Craig Whelan (Revels) – 8lb 9oz
2 – Jon Bass (Revels) – 7lb 3oz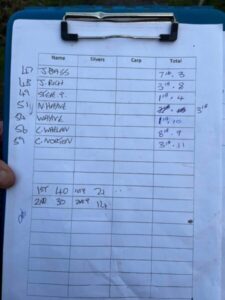 A disappointing day for me on the fishing front but we did have a laugh. Norts won the £4 side bets which he kindly donated to the Nugget-O-Meter and the total has now reached a healthy £92.
There's still a great offer running if you fancy treating yourself to some new fishing gear, use the exclusive discount code AgainstMenandFish10 to get 10% off when you shop online at Somerset Angling
I still have copies of my book available from eBay here or Amazon here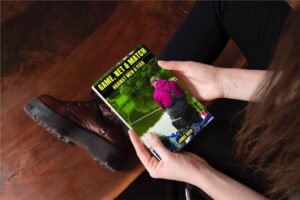 And if you could spare five minutes to leave a nice review on Amazon, it would be very much appreciated.
Next up – Dillington
Coming soon – Lots more match reports
Check Out – My last match (below)