The forecast was pretty grim again for the weekend and I think everybody is fed up with it now, we met at the bowling club for breakfast where Drew looked after us and the food and banter was top notch. Then we headed to the fishery and there was a decent turnout of 17 considering the weather and the fact there were several other local matches on.
With Pete away it was left to Jeff, Roy and me to run proceedings. When it came to draw time, I was holding the bucket and despite offering people the chance to draw their own pegs, several people elected to let me do it on their behalf (don't they know how bad my drawing arm is!?). I was the last name on the list and somebody pulled out the remaining ball for me, peg 29 was my home for the day, a decent area for silvers.
Rob C was on my left on 31 then Zooner was the other side (27) with Nick P next to him (25). Steve 'The Pole' and Glynn were over on 'Cyanide Straight' while Roy and Jeff were on 17 and 19 respectively.
I set up the usual 0.3 gram Guru AR's for 10 metres and across to the island. On the side tray I had two pints of maggots, disco pinkies plus Bait-Tech Special G F1 and Dark. Jeff shouted the all in and I fed two lines at 10 metres and flicked a few maggots across before starting down the edge for five minutes.
No bites short once again so next stop was the 10 metre lines with single disco pinkie on the hook. I had a couple of roach and then a 3oz skimmer on double pinkie and was getting a few bites without it being hectic. The wind was getting worse and we had some horrible showers with freezing cold rain that felt almost like hail!
I'd seen Jess land a decent perch and both Roy and Jeff on the bottom bank had caught a couple of skimmers. Two hours into the match and with the wind and rain reaching biblical levels at times, a few people including Parker 'The Pole' decided on an early bath. I was also fighting a losing battle trying to keep my bait dry with my groundbait turning to slop and maggots and pinkies staging a bid for freedom all over the place! As I don't use a brolly, I really must invest in one of those EVA covered bait system sets.
With only around a pound in my silvers net and a carp in the other, I was dying to go across and then there was a window in the weather with the wind dropping slightly and even the sun briefly put in an appearance. Shipping out to 14 metres, the first bite resulted in a little roach that came off as I shipped back. Next chuck, the float buried as soon as the rig settled and on the strike loads of elastic came out, initially I thought it was a carp but it wasn't fighting hard enough. I got down to the top kit and saw a flash of red and when it surfaced it was lovely perch that was probably 1.5lb – nice!
Not long after I had a 6oz hybrid and felt like I was doing okay, Roy and Jeff looked to have slowed up although Nick was now getting the odd skimmer. I was feeding maggots fairly heavily and suffered some catapult chaos with the elastic snapping on one and the pouch breaking on another which meant my reserve back up made a rare appearance.
Although I wasn't bagging I was getting the odd skimmer including a decent fish of a pound plus but was also hooking quite a few carp and landing more than I was losing. The weather was bloody awful although we weren't getting it as bad as some around the pond. Jess landed another decent perch from his margin line and Nick was still sneaking the odd skimmer in although he was hooking a few carp as well.
I was playing a carp when the all out was called which I landed successfully and I finished up with ten skimmers, five roach, that perch and a few tiny fish I hadn't clicked plus six or seven carp. After packing up, I took my kit to the car and asked Zooner how he'd got on and he'd actually caught three perch and a decent skimmer, Nick was admitting to 6lb plus, Jeff had struggled and Roy said he'd only caught five fish.
Weighing in wouldn't take long as there were only nine anglers left with nets in! There was nobody left from peg 39 round to number 10, Rob Wylde on 12 weighed 18lb 2oz, Dave Romain had chucked back on 13 and then Roy H on 17 had five skimmers (plus smaller fish) for 5lb 6oz. Jeff weighed 3lb on 19, Shane had gone on 21 and then Nick had some decent skimmers for 5lb 10oz.
Zooner weighed 4lb 13oz of silvers (plus 18lb 9oz of carp) and then it was me, my carp went 23lb 8oz and then the silvers added 6lb 10oz. Rob C on 31 had 16lb 5oz and then Martin Addicott's 48lb 9oz went into the lead but only briefly as Adie had 54lb 7oz on peg 35 which was the top weight. Ian W on 37 was left cussing as he'd clicked 26lb but chucked back as Adie and Martin on his right had both caught well and he didn't think he'd do any good – whoops!
1 – Adie Bishop (Summerhayes) – 54lb 7oz
2 – Martin Addicott (Taunton) – 48lb 9oz
3 – Jess Jordan (Summerhayes) – 23lb 6oz
Silvers
1 – Jamie Rich (Against Men and Fish) – 6lb 10oz
2 – Nick Payne (Ilminster) – 5lb 10oz
I picked up £58 for winning the silvers and qualified for the final later in the year. The Nugget-O-Meter climbed by another £7 (£4 side bets from the breakfast club, £1 from Grand Wiz even though he wasn't fishing with us, £1 from Rob Cox for last week and a nugget off Zooner), the total now stands at £88 which is chugging along nicely.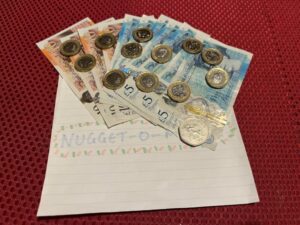 There's still a great offer running if you fancy treating yourself to some new fishing gear, use the exclusive discount code AgainstMenandFish10 to get 10% off when you shop online at Somerset Angling
I still have copies of my book available from eBay here or Amazon here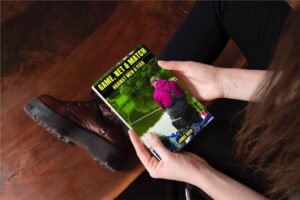 And if you could spare five minutes to leave a nice review on Amazon, it would be very much appreciated.
Next up – Revels
Coming soon – Lots more match reports
Check Out – My last match (below)