After a couple of bad results to round off 2022, I was hoping for better things in my last match of the festive period and the first of the New Year. Summerhayes was the destination and once again Nick sorted us out with breakfast and we all bunged a fiver in the charity pot. I was hoping we'd be on Sellicks but it was fished the day before so Longs it was once more.
Twenty booked in for this one, the golden peg was pulled out first and it was 32 which has been the right area for silvers. Then people were called out in the order they'd put their names down, nearly all the pegs in the 30's went early although the golden peg was still in there. When it came to my turn, Pete stuck his hand in the bucket and pulled out…….peg 8, a great carp peg! Nick was next and only got drawn 32 where he'd won the silvers last time so he was well happy.
I had a bit of room as Jacko was drawn on 6 but didn't fancy it, the others on 'Cyanide Straight' were Terry 'The Toast' on 4 and Leighton on 2. The pond was flat calm and although we had blue skies, there was a definite chill in the air.
I set up a Guru 0.3 gram AR for 10 metres straight out and across to the island plus a Drennan 0.4 gram Carp 1 for the deeper water to the right. Maggots and pinkies on the side tray plus some Bait-Tech Special G F1 and Dark. This whistle went and I fed a small amount of loose groundbait on a top two line, half a pot at 10 metres, two full pots on the right hand swim and lastly flicked a few maggots across.
I started short, not really expecting much but mainly to allow the longer lines to settle and after five minutes I hadn't had a sniff so that was enough of that. Terry got off to a much better start with a big perch on the waggler and Mark Leahy on peg 11 flew out the blocks with several carp on dobbed bread. Moving out to 10 metres, it took a further 15 minutes before I had my first indication from a tiny roach on single pinkie.
With half an hour on the clock and less than an ounce in the net, I had my first look on the more positively fed right hand line, the float settled and went straight under, this time some elastic actually came out and I netted a 3oz roach. Next chuck I had smaller one but then it was back to tiny little roach and I was already pinning my hopes on the maggot line to the island.
Mark was still catching carp and already had five or six, Adie over on 36 was getting a few but from what I could see, most people were struggling. Over the next hour or so I was swapping between the 10 metre lines but could only catch the odd tiny roach with no sign of a skimmer. With two hours gone I've gone 14 metres to the island but it wasn't happening there either.
After an another pretty uneventful hour with just a few more plippy roach gracing my net, I dropped back on the 10 metre lines, first put in on the right hand line, the float buried and I struck into solid resistance and a lengthy fight followed before I landed a 4lb carp. Next chuck the float's gone under on the drop and I foul hooked another that eventually came off.
A few people were walking and while Harry was with me, I had a bite by the island and although not a big fish, my first skimmer of 2oz was an improvement on the tiny fish I had been catching. Not long after I did have a better one around 8oz but any hopes of a heroic finale where I bagged up with skimmers to win, soon dissipated.
During the last hour, I had two more skimmers, a few little roach and another carp but once again, I wasn't too upset to hear the final whistle. The weigh in wouldn't take too long as a fair few had packed up and gone including Nick and Harry so I won the three nuggets which would go in the charity pot.
Dan P on 37 was first to weigh with 24lb 5oz, Roy on 39 had 4lb 10oz of silvers and then Leighton on peg 2 weighed 25lb 7oz. Terry's perch was 1lb 14oz and he had 12lb 3oz of carp, my carp went 6lb 6oz and the silvers added a massive 1lb 12oz! Kev on 10 didn't weigh and then Mark went storming into the lead with an impressive 76lb 8oz.
The next three pegs recorded DNW's before Alex Kerr on 17 had 7lb 1oz of proper skimmers caught on the wag and mag, Jeff Sparkes on 19 went into second spot in the silvers with 6lb 6oz but lost a big perch which could prove costly.
McKenzie had a 4lb 6oz on peg 26 which included a nice tench and Rob weighed 10lb 8oz of carp and silvers on 28. Next up was Zooner on 30 and I went to pay him a nugget but he said it would be close and very close it was, the digital readout settled on 1lb 11oz and another pound went into the Nugget-O-Meter. Nick had gone on 32, Glynn weighed 3lb and last but not least was Adie who weighed 41lb 15oz for second place.
1 – Mark Leahy (Summerhayes) – 76lb 8oz
2 – Adie Bishop (Summerhayes) – 41lb 15oz
3 – Leighton Cox (Ilminster) – 25lb 7oz
Silvers
1 – Alex Kerr (Summerhayes) – 7lb 1oz
2 – Jeff Sparkes (Summerhayes) – 6lb 6oz
3 – Roy Hughes (Summerhayes) – 4lb 10oz
Another disappointing day for me and I hope it's not an indicator of how 2023 is going to go! To be honest, I think if I'd have dobbed bread around my peg I might have done alright but the major flaw in that idea was the fact I didn't have any!! On the plus side, the Nugget-O-Meter benefitted by £15 from The Breakfast Club plus £4 in side bets and then Roy Hughes very kindly donated £20, what a lovely gesture mate, thank you.
There's still a great offer running if you fancy treating yourself to some new fishing gear, use the exclusive discount code AgainstMenandFish10 to get 10% off when you shop online at Somerset Angling
I still have copies of my book available from eBay here or Amazon here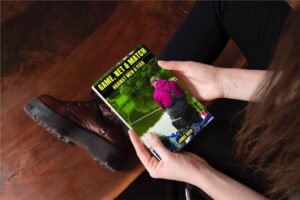 And if you could spare five minutes to leave a nice review on Amazon, it would be very much appreciated.
Next up – Summerhayes
Coming soon – Lots more match reports
Check Out – My last match (below)