After fishing four matches in as many days a couple of weeks back, for my latest fishy extravaganza I'm taking it a step further and doing five, wish me luck! As I write this I just got home from match day three and if I'm honest, I'm struggling a bit to keep up with the reports, so they might be a little more concise than normal (thank God I hear you cry!).
I met Nick, Zooner and Jeff for brekkie before heading to the draw, we were on Longs this week and I was delighted to pull out peg 18 on the bottom bank, my favourite area. Nick was on 10 which has been good, Rob B was on 13 on my right and Alex Kerr was on 20 which was also the golden peg.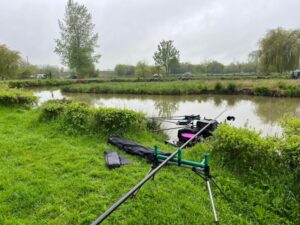 On the whistle I fed a couple of lines at 11.5 metres and pinged a few maggots across to the far bank. I got off to a great start when I had a 6-8oz eel second chuck and then began catching odd 3-4oz skimbobs without it being manic. Rob was getting a few fish on the waggler but then hooked a big skimmer which came off at the net and I'd seen Nick land a couple of leapers.
After an hour I'd had half a dozen fish but the lack of better skimmers was worrying, I did hook one fish that I was sure would be a perch or a tench but as the hook pulled out I'll never know! Nobody I could see was bagging, so I stuck at it, putting occasional small skimmers and roach in the net.
As we approached the halfway mark, I was dying to get across but it's not been great, bites were few and far between with only the odd small fish to show for my efforts. A 12oz perch gave me a very welcome bonus but I needed some bigger skimmers to rock up. With around two hours to go, I finally hooked one which took a run along the far bank before leaping out the water, thankfully it stayed on but then as I shipped back the hook pulled out, which wasn't ideal!
Things never really improved, I landed a couple of better skimmers but lost several more and obviously a few carp butted in along the way. Alex next door had struggled for most the match but landed a couple of big skimmers late on. Right near the end I hooked and landed an eel of a pound or so.
The scales started with Tom R on peg 2, he weighed 3lb 15oz, Nick was next and had done well with 10lb 4oz and I really thought that would be there or thereabouts today. Rob had chucked back and then my fish went 6lb 11oz, Alex went close with a level 9lb, Jeff Sparkes on 27 had 5lb 15oz and Bill didn't weigh on 30.
Then we got to Zooner and he had a nice net of fish including some big hybrids to weigh 13lb 10oz and I paid him my nugget, last was Alvin and he had a lovely mixed bag of silvers to win with 17lb 13oz and I lost another pound.
1 – Alvin Jones (U-ZIT Bait Innovations) – 17lb 13oz
2 – Jess Jordan (Summerhayes) – 13lb 10oz
Nick and me added pounds to the Nugget-O-Meter which had now reached £230.
There's still a great offer running if you fancy treating yourself to some new fishing gear, use the exclusive discount code AgainstMenandFish10 to get 10% off when you shop online at Somerset Angling
Also I still have copies of my book available from eBay here or Amazon here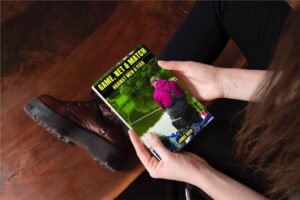 And if you could spare five minutes to leave a nice review on Amazon, it would be very much appreciated.
Next up – Coombe Farm
Coming soon – Lots more match reports
Check Out – My last match