Round three of the Summer League and it was our turn at Coombe Farm again, after a great breakfast at the bowling club (thanks Charlotte) and lots of laughs it was time for the draw with everybody hoping to draw on the far side. Nick was well happy when Jenny pulled out 8 for him but my drawing arm is still malfunctioning as peg 2 attached itself to me.
When we got there, some blue dye had been added to inhibit algae/weed growth and there were a fair few rather large dark shapes cruising around. Parker 'The Pole' was next door on peg 1 and Leighton on the other side made up my three peg section for the league. I set up rigs for top two plus two and 11.5 metres along with a token mugging rig.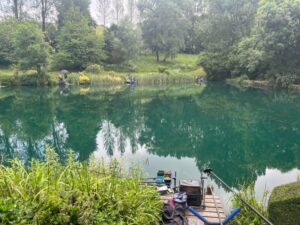 We got underway and I fed both lines with groundbait and casters before starting short, I gave it ten minutes but no bites and with it being painfully clear, I just couldn't see me catching on that line. Even the pegs on the far side were struggling and it looked like it was going to be hard going today. Moving out on the longer line, the float still stubbornly refused to go under and it was the same for my neighbours although Les had a couple down on peg 4 and the odd fish was now coming out on the far side.
Finally my float sunk from view and as I shipped back I could see it was a nice 6-8oz skimmer, I got down to the top kit and reached for the landing net, only for the hook to pull out! Next put in, I bumped a fish so swapped from number 9 Dura Slip to yellow hydro which was spot on and I landed the next fish which was a 4oz crucian. It wasn't fast and furious but I was getting a few indications on single maggot and just toss potting 6-8 maggots every put in.
Nick was now bagging and miles ahead of everyone else, Les 'The Snake Charmer' Braunton was catching a few eels but Neil P on peg 5 hadn't had a bite yet and nor had Leighton, Parker 'The Pole' was fishing by the reeds in the corner to his right and landed a couple of tench but there wasn't much between us.
As we reached the two hour mark, the pond just switched off and Nick went from getting a bite a chuck to sitting there biteless. I had a go chasing those carp around with a shallow rig and 6mm pellet at 14.5 metres but they just moved further out. Back on my main line, the rest had done it some good and I had another little run of fish, mainly crucians and the odd skimmer and then I had a nice 1.5lb carp/crucian type thing which edged me ahead of Parker 'The Pole'.
Bagger Burton over on peg 10 went from getting odd fish to absolutely flying and couldn't get his rig in fast enough as he slipped the net under some nice tench, 2lb+ skimmers and crucians while the rest of us struggled. With a couple of hours to go, Bish over on peg 7 was fishing up the edge and hooked an landed a decent carp which put him in the lead in his three peg section. Steve P also landed one around 3lb which moved him into 'Pole' position (see what I did there?) in our three pegs.
Neil had another wander and said he still hadn't had a bite, while he was behind me I hooked another nice crucian that definitely had some carp in it and not long after added a 6oz skimmer. Bites stopped again so I had another unsuccessful attempt at those cruising carp. Leighton had five skimmers on the feeder in the last ninety minutes so perhaps they were just that bit further out. With an hour to go, I had a nice positive bite at 11.5 metres but the fish weeded me straight away and it was solid, eventually something gave and the rig came back with loads of weed and no fish, only the second one I'd lost all day.
'The Pole' then hooked a carp and did well to land a 4lb fish on light elastic, I knew I needed another couple of fish so with twenty minutes remaining, plumbed up at 13 metres and started a new line, I did miss a bite but that was it. On the whistle I'd ended up with 26 fish (22 crucians and 4 skimmers).
We started with Ian B and after both his nets had been weighed he had a brilliant 44lb 4oz of quality fish, Dave P on peg 9 caught mainly crucians for 3lb 8oz and then Nick had 17lb 12oz which had all come in the first couple of hours. Bish weighed 13lb, Neil found a carp of 7lb 4oz on peg 5 and then Les weighed 7lb 12oz of mainly eels.
Leighton had 1lb 15oz, my fish went 12lb 7oz and then Parker 'The Pole' weighed 14lb 10oz which was third on the lake.
At Dillington, Dave Pope had drawn peg 23 for the second match on the trot and won again with 15lb 6oz of chub including one of 4lb 10oz, Graham Field on peg 2 was second with 14lb 12oz of bream and chub and Frank Woodard was third with 9lb 9oz of chub on peg 1 as those three pegs continue to dominate.
There were then lots of close weights between 7lb 3oz and 4lb 6oz with bream/skimmers or chub featuring in most nets. Thanks to Rob Cox for the photos*
Coombe Farm
1 – Ian Burton (Taunton) – 44lb 4oz
2 – Nick Payne (Ilminster) – 17lb 12oz
3 – Steve Parker (Ilminster) – 14lb 10oz
4 – Steve Bishop (Sharp MG) – 13lb
Dillington
1 – Dave Pope (Stoke) – 15lb 6oz
2 – Graham Field (Ilminster) – 14lb 12oz
3 – Frank Woodard (Ilminster) – 9lb 9oz
4 – Andy Saunders (Sharp MG) – 7lb 3oz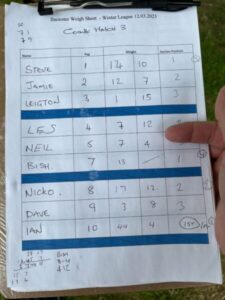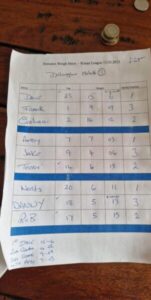 At the halfway point, nobody has three section wins and after dropping the worst result, there are five anglers on two points with a further six on three so it's all very tight at the moment,
Dave Pope – 2pts (dropping 2)
Chris Norton – 2pts (dropping 2)
Andy Saunders – 2pts (dropping 2)
Jake Woodard – 2pts (dropping 3)
Leighton Cox – 2pts (dropping 3)
Jamie Rich – 3pts (dropping 2)
Les Braunton – 3pts (dropping 2)
Ian Burton – 3pts (dropping 2)
Frank Woodard – 3pts (dropping 3)
Nick Payne – 3pts (dropping 3)
Steve Bishop – 3pts (dropping 3)
The Nugget-O-Meter did well with £7 added (£2 each from Nick and me for yesterday and today, £2 from Rob Cox and a pound from Norts, the total has now reached a fantastic £283.
There's still a great offer running if you fancy treating yourself to some new fishing gear, use the exclusive discount code AgainstMenandFish10 to get 10% off when you shop online at Somerset Angling
Also I still have copies of my book available from eBay here or Amazon here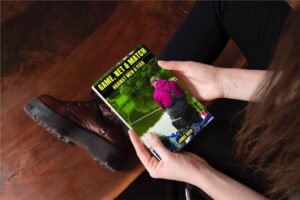 And if you could spare five minutes to leave a nice review on Amazon, it would be very much appreciated.
Next up – River Parrett
Coming soon – Lots more match reports
Check Out – My last match