For my third match in four days I booked a day off work to go and fish the Tuesday open at Revels as I haven't been for ages and was really looking forward to it. Due to my car issues, I thought my plans might be scuppered but Steve P came to my rescue and said he'd pick me up, star man! I did have a doofus moment when I realised my glasses were in the car (which was at the garage) so I'd be fishing half blind today!
After a cracking breakfast at the Airfield Tavern, we headed to the fishery where there was a great turnout of 18 anglers and we'd be on Main and Canal lakes today. We were near the top of the list and Jason pulled out 63 on Canal for me and then 68 for Steve. I was fairly happy with my peg although the last time I'd drawn it was during the winter and I really struggled that day.
Plumbing up it was only around 18 inches deep everywhere and I set up a 0.2 gram Bobbie to fish two lines at 10 metres plus a little 0.25 gram F1 Carbon Slim with spread shot to fish down the edge on a top kit. On the side tray I had maggots and casters plus some Bait-Tech Special G F1 Dark.
The whistle went and I potted in a little groundbait and some maggots on both the longer lines before starting on the top kit with single maggot on the hook. I had a small perch second chuck and although it wasn't solid, I was catching quite steadily, mainly little perch with the odd one around 3-4oz and three roach but I also pulled out of one and had a better skimmer come off. After three quarters of an hour I had 28 fish but then hooked a carp that led me on a merry dance before coming off at the net. It made a right mess of the inside line and I wasted another ten minutes on it when I should have gone out to 10 metres.
It took a little while to get a bite on the longer line but my first fish was a nice 4-6oz skimmer and I had a good second hour adding 20 skimmers and roach to my tally. Heavy rain was forecast for later (around two 'o' clock) and it was already drizzling but bearable for the time being. Swapping between the two 10 metre lines, I caught in spells over the next couple of hours but did lose a couple of skimmers and landed two small carp.
Then as predicted, the heavens opened, it absolutely lashed it down and my bites just stopped and I never had a fish in the penultimate hour. I tried short, adding a section and going across to the far bank but it was like somebody had flicked a switch and I couldn't get an indication anywhere.
Going into the last hour I was resigned to a disappointing end to the match when the float went under and I had a nice roach. The last 45 minutes was steady with bites on the drop or as the rig settled, mostly roach although I did pull out of a skimmer. At the all out, I finished up with 88 fish plus those two carp.
The scales arrived as I was packing up, the two pasties went 2lb and then my silvers weighed 9lb 2oz, Stuart W on 64 had 31lb 15oz of carp, Hugh weighed 12lb 7oz on peg 66, Parker 'The Pole' had 17lb 8oz (including 5lb 8oz of silvers) and Neil S on 70 weighed 17lb 14oz before the scales headed down to Main lake.
Back at the car park and Steve Crowford had the top weight on the day with 70lb from peg 21, Alan W was second on peg 4 with 44lb 3oz and Dave S was third on peg 8 with 42lb 8oz. Rich Butler won the silvers with 11lb 5oz of skimmers from peg 20, Bob C was second on peg 18 with 10lb 4oz and I was third. Thanks to Revels for the photos*
1 – Steve Crowford (Revels) – 70lb
2 – Alan Winsper (Alan's Angling) – 44lb 3oz
2 – Dave Stanbridge (Revels) – 42lb 8oz
Silvers
1 – Rich Butler (Revels) – 11lb 5oz
2 – Bob Crispe (Revels) – 10lb 4oz
2 – Jamie Rich (Against Men and Fish) – 9lb 2oz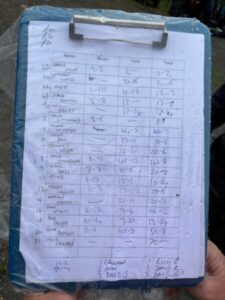 So close weights again (there was an 8lb of silvers as well), I picked up £20, really enjoyed it (apart from the weather) and I'm looking forward to my next visit (hopefully in a couple of weeks) already. Pounds from me Steve and me saw the Nugget-O-Meter hit £300 which is just fantastic with over four months to go.
There's still a great offer running if you fancy treating yourself to some new fishing gear, use the exclusive discount code AgainstMenandFish10 to get 10% off when you shop online at Somerset Angling
Also I still have copies of my book available from eBay here or Amazon here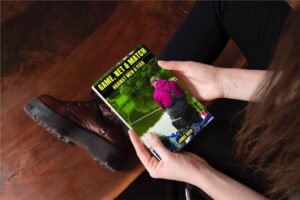 And if you could spare five minutes to leave a nice review on Amazon, it would be very much appreciated.
Next up – River Parrett
Coming soon – Lots more match reports
Check Out – My last match
#sponsoredpost #affiliatelinks