One of my favourite matches of the year, I always look forward to this one, after meeting Nick we made good time and were soon arriving at the pub for breakfast followed by the draw. There was a great turnout of 60+ including lots of familiar faces including Steve Maynard who was on his way back to Cornwall after fishing the festival on the Thames, Nicky Collins, Richard Chave who had the Match Fishing cameras with him for the day, Guy Manton, Andy Miller and Steve Kedge to name a few.
As this was only my third time fishing this match, obviously I don't really know the river very well or indeed what constitutes a good draw! I pulled out peg 54 which was fairly close to where I drew on my first visit (peg 50). As always, it was brilliantly organised with all the sections signposted which made finding the pegs a doddle.
My swim looked stunning (they all do) with trees and bushes opposite and lots of fish topping, Mark Harper was the next peg upstream with Andy Gard above him. I began setting my kit up and lowered my keepnet in before using my landing net pole to push it out like I always do and there was an almighty crunch as my £170 handle snapped in half like a carrot (which is an apt analogy as said vegetable is the same colour as brand Guru!). So not the best of starts and I hoped it wasn't setting the scene for the day ahead.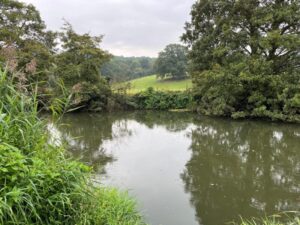 I telescoped the broken sections and wrapped some electrical tape (the fisherman's friend) around the makeshift join. The day continued its steady decline when I went to plumb up and the deepest rig I had (which was four sections of pole and had been fine the previous two years) disappeared from sight! By the tree on the right in the photo above, the rig was just about ok with it getting deeper going to the left (in the white water) before coming up again.
I did also set up a couple of shallower rigs (not that I had a choice!) and on the side tray I had maggots, disco pinkies, casters, hemp plus Bait-Tech Pro Natural Dark and Extra mixed 50:50. On the whistle I cupped in six balls of groundbait at 11.5 metres and went straight over it with single maggot on the hook. The rig didn't even settle as a small fish snaffled the bait on the way down but I missed it, next chuck I had a small chublet and then a little dace so I switched to double maggot and then caster in a bid to get the bait to the bottom.
The change seemed to do the trick as a nice 4oz perch pulled some elastic out and then next put in I had a roach around the same size. But then, despite getting a bite every chuck, all I could catch was tiny roach and the odd gudgeon. I tried loose feeding hemp and caster (which didn't improve things) and also varying depths etc (likewise) and to be honest I was struggling and going nowhere fast.
With around two hours to go, I tried coming a section shorter and hooked five slightly better roach on caster only for pike to take four of them and the other one dropped off when I attempted to swing it in! Ian, one of the match organisers, came round collecting the pegs and said my peg does throw up the odd tench and also reported that Mark was catching small fish well and some skimmers had been caught further up.
With nothing to lose, I plumbed up a new line, 11.5 metres to the left and cupped in two balls of groundbait plus a pot of hemp and caster over the top. Baiting up with double caster I just held the rig back hoping for a bonus or two. After a few minutes the float buried and I missed it, next put in I had a small chublet, then a 3oz perch followed by a chunky rudd. I was getting quite a few indications but not from the big fish I needed and I was regretting not bringing any worm today.
With just fifteen minutes remaining, the float sailed away and I was into a better fish, I shipped back carefully and was sure I'd hooked a tench or chub as it was pulling too hard to be a bream. I got down to the top kit and then as the float came into view, a 2oz rudd came flying out the water and didn't look very healthy at all! There was still time to ship back out and add a little gudgeon to my 'bulging' net of fish!
It didn't take long for the scales to arrive and it had fished quite hard, Jack Stamp was the top weight in my section with 5lb 14oz and he also lost a big tench. My 48 fish went a lowly 2lb 9oz, Mark weighed 9lb 6oz which included a 3lb+ tench and Andy had 3lb odd but had also lost a tench.
Back at the results and Nick had weighed 3lb something although he'd pulled out of a bream while Parker 'The Pole' also had 3lb+ and had lost a decent perch. Ian Dunlop had the top weight on the day with two big bream, a skimmer and some bits for 15lb 2oz from peg 25, John Moody was second, also with some bream for 12lb 4oz. I think most of the top weights had bonus fish with the exception of Nicky Collins who had roach and perch for his 10lb 1oz. Richard Chave continued his good run of results in this match with 6lb 8oz for a section win. Photo credits – Richard Chave*
1 – Ian Dunlop – 15lb 2oz
2 – John Moody – 12lb 4oz
3 – Simon Dennis – 10lb 13oz
4 – Nicky Collins – 10lb 1oz
5 – Dean Walters – 9lb 8oz
Despite a rather disastrous day for me where I got things all kind of wrong, I'm still looking forward to next year already! A great match for a brilliant cause and another large sum of money was raised for the charity. Also with £2 each from Nick and me for today and tomorrow, the Nugget-O-Meter climbed to £357.
There's still a great offer running if you fancy treating yourself to some new fishing gear, use the exclusive discount code AgainstMenandFish10 to get 10% off when you shop online at Somerset Angling
Also I still have copies of my book available from eBay here or Amazon here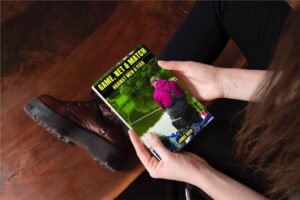 And if you could spare five minutes to leave a nice review on Amazon, it would be very much appreciated.
Next up – River Parrett
Coming soon – Lots more match reports
Check Out – My last match
#sponsoredpost #affiliatelinks