Sunday we were at Coombe for the final round of the IAA Summer League (very kindly sponsored by the SPAR, Ilminster). After five matches, there were only two anglers in with a shout of winning it, Norts and Bagger Burton. If Chris won his section again, he couldn't be caught but if he finished second and Ian won his three peg section, he would nick it from Norts on overall weight. There were then a further four anglers on six points fighting it out for third and fourth in the league with an outside chance of pipping Bagger on weight if section results went their way.
Loads of banter was flying about per usual as we enjoyed breakfast at the bowling club before it was time for the all important draw. The anglers at Coombe were up first and I was praying for a draw on the far side (8, 9 or 10) as that area has pretty much dominated although the two end pegs on the near bank (1 and 5) have thrown up the odd carp weight. I managed to pull out peg 3 which pretty much summed up my drawing skills (or lack of them) during this league (with the exception of peg 2 at Dillington).
The other two in my mini section were Neil P on peg 2 and Dave P (peg 1), Bish was on my left with Leighton on peg 5. On the far side were Parker 'The Pole' on 7, Les on 8, Nick (peg 9) and Bagger Burton was on 10 again where he'd won the lake last time with 44lb. At Dillington, Norts had drawn peg 7 where Les had won from last match so the league was going down to the wire.
The pond looked nice with loads of fish topping but was very clear, I set up a couple of rigs to fish 8.5 and 11.5 metres and the side tray was nice and simple with lots of red maggots plus some Bait-Tech Special G F1 Dark.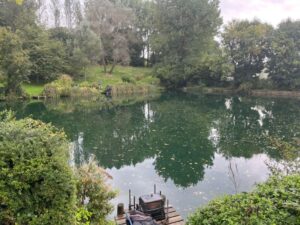 Leighton got us underway and I fed half a pot of loose groundbait on the shorter line and then the right hand 11.5 metre line received a single ball of gb while the other was fed more positively with two. Starting short the float settled and went straight under only for me to miss it! Next put in, the floats gone again and this time I connected with a small skimmer but it came off shipping back and then I couldn't get a bite.
I gave it another five minutes but no more bites saw me shipping out to the right hand 11.5 metre line. A positive indication resulted in a nice skimmer around 6oz and then two more in as many chucks had me thinking I'd have a decent spell but then the float just sat there! Les, Nick and Bagger were getting a few fish although Neil and Dave hadn't caught yet and I couldn't tell how they were doing to my left.
Switching to the other long line, the float's gone straight under and it was a bite a chuck from skimmers, crucians and I had a nice pound eel as well. I was toss potting a few maggots on both of the longer lines every time I shipped out and it was lovely fishing, I even had several crucian/carp hybrid type things around 1.5lb apiece. Just before the two hour mark, I've had a proper skimmer of 2lb+ and it felt like a big weight was on the cards but then just like the previous two rounds on here, my bites just stopped!
Although the pond seemed to switch off for everybody, Nick and Bagger were still getting odd fish and began pulling away from the rest of us. The next hour passed without an indication and the three remaining hours were beginning to look like taking forever! I tried the short line again, going past the feed and then to 13 metres but nothing and I really didn't know what to do next.
All out of ideas, I decided to feed a small golf ball of groundbait on the 11.5 metre lines and at 13 metres to try and make something happen. Neil went for a wander and reported that Leighton was bagging on peg 5, he'd already weighed three double figure carp to go with some skimmers and crucians he'd caught earlier. I was still rotating round my lines with no joy, then with around two hours left, I dropped in on the right hand line and to my surprise the float's gone under. Shipping back very gently I netted a skimmer and then next put in I had a chunky crucian and it was back to a bite a chuck.
The more maggots I fed through the toss pot, the better it got and topping up with little nuggets of groundbait also worked really well. Neil and Dave P had both really struggled and packed up with an hour to go which meant I'd win my section as I was the only one left in it! After losing a couple, Les did well to land a decent carp which had taken him through a reedbed. I kept expecting bites to slow up but the fish kept coming and I was up to 68 fish with five minutes of the match remaining and had three more skimmers to finish with 71 fish.
We walked round to begin the weigh in with Bagger who had 15lb 15oz, Nick weighed 22lb 3oz, Les had 15lb 7oz and then Parker 'The Pole' weighed 5lb 2oz. Leighton was next and had caught six carp to over 13lb plus skimmers, crucians and tench to obliterate the lake and set a new match record for Coombe with 79lb 4oz. Bish weighed 8lb 10oz and then my two nets totalled 32lb 5oz which put me second on the lake.
Then it was back to Dillington for the results, Andy Saunders had the top weight there with 24lb 11oz of bream on the feeder from peg 6 followed by Dave Pope with 18lb 8oz of bream on the pole from new peg 3, Big Frank had 14lb 8oz of bream from peg 2 for third and Hainsey on peg 8 was fourth with 11lb 2oz of roach and chub on the waggler. Thanks to Chris Norton for the photos*
Coombe Farm
1 – Leighton Cox (Ilminster) – 79lb 4oz
2 – Jamie Rich (Against Men and Fish) – 32lb 5oz
3 – Nick Payne (Ilminster) – 22lb 3oz
4 – Ian Burton (Taunton) – 15lb 15oz
Dillington
1 – Andy Saunders (Sharp MG) – 24lb 11oz
2 – Dave Pope (Stoke) – 18lb 8oz
3 – Frank Woodard (Ilminster) – 14lb 8oz
4 – Chris Haines (Haines Angling) – 11lb 2oz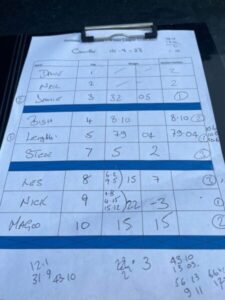 So with Bagger Burton finishing second in his section, it meant Norts couldn't be caught and with Leighton winning his three pegs, he leap frogged Ian thanks to a much superior weight advantage and I ended up fourth in the league.
Chris Norton – 6 pts
Leighton Cox – 7 pts (on weight)
Ian Burton – 7 pts (on weight)
Jamie Rich – 7 pts (on weight)
Andy Saunders – 8 pts
Jake Woodard – 8 pts
Nick Payne – 8 pts
Les Braunton – 9 pts
Dave Pope – 9 pts
Chris Haines – 9 pts
Steve Bishop – 9 pts
Graham Field – 9 pts
A nice end to the series for me, I picked up £36 for second on the lake plus £30 for fourth in the league. Nick and me added pounds to the Nugget-O-Meter which now stands at £353.
The club and all the competitors would like to say a massive thanks to Laurie McKinnon and family for their generous sponsorship, Charlotte and Drew at Ilminster Bowling Club for looking after us in the mornings and to Rob and Leighton Cox for all their hard work organising and running the league.
There's still a great offer running if you fancy treating yourself to some new fishing gear, use the exclusive discount code AgainstMenandFish10 to get 10% off when you shop online at Somerset Angling
Also I still have copies of my book available from eBay here or Amazon here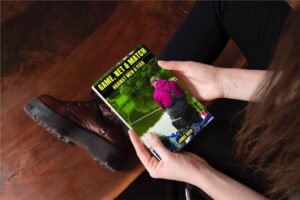 And if you could spare five minutes to leave a nice review on Amazon, it would be very much appreciated.
Next up – Dorset Stour
Coming soon – Lots more match reports
Check Out – My last match
#sponsoredpost #affiliatelinks