The forecast was for another scorching Saturday Silvers Open on Sellicks at Summerhayes! I met Nick and Jenny for breakfast and it was really disappointing so not the best of starts to the day. Only eight of us fishing today so we'd have lots of room, as Pete went to draw the golden ball, I predicted peg 17 and that was the number that came out! My name was first on the list and as I stuck my hand in the bucket I confidently said I was getting 17 (not really believing it) and only went and drew it! My neighbours for the day were Nick on 19 and Alan J was on my right.
I set up my usual Guru 0.3 gram AR's and 0.2 gram Bobbies plus a 4 x 12 Preston F1 Maggot, all with size 16 Guru F1 Pellet hooks to 0.10mm. Pete got us underway and I fed a top kit line and two 10 metre swims with groundbait (Bait-Tech Special G F1 Dark) and maggots and also began flicking a few across to the island on regular basis.
Starting on the top two to my right, I was getting indications straight away but my first fish was a tiny carp of less than an inch long! A couple more followed before I hooked a 2oz roach that dropped off, I got off the mark with a perch around the same size but those mini carp were a bit of a nuisance. I did add a nice roach but after ten minutes, I'd only had the two silvers and was itching to go on the longer lines.
The right hand 10 metre line was first and I started getting some nice roach along with a couple of skimmers. Just before the first hour was up, I hooked a decent fish that initially I thought was a carp but loads of bubbles came up and it wasn't doing much as I shipped back and then a lovely 2lb+ tench came to the surface – bonus!
Swapping between the two 10 metre lines, I was getting regular bites and doing okay, Nick was catching skimmers as well but I felt like I was just ahead at this point thanks to my tinca. The earlier mist had by now burned off and it was getting really hot but despite there being loads of carp cruising around they weren't causing too many problems.
I was bumping the odd roach and also had a funny five minutes when I had what felt like a decent skimmer come off and next chuck hooked another that leapt out the water and stayed on but slipped the hook as I shipped back! Nick was now on his 13 metre line and had a good run of skimmers.
As we reached the halfway point, I've gone across for the first time and had a flurry of roach along with a couple of skimmers. I did hook one fish that tore off but then stopped and it felt like either an eel or a foul hooked skimmer, I'm pretty sure it wasn't a carp as it wasn't doing much. Shipping back gently, it started to come but before I got a glimpse of it, the hook pulled.
There wasn't much between Nick and me going into the last hour or so, I had a quick look across at 14.5 metres but never had a bite there. Back at 13 metres, the rest had done it some good and in the last quarter of an hour, I had three skimmers but also missed a few bites and pulled out of two! I finished up with 45 fish (that tench, a perch, around 15 skimmers and the rest roach) which I thought would go 14-15lb but would it be enough?
After a much needed cold drink, I packed up and went round to watch the weigh in, Jenny had some nice skimmers on peg 4 for 9lb 14oz, Adie had 10lb 8oz and then Alex on 13 weighed 13lb 8oz. Charlie (peg 12) was next and went into the lead with 17lb 6oz which included a big crucian and an instant win goldfish.
Alan chucked back on 15 and then it was my turn and when I pulled my net out it was going to be closer than I thought, agonisingly close as it turned out with Pete waiting for the display to settle for ages before calling it at 17lb 5oz! I was gutted and of course my thoughts naturally turned to all those fish I'd bumped or lost but others had lost fish too.
Nick came close as well with another nice net of skimmers for 16lb and last to weigh was Rog C on 22 who had 5lb 6oz. So given how hot it was today, it's fished really well with just one fish between third and first place.
1 – Charlie Thackrah (Summerhayes) – 17lb 6oz
2 – Jamie Rich (Against Men and Fish) – 17lb 5oz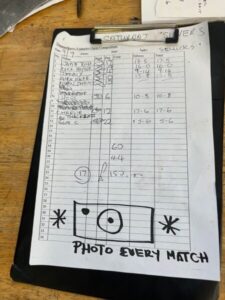 I picked up £44 for second place but that's twice this year I've missed out on the golden peg by ounces, must try harder!  Pounds from me and Nick took the Nugget-O-Meter up to £351.
There's still a great offer running if you fancy treating yourself to some new fishing gear, use the exclusive discount code AgainstMenandFish10 to get 10% off when you shop online at Somerset Angling
Also I still have copies of my book available from eBay here or Amazon here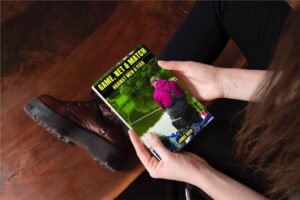 And if you could spare five minutes to leave a nice review on Amazon, it would be very much appreciated.
Next up – Summer League
Coming soon – Lots more match reports
Check Out – My last match
#sponsoredpost #affiliatelinks