Only one outing this week, the penultimate match in Stoke AA's summer river series at Parrett Works. The Breakfast Club were well looked after by Charlotte before we headed to Martock for the draw. I decided to delve in the bucket early this time and peg 5 was the result, it wouldn't have been my first choice but it's normally a fairly steady peg. Nick drew number 1 (the upstream end peg), Rob was on 3 and my downstream neighbour was Cliffy on 7.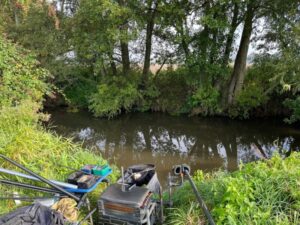 My peg looked really nice with a half decent flow for a change although it was due to get hot later which wouldn't do us any favours. The last time I'd drawn it, I caught several chub and an eel down the middle in the flow so I set up a 1 gram bodied float to fish there and a 0.5 gram DH16 for fishing across and further downstream where it was a bit shallower. Both rigs had size 18 Guru Match Specials to 0.10mm and number 5 Dura Slip elastic through the top kits.
Starting with single red maggot down the middle it was really slow going with just the very odd gudgeon and minnow, double maggot wasn't really any better although I did catch my first roach, albeit a small one. Tiny minnows began to be a pain so I switched to caster and had a couple more roach and a 2oz dace. By swapping between the middle and across at 11.5 metres, I was getting the odd fish but it was by no means fast and furious and after around 3.5 hours I only had 16 fish (roach, dace and gudgeon) plus a few minnows for a pound or so.
Bank walkers reported it was fishing very hard although the odd eel and small chub had been caught. I couldn't get a bite now so with very little in the net, I felt I needed to try for a bonus if I was going to do any good and fed some chopped worms and casters down the middle via a bait dropper. We also had a visit from an EA bailiff checking licences which is always nice to see.
I'd love to be able to now wax lyrical about how I skilfully caught a couple of eels to heroically salvage a good result but I never had a bite in the remaining ninety minutes and was hoping I hadn't blown out too badly.
After packing up I walked up with Derek G to watch the weigh in, Nick had done really well catching 3lb 8oz which included two decent eels and an 11oz roach (on corn of all things!), Rob had already gone and then my meagre catch went 1lb 7oz.
Cliffy had 14oz, Parker 'The Pole' on 8 had a bonus chub and weighed 1lb 12oz, Fieldy (peg 9) weighed 1lb 3oz and Steve B on 10 had 11oz. Bagger Burton did well on 13 with two eels and some small fish for 2lb 2oz and then Derek G was last to weigh in our section and had loads of minnows for 1lb 1oz.
Back at the results and it was a similar story in the other section where Terry 'The Toast' had the best weight with 2lb 9oz from peg 22 which was second overall followed by Dave Pope with 1lb 13oz on peg 25 and Hainsey with 1lb 8oz from peg 31.
1 – Nick Payne (Ilminster) – 3lb 8oz
2 – Terry Morgan (Ilminster) – 2lb 9oz
3 – Ian Burton (Taunton) – 2lb 2oz
4 – Dave Pope (Stoke) – 1lb 13oz
Sections
A – Steve Parker (Ilminster) – 1lb 12oz
B – Chris Haines (Haines Angling) – 1lb 8oz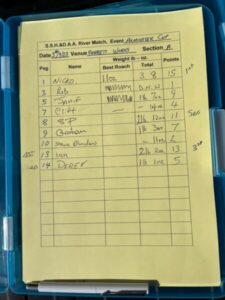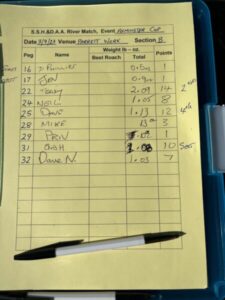 So another frustrating day for me but for different reasons from last time, I felt I'd actually done the right thing by trying to catch a bonus eel as one bite would have got me in the frame as the top five weights all had eels or chub. Conversely if I just got my head down fishing for minnows and the odd gudgeon I'd have probably caught a few more ounces which would have gained me some more points.
The Nugget-O-Meter jumped up £9 thanks to generous donations from Nick (£5) and Rob (£3) plus a squid from me and now stands at £349.
There's still a great offer running if you fancy treating yourself to some new fishing gear, use the exclusive discount code AgainstMenandFish10 to get 10% off when you shop online at Somerset Angling
Also I still have copies of my book available from eBay here or Amazon here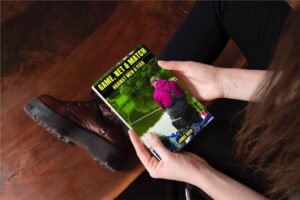 And if you could spare five minutes to leave a nice review on Amazon, it would be very much appreciated.
Next up – Summerhayes
Coming soon – Lots more match reports
Check Out – My last match
#sponsoredpost #affiliatelinks