I'd really enjoyed fishing this match for the first time last year and managed a third place thanks to a late bonus tench (you can read that match report here). Dan Baldwin was the first name on the trophy with a lovely net of hemp roach weighing 16lb 14oz, so who would be next? The day started off well with a nice breakfast at the bowling club (thanks Drew) but there was literally a black cloud on the horizon as the weather was due to be awful with gale force winds forecast!
After paying our pools, the 18 anglers lined up in an orderly manner (yeah right!) hoping to draw one of the early numbers (pegs 2-6). I came close when I pulled out peg 7 (the same one as last year). Dave P got the peg above the wires (6) with Steve B on 5, Nick on 4, Fieldy was on 3 and Rob C had the end peg (1 wasn't in today). Dave Hilton was my left hand neighbour on peg 8.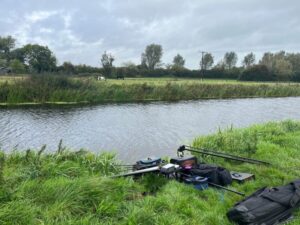 It took me ages to get my box set up and it had a wonk on with the front two legs in the water which from the off felt like they were sinking and I was hoping the Good Ship Jamie would last the match and I wouldn't need to launch the lifeboat!
I set up a 0.75 gram rig to fish worm down the middle at 10 metres where there were a few reeds and a lighter rig to fish maggot and caster at 8.5 metres angled to the left. Today's menu contained maggots, casters, worm, hemp and Bait-Tech Pro Nat Dark.
On the whistle I fed a ball of groundbait on the shorter line and then some chopped worm and caster at 10 metres. Starting with single maggot on the 8.5 metre line, it was a bite a chuck from rudd, roach and little silver bream and after quarter of an hour I had 15 fish and it felt like there were loads of fish there. Dave P lost a decent tench on the whip and I was already itching to have a look on my worm line but would stick with the shorter line while I was getting regular bites.
I reached 20 fish with half an hour on the clock but bites were already slowing, trying caster resulted in a chunky 4oz perch but that was the only bite I had on it. After struggling up to 30 fish it was time to have a look for a bonus fish as I was sure you'd need tench or bream to do well today. I was toss potting in a blob of chopped worm and caster with half a dendra on the hook but it was a nightmare trying to keep the rig still in the gusty wind.
A couple of bank walkers reported it was fishing hard and that no big fish had been caught so with no bites on my worm line, I had another go at 8.5 metres but that was now a waste of time. There had been some rudd topping across since the start so with nothing to lose, I shallowed up a bit, added a couple sections and went over. A bite quite quickly resulted in a tiny rudd and despite it being really hard work, battling the wind and shipping in and out to 13 metres for half ounce fish, at least I was putting something in the net.
I was trying to feed a few maggots and casters across but it was going all over the place due to the wind and at times I had to drop my pole on the water but slowly but surely, I was starting to catch quite well including the odd better roach and rudd, not massive but 2oz fish that were worth catching. Of course, it had to happen given the clarity of the water and a pike snaffled a slightly better fish. I daren't use my pole rollers because of the wind, so was having to keep the pole low and unship twice and that's when it struck.
Still, having to put a new hooklength on wasn't the end of the world but it took off and when something did snap, I wasn't expecting it to be my elastic! I set up an identical rig but as is often the way, it just wasn't the same. After a couple more small fish, a pike grabbed another and despite me getting my rig back this time, I was now struggling and the wind was now making it virtually impossible to fish long.
With about an hour to go, I gave up trying to fish at 13 metres and fed a little nugget of groundbait on the short line and held the rig over it. I did manage a few more small fish and on the whistle my clicker was reading 85 fish, an ounce apiece would give me 5lb but I knew I had nowhere near that, maybe 3lb.
After packing up, I tried getting the front legs of my footplate out of the water/silt and of course the mud feet came off yet again and I had to roll my sleeves up and dig around until I found them!
Norts on peg 10 weighed 1lb 15oz, Bagger Burton had 5lb which included a nice tench and then Dave H had done well weighing 5lb of small fish, my fish went 3lb 9oz, Dave P had 15oz and then Steve B on 5 weighed 3lb. Nick P had 2lb 6oz, Fieldy weighed 5lb 3oz (he was admitting to 2.5lb!) and then Rob C on peg 2 had a cracking net of fish for 11lb 5oz which included a tench, bream and a decent perch. Photo credit – Chris Norton*
Back at the results and although the top end had been tough for some, there were still several decent weights with the ever consistent Dan B leading the way with 7lb 9oz of small fish from peg 11 followed by Cliffy who had 7lb 3oz, Dave Nash with 4lb 10oz and Parker 'The Pole' had 3lb 13oz. Shane R and Neil P both weighed 1lb 9oz, Roy W had 2oz (mainly small fish) and Glen R didn't weigh on 13. Photo credit – Dan Baldwin**
1 – Rob Cox (Ilminster) – 11lb 5oz
2 – Dan Baldwin (Colmic Somerset) – 7lb 9oz
3 – Cliff Gaylard (Stoke) – 7lb 3oz
4 – Graham Field (Stoke) – 5lb 3oz
5 – Ian Burton (Taunton)  – 5lb
5 – Dave Hilton (Tiverton)  – 5lb
Sections
A – Jamie Rich (Against Men and Fish) – 3lb 9oz
B – Dave Nash (Stoke) – 4lb 10oz
I picked up £15 for winning my section by default and the Nugget-O-Meter jumped by £11 to £368 thanks to £2 each from Nick and me (for yesterday and today) and very generous donations of £4 from Rob Cox and Norts (£3).
There's still a great offer running if you fancy treating yourself to some new fishing gear, use the exclusive discount code AgainstMenandFish10 to get 10% off when you shop online at Somerset Angling
Also I still have copies of my book available from eBay here or Amazon here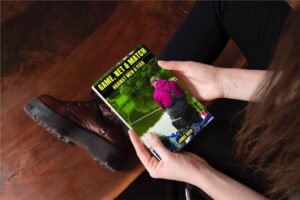 And if you could spare five minutes to leave a nice review on Amazon, it would be very much appreciated.
Next up – Summerhayes
Coming soon – Lots more match reports
Check Out – My last match
#sponsoredpost #affiliatelinks