Stoke have lots of away days and this one was arranged by Dave Pope who even put a trophy up (although we're still trying to come up with a catchier name for the match!). I haven't fished the drain since 2018 in an inter-club fixture against Taunton when I was lucky enough to draw one of the first six pegs which tend to dominate and had a lovely day catching tench and perch to finish second behind Dan 'end peg' Baldwin.
After breakfast we headed to Stathe and the car park was already quite full as 20 anglers had booked in for this one, a decent sized match. Once the draw got underway, I decided to go in early and was around third of fourth in the queue, just ahead of Dave Hilton. I grabbed a peg but didn't look, Dave was well happy with peg 1, then Russ said he was on number 4, Derek G had peg 3, Norts said he was on 6 and then somebody said number 2 was still in the bucket. That only left one of those early pegs and I didn't much fancy my chances of having it, I slowly opened my fingers and peg 7 was staring back at me, close but no cigar!
On the plus side, at least I didn't have too long a walk and with Norts on my right and Danny B the other side, we'd have a laugh. The pegs were well spaced out, they all looked lovely and there were quite a few fish topping so hopefully we'd be in for a good day.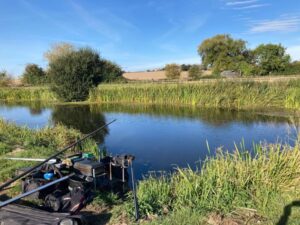 I set up a pencil float for down the middle with a size 20 to 0.08mm, a little 0.3 gram rig with spread shot to fish through the water and then my chopped worm rig was a 0.4 gram Drennan Carp with a size 14 Guru Kaizen to 0.15mm (taking no prisoners!). Lots of bait today, maggots, casters, hemp, pinkies and worm plus Bait-Tech Pro Nat Fine Lake Dark and Bream Dark mixed 50:50.
On the whistle I fed two balls of groundbait at 10 metres down the middle and then a mix of chopped worm, maggot and casters across just off a weed bed at 11.5 metres. I started over the groundbait with single red maggot on the hook, loose feeding casters and hemp, it took a little while to get a bite which was from a little roach.
Danny was getting a few on the whip and Norts had landed a couple of decent roach, I began getting some tiny little silver bream/pommie things so tried double maggot which didn't really improve things. I put a caster on and started getting the odd indication before landing a nice 8oz roach, a couple of smaller ones followed and I thought I might string a few fish together but it was short lived.
There were some big roach or rudd topping to the left and right of me so I picked up the light strung out rig but never had a bite on it. Norts was still netting the odd decent roach and Danny was catching small fish on the whip but I was going nowhere fast so I fed the chopped worm line again and would have a look shortly.
With two hours gone I had 30 fish for around 2lb but the bites were dwindling so I cupped in another ball before having my first look across. I toss potted in some worm and caster with half a worm on the hook, after a couple of minutes, the float slid away and the strike resulted in a foot of black hydro emerging from the pole tip. It felt like a half decent skimmer or perch but as I shipped back, it came off!
Next put in, I missed a really good bite and then landed a decent skimmer around 1.5lb. At this point I really fancied I'd get a few more as there was the odd bubble coming up and over the next hour I missed a couple of good bites. Norts had landed a trio of nice perch and then with two hours to go I looked up and he was into a lump and did well to land a big tench. I looked back just as my float sailed away, 'here we go' I thought and I walloped into it only for a foulhooked gudgeon to fly out the water!
I potted in some more worm and had another look down the middle but only managed a couple of tiny fish and I knew I needed a bonus fish or two to do any good. First drop in back across a greedy 2oz rudd snaffled my worm which didn't really help my cause. Time was running out but there were still odd bubbles right over my feed and I was sure there were big fish in the peg.
Then with just 15 minutes remaining, the float buried and black hydro streamed out on the strike, I shipped back quickly and the fish was in the middle of the swim, it was a good fish and I have to admit it was definitely squeaky bum time! I got down to the top four and it buried itself in the weed on the inside but with pretty robust kit on, I wasn't too worried and managed to net the fish along with rather a lot of weed – phew! It was a gorgeous tench around 4lb and although I didn't think it would be enough to beat the pegs on my right, it might sneak me a section win.
There was still time to go back out but I didn't get any more before the final whistle went. I packed up and as I took my kit back to the car asked how people had done, Norts said he might have 10lb, Hainsey on peg 5 was admitting to 1lb 11oz (which was rather a precise estimate!) and then Russ said he'd struggled for 3lb (so we all knew he had at least 6lb).
We started with Dave on peg 1 who had lots of small fish and a nice rudd for 6lb 7oz, Bob Newbury weighed 3lb 14oz which included some quality roach, then Derek went into the lead with a tench and a skimmer for 6lb 8oz before Russ's 3lb went 6lb 10oz (nobody was surprised). Hainsey was slightly out with estimate as he actually had 2lb 9oz and then Norts was really close to his when he weighed 10lb 13oz to go into the lead. Then it was my turn and I was pleased to see the digital display read 7lb 7oz.
Danny B had lots of small fish for 3lb 10oz, Nick V weighed 3lb 6oz on peg 9 and then Dan Baldwin had a fantastic net of hemp roach weighing 16lb 14oz, proving once again, he's the man to beat (he won the match the previous weekend with 15lb+ of bream and tench).
There had been lots of close weights in the other section but not as many bonus fish, Clifford had the top weight with 6lb 1oz from peg 17, Ian 'Bagger' Burton weighed 5lb 12oz, Mike Goad had 5lb 9oz, Roy Worth on 15 weighed 4lb 10oz, Steve 'The Pole' Parker had some nice rudd in his 4lb 5oz, Rob Wylde had 3lb 5oz, Andy Downton weighed 2lb 11oz, Dave Pope on peg 16 had 2lb 6oz, Wayne Cooper weighed 13oz and John S had 4oz on peg 18. Thanks to Andy Downton for the photos*
So apart from the top two, there were a lot of close weights on a variety of methods and some big fish were lost as well. Dan was the first winner of Dave's Trophy, Norts continued his good form with second place, I was third picking up £50, Russ fourth and Derek completed the frame. Cliffy won the top section and Dave Hilton won our section by quintuple default! In the blind pairs everyone was hoping they had Dan as a partner and Dave P was the lucky one.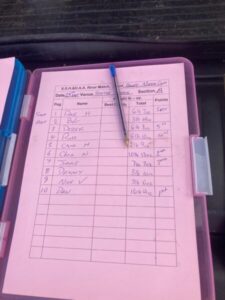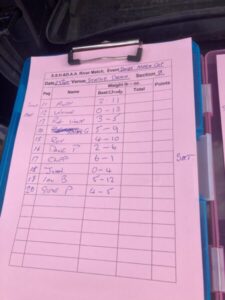 1 – Dan Baldwin (Colmic) – 16lb 14oz
2 – Chris Norton (Stoke) – 10lb 13oz
3 – Jamie Rich (Against Men and Fish) – 7lb 7oz
4 – Russell Hilton (Stoke) – 6lb 10oz
5 – Derek Goad (Stoke)  – 6lb 8oz
Sections
A – Dave Hilton (Stoke) – 6lb 7oz
B  – Cliff Gaylard (Stoke) – 6lb 1oz
Blind pairs
Dan Baldwin & Dave Pope
Norts took a nugget off me but kindly donated it to the pot so the Nugget-O-Meter climbed another £2 to £231.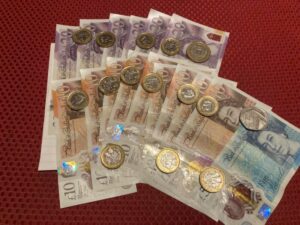 There's still a great offer running if you fancy treating yourself to some new fishing gear, use the exclusive discount code AgainstMenandFish10 to get 10% off when you shop online at Somerset Angling
I still have copies of my book available from eBay here or Amazon here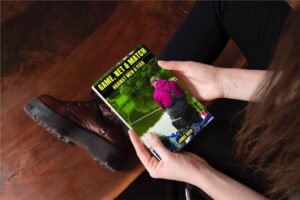 And if you could spare five minutes to leave a nice review on Amazon, it would be very much appreciated.
Next up – Simms Silvers
Coming soon – Lots more match reports
Check Out – My last match (below)