With a Bank Holiday on the Monday, there was a silvers only match on Longs, I booked in and Nick and Jenny said they fancied it as well and very kindly did some bacon and egg rolls for breakfast. They wouldn't accept any payment so we all bunged a fiver in the charity pot.
With 12 anglers fishing, we had plenty of room and I was hoping to draw 17 or 19 on the bottom bank or 13 which I've done well on before. The golden peg was 35 which hasn't been the best in recent matches, the draw got underway and Kev Osbourne was the first name out the bucket and got the the bonus peg, Roy was next and was on 29, Glynn got 31, McKenzie was on 14, Jenny 27, Nick 24 and then it was my turn. I was convinced I was getting one of the pegs I wanted but Pete pulled out 37, it can be alright but I felt I was up against it as it's narrow and normally a great carp peg.
Bill 'The Paste King' got 12, Scott C was on 33 and then the two I wanted went with Steve C on 17 and Mark L on 19, Rob B was last out the hat and got 3 on 'Cyanide Straight' although he wasn't too upset as Glynn had won the silvers off it with 15lb+ the previous day.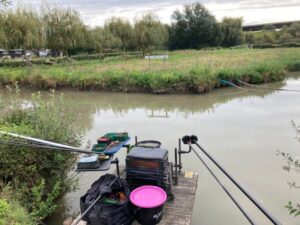 I set up a 0.3 gram Guru AR for top two to my right and a little 0.2 gram Guru AR for 8.5 metres and 11.5m across which was around a metre off the far bank. On the side tray I had lots of red maggots, 2mm and 4mm expanders plus some Bait-Tech Special G F1 and Dark groundbait.
We had a two minutes silence for the Queen before Pete got the match underway. I fed the two shorter lines with some loose groundbait and fired some maggots across before starting on the top two to my right, normally you can catch a few early fish and a bite first chuck resulted in a 3oz skimbob. The next bite saw a carp scream off and I hooked three on the trot before giving that up as a bad job.
Moving out to 8.5 metres, the float sailed away as carp number four was hooked and I was beginning to get a feel how today was going to go! Fishing to the left of the feed I finally managed another skimmer and on the next put in, hooked a leaper that came off! I had another skimmer and then hooked a decent leaper that stayed on to put me on four skimmers for around 2lb after an hour.
The second sixty minutes was really good and by fishing to the left and right of the feed, I had 10 skimmers including two good ones and was up to 6lb. Roy walked by to use the loo and said Glynn was bagging and probably had 12-13lb already. Rob B over on 3 was catching quite well and they looked to be a decent stamp too.
The third hour was okay and I added another four skimmers but more carp were muscling in so I went a section further over and a positive bite resulted in elastic streaming from the pole tip but the carp snagged me on something. Across at 11.5 metres, I've had two skimmers in as many chucks but one of those went into the same snag as the carp and when I hooked it again next put in, I decided to start a new line further to left.
I was catching at a similar rate but they were smaller fish with most around 3-4oz, I had a couple on 2mm expander but they weren't any bigger so tried a 4mm which just resulted in a carp. Back to single maggot, I was getting the odd skimmer but hooking more and more carp and then noticed a nick in my yellow hydro so had to swap rigs on the top kits and the other had orange hydro in which was a little too harsh really.
At this point my match just continued to go wrong, the next calamity happened when a carp with a rig attached to it came round the island at a rate of knots, collecting my rig in the process. After a lengthy scrap I landed it but my rig was in a right mess so I had to put on the 0.3 gram float. The next fish I hooked was a carp which went through some vegetation on the far bank and broke me, leaving the rig snagged up. I had to ship back and grab the elastic, the rig flew back and the tip snapped in half so that was another rig trashed!
I got another one out but there was too much line between pole tip and float and it was just all wrong. Rather than shorten it up, I stupidly made do for the remaining hour or so and after a good first half of the match I somewhat limped towards the finish line. On the whistle, my clicker was reading 38 fish (all skimmers apart from one decent roach), plus a few small ones I hadn't counted.
The scales were with me first and I weighed 13lb 1oz which was a decent weight but I knew it wouldn't do any good today. Rob B had 18lb 2oz on peg 3 and then the next angler was Bill 'The Paste' on 12 who had 10lb, McKenzie weighed 5lb 3oz on 14, Steve Collins on 17 had 14lb 5oz and Mark Leahy on 19 had 10lb 2oz.
Nick P on 24 was admitting to 5lb but weighed 14lb, Jenny had some nice skimmers for 6lb 15oz on 27 and then Roy on 29 went into the lead with 20lb 11oz. Glynn on 31 was next and it was very close with the digital display settling on 20lb 9oz. Scott Cousins had 6lb 10oz on 33 and Kev chucked back on 35.
1 – Roy Hughes (Summerhayes) – 20lb 11oz
2 – Glynn Wickham (Summerhayes) – 20lb 9oz
3 – Rob Birch (Summerhayes) – 18lb 2oz
So some brilliant weights and it was really close too with just one skimmer between first and third  with several good back up weights as well. A frustrating day for me but I'm looking forward to the next one already (after I've replenished my hooklength boxes, tied more rigs and replaced elastics!).
Nick won the £3 side bets which he kindly donated to the charity pot and with the £15 from breakfast, the Nugget-O-Meter rose sharply to £229 and continues to build nicely.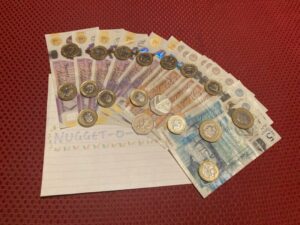 There's still a great offer running if you fancy treating yourself to some new fishing gear, use the exclusive discount code AgainstMenandFish10 to get 10% off when you shop online at Somerset Angling
I still have copies of my book available from eBay here or Amazon here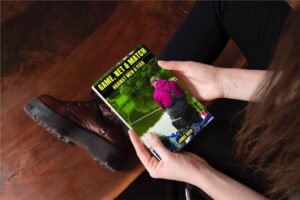 And if you could spare five minutes to leave a nice review on Amazon, it would be very much appreciated.
Next up – Stathe
Coming soon – Lots more match reports
Check Out – My last match (below)