The Grand Wiz asked if I wanted to fish this one with him although on my current form he might regret it! After the obligatory excellent breakfast at the bowling club (thanks Drew) we headed to Parrett Works for the draw. The format of this match would be one angler in the first field which hasn't been very good with the exception of pegs 9 and 16 and the other in the second field where pegs 28-32 have been very consistent.
So far in the various matches on the Parrett my drawing arm has let me down badly most weeks and I've been on pegs 7, 11,13 (twice), 16, 23 and 25 with 16 the only one of those I'd like to fish again. I've only ventured down into the bottom section twice and can't seem to get near the favoured pegs (actually that's a lie as I've pushed Chris's barrow down to 31 for him!). Sometimes with pairs matches it can be difficult deciding who goes where, especially if you end up with a flier and a crap peg! Stoke eliminated this as one from each pair would draw first from a bucket with two markers in with A and B on which would decide which section they would be in.
The Grand Wiz was our designated captain and went up to draw, of course he pulled out B which meant I was in the first field for the sixth time in eight matches! He then drew for his peg and pulled out 29, a great peg. Then it was my turn and I delved into bucket A, hoping to draw number 9, I opened my hand and although I hadn't drawn the peg I wanted, I was happy enough with 5 which has been a consistent peg.
Elsewhere, the Hilton's had drawn really well with Russ on 16 and Dave on 31 making them pre-match favourites, Nick V and Hainsey were on 32 and 14 respectively and would be there or thereabouts. Jenny and Nick hadn't drawn great with 22 and 7, Cliffy/Steve P were on 28 and 17, Bob/Dave P had 10 and 24 and Derek G/Wayne C were on 9 and 25.
My peg looked good although after a chilly start, I thought it could be hard today. I set up the usual three rigs, a 1 gram bodied float for down the middle, a 0.5 gram DH16 for fishing across with 0.14mm to a 16 B611 and another identical float but with 0.10mm to a size 20 Guru Match Special.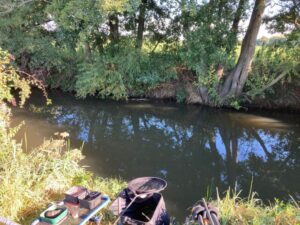 On the whistle I started down the middle with the heavier rig but instead of potting anything in, I decided to just loose feed today. There was virtually no flow and it took a while to get my first bite from a tiny gudgeon, I had a couple more along with a few minnows but I was going nowhere fast and the lack of roach or dace was worrying.
Although I couldn't see Nick down on 7, we could hear each other and he said it was similar for him with just gudgeon and minnows. Picking up the lighter rig I managed a couple more gobies but bites were few and far between. Trying just to the right of where I'd been feeding, a positive bite saw a fair bit of elastic come out before I safely netted a nice roach of 6-8oz. Not long after I added a small roach and then hooked a better fish that tore off and I knew it was a chub. It didn't give me too many problems and at around a pound, was a nice bonus.
I was getting the odd bite and had three dace and a couple of gudgeon to put me on 2lb or so after ninety minutes and I was well on the way to my 3lb target. Of course I then couldn't get a bite on caster and maggot just resulted in minnows. As we reached the half way point, things hadn't improved for me or Nick but then he shouted up that he was into a chub and landed a decent fish. Not long after, he added a chublet and there was now nothing between us.
I've gone 13 metres down the peg where there was some far bank cover with double caster on the hook hoping for a chub but it's not happened and I've only caught a small dace. Bob came up and said he was really struggling and not long after, Steve 'The Pole' arrived and said floating leaves were a nightmare in his swim and he hadn't had much but Russ had landed 7 chub and would win the section easily.
Nick lost a decent fish and also did a fair bit of squirrel hunting before landing a nice perch not long before the end. I ended up with 14 fish (1 chub, 2 roach, 4 dace and 7 gudgeon) plus a few minnows. Russ soon arrived with the scales and my fish went 2lb 4oz which was a bit disappointing after having a decent start to the match, Nick had 3lb 1oz so that perch had come in handy. Derek weighed 1lb 2oz of gudgeon and minnows and then Bob had 1lb on peg 10. Thanks to Russ Hilton for the photo*
Chris Haines was next and once again had been very busy with loads of minnows and gudgeon plus a bonus eel and a few small dace for an excellent 4lb 3oz. Russ was admitting to 7lb but his 7 chub plus a few bits and bobs went 11lb 14oz! Steve 'The Pole' had struggled for 5oz on peg 17.
After putting my kit in the car, I walked down to give the Grand Wiz a hand back with his kit, the bottom section had been really difficult and he was actually second with 1lb 5oz behind Cliffy who had 2lb 4oz.
Back at the results, it sounded like the were no pairs with two good results so I started to think we might sneak in the frame with 6 points, in fact it was really close and there were three pairs on the same points and we've ended up third on weight, picking up £20 each.
1 – Russ Hilton and Dave Hilton – 6 pts (12lb 5oz)
2 – Chris Haines and Nick Veale – 6 pts (5lb 5oz)
3 – Jamie Rich and Chris White  – 6 pts (3lb 9oz)
Nick P won the £3 side bets and a £1 from Steve P for yesterday saw the Nugget-O-Meter rise to £211.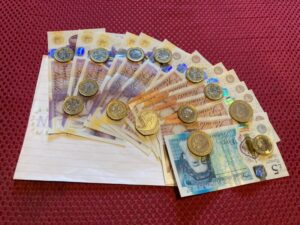 There's still a great offer running if you fancy treating yourself to some new fishing gear, use the exclusive discount code AgainstMenandFish10 to get 10% off when you shop online at Somerset Angling
I still have copies of my book available from eBay here or Amazon here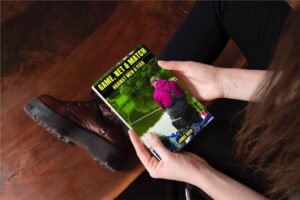 And if you could spare five minutes to leave a nice review on Amazon, it would be very much appreciated.
Next up – Summerhayes
Coming soon – Lots more match reports
Check Out – My last match (below)