There's some great silvers competitions around at the moment including a new one organised by Fish South so when the tickets went on sale, I thought I'd give it a go and bought a couple for Ivy House, a new venue for me. Not knowing anything about it, I spoke to Stu White who fishes it a fair bit and he couldn't have been more helpful – cheers mate. Also, Callum Dicks had been fishing the opens to practice for this match so I read all his reports leading up to today. It looked like lovely fishing with 25-30lb of skimmers and roach winning the silvers.
A really early start was required and a 4:30am alarm was a bit of a shock to the system! I met Nick and we made good time until we got to the M4/M5 junction and despite my trusty 'Twat Nav', I went sailing on up the M5! Coming off at the next junction and heading back was relatively painless but then I took the wrong exit on the roundabout, a road closure was next and I was beginning to flap a bit. We asked someone for directions and thankfully found the fishery without any further complications!
We had a cracking breakfast in the cafe before collecting some bait and paying our pools. Stu White turned up and while we were chatting outside, the car park began filling up as a procession of top anglers arrived including the likes of Des Shipp, Paul Holland, Callum Dicks, Tommy Hillier, Richard Chapman, Andy Cranston, Rich Reynolds and Greg Welsby to namedrop a few.
Jon Cook welcomed everybody and said there would be one qualifier and the payout would be the top two on each lake and top three overall in the superpool. The draw got underway with most people hoping to draw on Willow where the top weight was tipped to come from. Nick got peg 8 on the Old Match Lake and then I pulled out 23 on Willow which owner Andy Lloyd said was a flier!
My peg certainly looked the part, I was on a bit of a point with lots of open water to go at and to my right was the end bank and a causeway with the other lake beyond and I could see Nick across from me. Opposite me on Willow was Dave Romain and behind me to my left on peg 21 was Andy Cranston. The water was coloured and there were lots of skimmers and roach topping.
Plumbing up there was nice depth around 4ft straight out and to my right with it shallowing up to the left. I set up a 0.4 gram float for two lines at 13 metres plus a little 0.3 gram F1 Carbon Slim with spread shot to fish the shortish line at top kit plus three. On the menu today were maggots, disco pinkies, casters and some Bait-Tech Special G F1 Dark.
The all in was shouted and I fed a small amount of loose groundbait and a few pinkies on the short line, a full pot at 13 metres straight out and then a line at the same distance but angled to the right was fed more positively with three cups of loose gb plus pinkies and casters.
I started short with single maggot on the hook and feeding a few casters by hand, first chuck the float buried and it felt like a half decent skimmer but came off! Next put in, the float's gone again and lots of number six Slip appeared before I netted a 6oz skimbob hooked in the wing! I was getting regular bites and putting some roach in the net but also bumping quite a few small fish. It was a steady first hour and in amongst the roach I added three more little skimmers around 2-4oz apiece, I was really enjoying myself but also couldn't wait to get out on the longer lines.
Shipping out to 13 metres I toss potted in a few casters and thought I'd catch quite quickly but it actually took a while to get a bite, a small roach was first and then a few more followed so I switched to double maggot and had a decent skimmer. My next fish was proper one around 2lb  but before I could get too excited, bites slowed again so I potted in a little more loose groundbait and moved to the positive swim.
After being left alone for two hours, I was expecting it to be good but never had a touch there! Back on the other 13 metre line, I had a nice little spell catching skimmers and roach but also pulled out of a couple too. The only other anglers I could see on my lake were Dave opposite and Mick on peg 33 and they were both catching a few as well.
We were only fishing for five hours today and with around two hours to go, bites on my long line slowed up again and resting it definitely was the way to go but the trouble was, I still couldn't get a bite on the positive swim. Dave had a nice run of fish whereas my catch rate was going in the wrong direction and pulling out of three skimmers on the trot killed it completely! I fed my long line again and had another quick look on the positive line but still no bites so dropped back in on the short swim.
A bite straight away resulted in a fair bit of elastic coming out and I netted a cracking roach of 10-12oz, a few more followed all on single maggot or double pinkie, I tried caster but only had a couple of small roach on it. I was catching roach quite well but with just under an hour to go I couldn't resist another look long to see if I could get a few more skimmers.
The last 45 minutes were brilliant and I had another six skimmers and two roach to finish up with 78 fish which averaging 3-4oz apiece would give me around 15-20lb. The scales started round with Dave and when they got to me, Paul Holland was winning with a brilliant 30lb 1oz from peg 30, my fish went 23lb 11oz which put me second on the lake so far but there were still a few pegs to weigh. Andy Cranston weighed 19lb 14oz and then the last two pegs had low double figures so I was actually second on the lake. Over on OML, Callum Dicks had the top weight with 20lb 15oz and Des was second with 17lb 6oz.
Willow
1 – Paul Holland (Match Focus) – 30lb 1oz
2 – Jamie Rich (Against Men and Fish) – 23lb 11oz
Old Match Lake
1 – Callum Dicks (Blakes Baits) – 20lb 15oz
2 – Des Shipp (Preston Innovations) – 17lb 6oz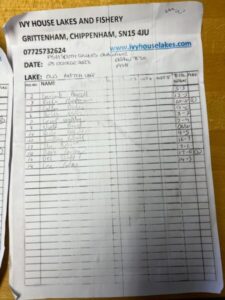 Back at the results, I'd actually finished second overall and had a nice pick up of £50 for second on the lake and £70 from the super pool. To be honest, even though I'd had a lovely day's fishing and done well (albeit from a great peg), it was definitely a chance today. I'd pulled out of a few and with hindsight I shouldn't have fed the right hand line so positively and wish I'd also put in a line to the left where it was a bit shallower. I'm not going to be too down on myself though as it's probably one of my best results yet (and I haven't hooked a carp all day!).
Nick and me added £2 each for today and tomorrow to the Nugget-O-Meter plus I owed him £2 for some bait and he generously said to stick that in the pot as well so the new total is a £407 as it continues to rise steadily.
There's still a great offer running if you fancy treating yourself to some new fishing gear, use the exclusive discount code AgainstMenandFish10 to get 10% off when you shop online at Somerset Angling
Also I still have copies of my book available from eBay here or Amazon here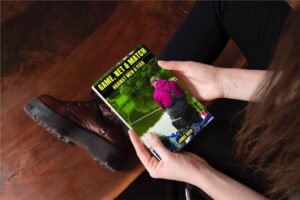 And if you could spare five minutes to leave a nice review on Amazon, it would be very much appreciated.
Next up – Lodden Lakes
Coming soon – Lots more match reports
Check Out – My last match
#sponsoredpost #affiliatelinks