After fishing Ivy House for the first time yesterday and loving it, Sunday saw me at another venue I've wanted to fish for ages, Lodden Lakes near Gillingham, for a Stoke match. Quite a few of us met at Cartgate for breakfast before heading off in convoy with Andy S taking the lead as nobody knew where we were going! We initially ended up in a industrial estate and then a residential area but after asking a local, it actually turned out we were only just up the road from the fishery.
As the name suggests, it's a silvers only match and there's loads of big skimmers plus odd tench and some big carp (which obviously don't count) in Lodden. Twenty anglers fishing today which just shows what a popular venue it is. Norts announced the draw and the usual scrum for pegs ensued, I pulled out number 28 which some of the venue regulars said was a good one.
My peg was up towards the far end of the lake and I was out on a point (again!), Andy S was behind me to my right and Bagger Burton was on peg 25 to my left. On the opposite bank were Norts, Jake B, Glen R and Dave N. I set up a 0.4 gram float for two lines at 13 metres plus a little 0.3 gram F1 Carbon Slim with spread shot to fish a top kit plus two. On the bait tray today were maggots, disco pinkies, casters, worms and Bait-Tech Special G F1 Dark.
Derek's whistle got us underway and I fed the short line with a little groundbait and some pinkies, the right hand 13 metre line received a pot of gb and casters while the left hand line was fed with gb, chopped worm and caster. I started short with double pinkie to allow the longer lines to settle and had a small roach first put in. After half an hour I had around a dozen small fish for a pound while Dave Nash over on peg 15 had three big skimmers for 6lb already!
Originally I'd intended to stay on the short line for an hour but with some decent skimmers being caught I had to have a look on my longer lines. The right hand line was first but after half an hour I'd only had a small roach on double dead reds so moved to the worm line with the head of a dendra on the hook. I started getting indications and hooked what felt like a slightly better skimmer but it came off and the same thing happened next chuck.
Third put in, I had a 10oz skimmer followed by a couple of smaller ones before striking into a proper one around 2.5lb. I was doing okay at this early stage although a long way behind Dave N who was still bagging and had even landed two big crucians that didn't count.
Swapping between my two long lines I was getting the odd little skimmer but after a fairly promising start it was now hard going, Jake and Norts opposite were also struggling although Glen R had caught a couple of decent skimmers and Andy S and Tucks on my right both had five or six fish apiece.
I did hook a big fish on worm and despite praying for a tench, it was a carp of 10-12lb that I had on for ages before it eventually snapped me. Next put in I was into a what I thought was big skimmer but turned out to be a much more modest sample of 6oz, hooked in the flipper! Knowing I needed bream/skimmers to do any good, for the rest of the match I've swapped between the two 13 metres with either worm or double dead reds on the hook for little return. Just before the end I did bump what felt like a better fish but I knew my one decent skimmer, eight smaller ones and a few bits wouldn't do any good today.
Paul Smith up on the end had the scales so I went up to give him a hand and get some photos, he had two nice bream and some small fish for 9lb 12oz but had also lost a tench, Bagger Burton weighed 5lb 12oz and then my fish went 6lb 12oz.
Andy S had six decent skimmers for 13lb 3oz and then Tucks weighed 12lb 4oz with a similar number of fish. Nick V had a level 10lb, 'Oscar' on 32 weighed 8lb, Dave P had 7lb 4oz, Derek Beard on peg 39 weighed 11lb 7oz which included a nice tench and then last on our bank was Parker 'The Pole' who had a nice net of skimmers for 14lb but had lost several too.
On the other bank, Dave N had comfortably won the match with 32lb 4oz followed by Glen in second place with 17lb.
1 – Dave Nash (Stoke) – 32lb 4oz
2 – Glen Radford (Tackleuk) – 17lb
3 – Steve Parker (Stoke) – 14lb
Section A
1 – Nick Payne (Ilminster) – 12lb 3oz
1 – Nick Chedzoy (Thatchers) – 12lb 3oz
Section B
1 – Steve Tucker (Garbolino) – 12lb 4oz
2 – Nick Veale (Stoke) – 10lb
Section C
1 – Andy Saunders (Sharp MG) – 13lb 3oz
2 – Paul Smith (Stoke) – 9lb 12oz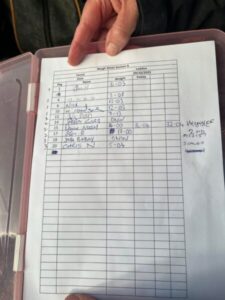 Norts gave me a squid for the Nugget-O-Meter which is now up to £408.
There's still a great offer running if you fancy treating yourself to some new fishing gear, use the exclusive discount code
AgainstMenandFish10
 to get 10% off when you shop online at 
Somerset Angling
Also I still have copies of my book available from eBay here or Amazon here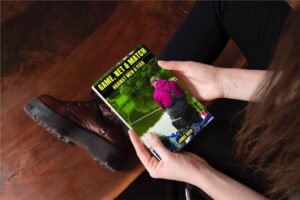 And if you could spare five minutes to leave a nice review on Amazon, it would be very much appreciated.
Next up – Acorn Fishery
Coming soon – Lots more match reports
Check Out – My last match
#sponsoredpost #affiliatelinks