With no matches planned for Saturday I was actually quite looking forward to having a lie in and a day not doing very much. Then Zoe advertised an impromptu open on FB and I couldn't resist, Nick didn't require much persuading either!
It was a wet and windy start but after breakfast it stopped raining although when we got to the fishery, there was a slightly depleted turnout as several people had cried off due to the forecast. When the draw was announced, Nick was first in and pulled out peg 7 which I wouldn't have fancied, I ended up on 34, a swim I seem to draw a lot and it's a decent one. For company I had Nigel Bartlett on 36 and he'd be fishing for silvers as well.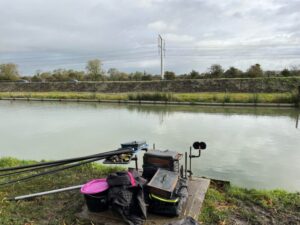 I set up a Drennan 0.4 gram Pencil for four lines, top kit plus two straight out and by the bridge, 10 metres and then 11.5 metres to the left in the open water plus a little 0.3 gram Guru F1 Carbon with strung out shot. The side tray contained the usual several pints of maggots plus some Bait-Tech Special G F1 and Dark groundbait.
We got underway and I fed the short line, 10 metres and by the bridge with groundbait and then fed half a pot of maggots at 11.5 metres. Kicking off on the longer line straight out, it was a slow start, which wasn't unexpected after all the cold rain that had gone in. Eventually I began getting a few indications and after missing two or three (standard!) I connected with one and landed a nice roach, two more followed quite quickly but it was short lived.
Nigel was catching a few fish but the wrong type, I had a couple of skimmers and also a carassio that convinced me it was a tench before revealing its true self! After an hour I had a look on the shorter line and caught a skimmer and a roach before hooking a carp so tried by the bridge for the first time. I thought it was going to be really good but it took an age to get a bite and I hooked a fish briefly but it came off.
The weather was bonkers and we had spells of rather pleasant sunshine punctuated by some heavy showers and a cold, gusty wind at times. Back at 10 metres, I was getting the odd skimmer but resting that line by dropping short was definitely key. I'd been feeding the 11.5 metre swim regularly since the start and with an hour and a half remaining, there were loads of blows and first put in, the float sailed away and as soon as I struck I knew it was a big tench as it tore off and a mass of bubbles came up.
I was taking my time as it could be massive bonus today, down to the top kit, it was swirling and I could see it was a lovely 5lb plus tinca only for the bloody hook to pull out at the net – gutted! Next put in, the floats gone again and more bubbles came up, it couldn't be, could it? It was and thankfully this one stayed on, it was a cracking fish too, probably getting on for 6lb which settled me down a bit.
I've had a really good spell on that line with another decent tench, one of 12oz plus a skimmer before a couple of nuisance carassio and a carp muscled in. Switching back to the 10 metre line, I had another skimmer first drop in, another look short was unproductive so spent the remaining thirty minutes at 11.5 metres. The rest had done it some good and I had two more big tench around 3-4lb apiece and pulled out of a smaller one.
Zoe soon arrived with the scales and my accidental carp and carassio net went 18lb 10oz before my 23 silvers (and greens!) weighed 29lb 9oz. Nigel had 19lb and then I finished packing up while the scales carried on to the next peg.
Back at the results and I'd won the silvers, but only just as Nick had done brilliantly to weigh 26lb 2oz and had lost a big tench right at the end. Rich Major had the top weight on the day with 99lb 9oz from peg 11 with Neil Mercer in second place with 92lb 1oz on peg 13.
1 – Rich Major (Acorn) – 99lb 9oz
2 – Neil Mercer (Acorn) – 92lb 1oz
Silvers
Jamie Rich (Against Men and Fish) – 29lb 9oz
Nick and me bunged £2 each in the pot (for today and tomorrow) and the Nugget-O-Meter is now up to £412.
There's still a great offer running if you fancy treating yourself to some new fishing gear, use the exclusive discount code 
AgainstMenandFish10
 to get 10% off when you shop online at 
Somerset Angling
Also I still have copies of my book available from eBay here or Amazon here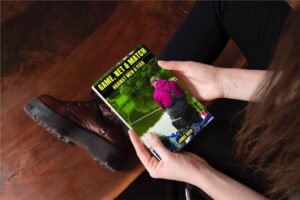 And if you could spare five minutes to leave a nice review on Amazon, it would be very much appreciated.
Next up – Revels
Coming soon – Lots more match reports
Check Out – My last match
#sponsoredpost #affiliatelinks