Sunday we were at Revels for a Stoke match but not before the breakfast club assembled at the Airfield Tavern which set us up for the day. On arriving at the fishery I was a bit gutted to learn we were on Main and Trendles as I thought we were using Middle today (not that I would have drawn it anyway!).
Norts announced the draw and people started delving in the bucket, Nick went in early and pulled out 36 on Trendles, Parker 'The Pole' got number 6 on Main and then I drew but was scared to look, sure I'd be up the hill on Trendles. When I plucked up the courage to open my fingers, I was delighted to see peg 4 on Main staring back at me, not my first choice but it's still a decent area for silvers.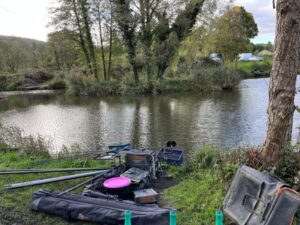 I set up a 0.4 gram float for two lines at 10 metres plus a little 0.3 gram F1 Carbon Slim with spread shot to fish down the edge on a top kit either side. On the side tray were the usual maggots, disco pinkies plus some Bait-Tech Special G F1 Dark.
Lots of cold rain had gone in overnight and it was certainly a few degrees chillier today which made me think it might be hard today. Chedz was on peg 2 and 'The Pole' was the next angler round to my right. On the whistle I fed a small amount of loose groundbait and a few pinkies on the top kit line to my left and just half a dozen maggots on the right. Both the longer lines received gb and maggots.
I started on the top kit to the left and was expecting to wait a while for bites but had a small perch first chuck! Nick dobbed a carp straight away (with bread pilfered from Norts) so maybe it was going to fish better than I initially thought. I was still catching little perch and gudgeon along with the odd roach including one cracker of 8oz or so.
With an hour gone, I had 30 fish for around 2lb but was waiting longer and longer for bites so it was time to have a look at 10 metres. Nick had added another carp but from what I could see, most people were struggling. After catching so quickly short, I was expecting the longer lines to be good but on the left hand swim, the float's just sat there!
I gave it ten minutes but not a tremble, moving to the right hand line, the float settled before sliding away, a decent amount of elastic came out and I netted my first skimmer, a nice 6-8oz fish. Shipping back out I was hoping for a run of fish but it didn't happen and I was sure there were fish there but with the water being gin clear, they were very wary.
Swapping lines again, I had a couple of small roach but after a good start, I was now struggling. I tried playing around with my feeding, toss potting a little groundbait on one line and leaving it to fish the other and then doing the same with just a few maggots and although I was getting odd fish, nothing seemed to work that well.
Adding a section and going past the feed resulted in a skimmer first put in and that set the scene really, odd fish from the two 10 metre lines before going past them and then repeating the process. Steve P was landing a few carp including a pretty 'instant win' and Chedz came in on his short line and had some decent stamp silvers plus a couple more carp.
I had another look on my top kit lines but never had a bite there so spent the rest of the match picking off odd fish from the longer lines and also inevitably hooked three carp, landing two and losing the other. At the all out, Nick had the scales so we weighed him first, his carp went 32lb 8oz and the silvers added another 3lb 15oz for a 36lb 7oz total. My two carp weighed 7lb 10oz and then my 73 silvers were a level 7lb.
Parker 'The Pole' had 19lb 5oz, Roy Worth weighed 8lb 13oz on peg 7, Dave P had two carp for 7lb 3oz on peg 8 and then Norts had struggled on 11 for 2lb 2oz of perch and a small but perfectly formed 10oz carp (although he did lose quite a few as well!). Wayne C on 12 and Sam H on 20 both didn't weigh.
Back at the results and Trendles had been tricky too, Ash had the top weight on peg 34 with 28lb 7oz, Nick P on 36 weighed 18lb 4oz, Rob C had 15lb 7oz (which included 5lb 6oz of chub and roach), Harv weighed 7lb 6oz on 29 and then Priv and Cliffy chucked back.
1 – Nick Chedzoy (Thatchers) – 36lb 7oz
2 – Ashley Tomkins (Tackleuk) – 28lb 7oz
3 – Steve Parker (Ilton) – 19lb 5oz
4 – Nick Payne (Ilminster) – 18lb 4oz
Silvers
1 – Jamie Rich (Against Men and Fish) – 7lb
2 – Rob Cox (Ilminster) – 5lb 6oz
I picked up £35 for winning the silvers although I lost a nugget to Parker 'The Pole' as we'd done it on overall weight today. So a nice couple of days silvers fishing on two of my favourite venues.
Rob Cox generously gave me £2 for the charity and Steve donated the nugget he won off me so the new total is up to £415.
There's still a great offer running if you fancy treating yourself to some new fishing gear, use the exclusive discount code 
AgainstMenandFish10
 to get 10% off when you shop online at 
Somerset Angling
Also I still have copies of my book available from eBay here or Amazon here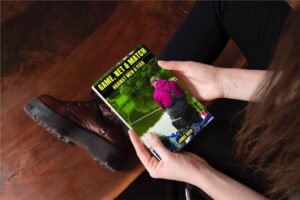 And if you could spare five minutes to leave a nice review on Amazon, it would be very much appreciated.
Next up – Summerhayes
Coming soon – Lots more match reports
Check Out – My last match
#sponsoredpost #affiliatelinks