After a disappointing day yesterday we were back at Summerhayes for the Sunday open but on Sellicks this time, which is my favourite lake as there aren't as many carp or tiny silvers. We met at the bowling club for breakfast (thanks Charlotte) and were joined by the Grand Wiz and Chanter who were fishing the Chard winter series.
With our bellies full we headed off to our respective venues, pulling into the car park, it was pretty busy and I was desperately hoping there weren't too many fishing that we'd be moved to Longs! Thankfully with 18 booked in (which is pretty much the limit for the lake) we'd be on Sellicks so I quickly blocked off all the access points to make sure nobody else could turn up!
Pete announced the draw and I was hoping to draw pegs 15 to 21 on the far side but ended up on number 7 which can also be good. I had young McKenzie for company again, this time on my left and an empty peg on the other side of me which is normally a bit of a bonus.
I set up a 0.2 gram Bobbie for across to the island plus a 4 x 12 Preston F1 Maggot for two lines at 10 metres and also down the edge on the top kit. It was the usual fare on the side tray, plenty of maggots, disco pinkies and some Bait-Tech Special G F1 Dark.
On the whistle I fed all my lines before starting down the edge to let the longer lines settle, I did have one little dig but it wasn't long before I was moving out to the left hand 10 metre line. After a few minutes, a positive bite resulted in a decent 6-8oz skimmer which hopefully was a good sign. I was getting a few bites without it being hectic and added a few small roach and a nice hybrid during a steady first hour.
Swapping to the other 10 metre line (which I'd fed a bit more positively) was a bit of a flop and I only had a little roach and a 2oz skimbob, both coming on the drop. Martin down on peg 4 was fishing for carp but had landed a couple of big skimmers and I'd seen Nigel Bartlett on 1 having some fun playing carp while trying to catch silvers!
I'd been feeding maggots across since the start so with over two hours gone and less than 2lb in the net, it was time to have a look. First put in, the float buried and I had a 4oz chublet and then started getting some roach including two decent fish, I also hooked and landed my first small carp. Martin had caught a couple more decent skimmers and had now switched to fishing for them, McKenzie next door was doing well, fishing to the island and catching carp along with the odd quality roach.
I was having to rotate lines to get bites, adding the 14.5 metre section and going tight across resulted in a roach first drop, I pulled out of one then missed a good bite before landing a carp which caused a bit of a commotion and killed it. Back at 10 metres, I had a couple of small roach before another carp muscled in so the next stop was the top kit line but the only bite there saw me into a 5lb carp which I landed without too much trouble.
With around thirty minutes left I had a cracking 12oz roach from the 13 metre line, Nigel came for a walk as he was fed up with hooking carp, while he was with me I had another carp and then a nice skimmer before he left me to it. Another nice skimmer with five minutes to go and then I still had time to miss two more bites before the all out was called.
The scales started with Nigel who had 22lb 1oz of carp and 5lb 9oz of silvers, Rob C on peg 2 chucked back and then Martin weighed 35lb 7oz which included some big skimmers for 10lb 9oz. Dan T on peg 5 had 26lb 5oz then my carp went 15lb 13oz and the silvers weighed 8lb 6oz before we got to McKenzie who had done brilliantly to go into the overall lead with 40lb 10oz.
Bob on 10 had 7lb 13oz, Glynn weighed 25lb 1oz (including 5lb 15oz of silvers), Kev O on peg 12 had 23lb 4oz, Bill didn't weigh on 13 and then Zooner had 6lb 13oz of silvers and gave my nugget back from the previous day. Adie weighed 25lb 11oz, Alex on 18 had 26lb 4oz which included 9lb 4oz of silvers, Nick weighed 25lb 5oz and then on 21, Roy's 9lb 1oz put him third in the silvers as Ian and Tom on the last two pegs didn't weigh.
1 – McKenzie Wickham (Summerhayes) – 40lb 10oz
2 – Nigel Bartlett (Summerhayes) – 27lb 10oz
3 – Dan Taggart (Summerhayes) – 26lb 5oz
Silvers
1 – Martin Addicott (Summerhayes) – 10lb 9oz
2 – Alex Kerr (Summerhayes) – 9lb 4oz
3 – Roy Hughes (Summerhayes) – 9lb 1oz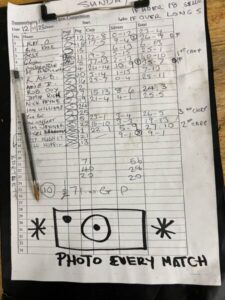 A really enjoyable days fishing and it's always really close on Sellicks with very fine margins between several places, I was just 14oz off second in the silvers and I'd pulled out of three roach plus missed quite a few bites. Roy was third but lost two skimmers which could have won it and I'm sure it was the same for others as well.
After McKenzie's excellent weight, it was also very tight overall, Nigel was second with 27lb 10oz (as Martin had won the silvers) but there were actually eight weights between 23lb 4oz and 27lb 10oz so one carp would've have made all the difference for quite a few people (including me, although I didn't actually lose any carp today!).
The Grand Wiz very kindly donated £5 at breakfast and with my pound back from Zooner, the Nugget-O-Meter went up to £425.
There's still a great offer running if you fancy treating yourself to some new fishing gear, use the exclusive discount code 
AgainstMenandFish10
 to get 10% off when you shop online at 
Somerset Angling
Also I still have copies of my book available from eBay here or Amazon here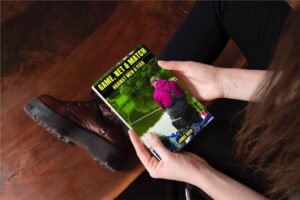 And if you could spare five minutes to leave a nice review on Amazon, it would be very much appreciated.
Next up – Summerhayes
Coming soon – Lots more match reports
Check Out – My last match
#sponsoredpost #affiliatelinks