Conditions were perfect for today with a good blow on the resi and the resident bream would hopefully put in an appearance. I just needed to draw a peg in the forties, I stuck my hand in the bucket and pulled out peg 45, that'll do! After the the mammoth walk I reached my peg and sat down for a much needed breather. On my right I had Dave Abrams, who I always seem to draw next to, and on the other side I had Ashley Tomkins. I just set up a feeder and was going to sit it out for the bream, Dave was doing likewise and Ashley was going all out for the roach.
I set up my Drennan feeder rod with a Drennan feeder, 0.12 mm bottom and size 16 Kamasan B611 hook. My groundbait was Van Den Eynde Gold Pro Bream with some Brasem and fishmeal added. I was set up well before the start so decided to go and get some pictures, as I was talking to Chris Haines I felt something in the hair on the back of my head and as I tried to remove it, felt a sharp pain. The poxy wasp, for that was what it was, had stung me! Not a great start and I hoped it wasn't an omen of things to come. After I made sure it wouldn't be doing it again (not so funny now eh waspy?) I took some snaps and went back to my peg.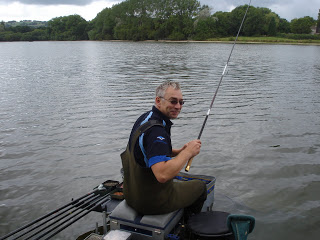 Chris Haines was going all out for roach
On the whistle I had a few quick casts to the clip (about 40 yards) to get some bait in before baiting up with two red maggots and awaiting the action. I soon started getting indications and on my second cast proper had a small roach. Then next chuck the tip went round and I had my first bream, I'm never sure if getting one so early is a good thing or not but when I had three more in quick succession I started to think it might be! Ashley had been getting a few roach but after my 4th bream he set up a feeder rod and went back to the car to get some groundbait. Dave was still fishless, Chris Haines had landed a tench on the whip but as the bream here average 4-5lb I reckoned I was comfortably ahead at this early stage.
While Ash was away I added a decent perch of 12oz, the start of the second hour was slower and I started to think perhaps the shoal had moved on and when Dave had a bream I started to fear the worst. After half an hour my tip went round again and I landed another slab followed shortly by another three, some of the bites were coming as soon as the feeder had hit bottom. With eight bream in two hours of the six hour match I started to think a big weight could be on the cards. Dave was now catching as well although I kept two or three fish ahead. Tommy Lee next to Dave was calling me all the names under the sun as he too walked up the bank to set a feeder rod up.
Looking along the bank I could see both Les Braunton on 47 and Dave Lawrence on 49 netting bream regularly. Hour three saw the action slow a little and although I only had two more I also had some roach and an eel. Dave was still catching but every time he had one, so did I. I was more concerned about Les but when I shouted up he said he had one less than me. Ash and Tommy both had a bream apiece but it was obvious the main shoal was in front of me and Dave.
Hour four saw more roach so I tried a piece of corn on the hook and had another bream but two quick bream for Dave saw him creeping up on me so I switched back to maggot and had two more plus a foulhooked eel! The fifth hour saw me net three more bream and while lifting my landing net on one of them the bloody pole snapped in half! Luckily Les said he had a spare I could borrow, while I was getting it I asked how many he had and he replied he'd had 14 so I was still just ahead.
A very hungover Scotty Russell turned up and started to take the piss out of his mate Ash, who was now back on the whip, for not fishing for the bream. While he was with me I had another foulhooked eel but I couldn't seem to get anymore bream and all the time Dave was edging ever closer and every time I looked up Les seemed to be netting bream and I was convinced he'd overtaken me. With half an hour left Dave latched into a big fish which was no bream. While he was playing the beast I had bream number 17 and and missed a bite with five minutes left. I quickly cast out again and just before the whistle the tip flew round and I was into number 18.
'Fish on'
Les sounded the all out and both me and Dave shouted 'fish on', I netted my bream but Dave was still battling away with what was obviously a big carp. I walked up to get some snaps, and with just five minutes of the allowed fifteen left he slipped the net under a very big fish. Onlookers estimated it at 15-16lb, had I got enough bream to cancel it out, I didn't think so. I quickly packed up and went to give Les a hand with the weigh in.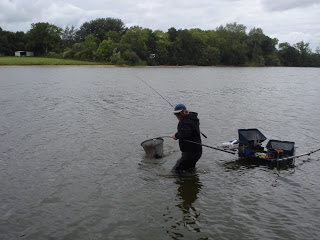 'Phew'
Alan Dunn was first to weigh and put a fine 28lb+ of roach on the scales, then Mike Hosgood had ten bream for 51lb 4oz and I thought perhaps I might have around 80lb. Mark Leahy had 40lb 12oz of bream but the rest of the weights were roach with the odd bream until we got to Dave. We weighed his carp first and the scales settled on 20lb 12oz, now that's what you call a last gasp bonus! He then plonked around a dozen slabs on the scales to give him a final weight of 75lb 6oz. I still felt it might be close but when my first weight was called out at 29lb odd I wasn't so sure, my second net was better and my weight was called out at 69lb 14oz – damn. Now this might sound silly as this was my best match weight ever (beating my previous best of 61lb 3oz) but I was gutted. I honestly thought 18 bream at 4lb+ apiece plus 5lb or so of roach, eels and perch would give me 80lb or thereabouts. Still a really enjoyable day.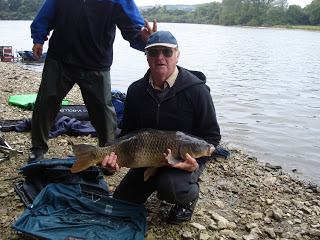 Bonus fish (all 20lb 12oz of it!). Les wasn't as impressed if his hand gesture is anything to go by!
Ash didn't weigh and things got worse for me when Les stuck less fish on the scales for 70lb 10oz to knock me down into third place. Chris Haines weighed 19lb of mainly roach and unusually for him he finished well down. Dave Lawrence didn't have as many bream as I thought and weighed 36lb 4oz. I did take pounds off Janders and Picky and picked up £50 for third place. Like I said I really enjoyed it and was knackered (and people say fishing's relaxing!).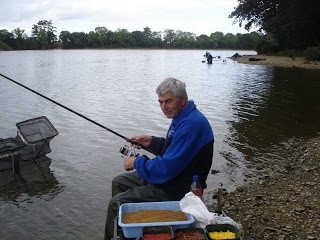 Les pipped me for second place
No fishing next week as me and Andy are off to Evesham to watch the festival so I'll stick some snaps on here next week.
1 – Dave Abrams (Chard) – 75lb 6oz
2 – Les Braunton (Chard Remains) – 70lb 10oz
3 – Jamie Rich (Chard Remains) – 69lb 14oz
4 – Mike Hosgood (Chard Raiders) – 51lb 4oz
5 – Mark Leahy (Street) – 40lb 12oz
6 – Dave Lawrence (Chard Raiders) – 36lb 4oz