After a bad couple of weeks I was hoping to put things right today, conditions looked good and after some heavy rain the pond had some colour in it. With it being overcast as well all the signs pointed to the pond fishing well. Eleven anglers awaited the draw and when I pulled out peg 14 I wasn't too disappointed.
When I got to the pond the wind was blowing into the bank I was on and the level was back to normal and I really fancied it. Ashley Tomkins was on my left, a good peg with a willow tree to fish to and on my right was Richy. Dave Lawrence had drawn the flier by the bush and would be hard to beat. I set up my normal Drennan Roach rig and mixed up some Sensas Roach groundbait. On the whistle I cupped in three balls at 11 metres to my left off the reed bed and another two straight out in front at about 10 metres.
First put in with caster on the hook and the rig didn't settle properly and I was soon swinging in a small rudd. Next put in I had a perch followed by another rudd. Then I started catching some small roach and although I wasn't bagging, it was steady and after an hour I had 15 fish. I would be happy if I could catch 15 fish an hour as this would give me over 80 fish and a weight of 7-8lb. Ashley had more fish than me although his were smaller. Hour two was slower and despite swapping between my two lines I fell short of my target and ended with 26 fish. Nobody seemed to be bagging apart from Dave who had caught three chub and looked good for a comfortable victory. My main rival in the league, Martin Heard, was also well ahead and had 55 fish although I suspected they were mostly bits.
I was getting most of my fish from the left hand line and would catch two or three roach before they drifted off. I really don't know what's happened to the quality roach this year as they seem to have done a disappearing act. Richy and then Ashley both lost good fish so at least there were a few about. I then landed an eel of around 4oz which was most welcome. By the half way point things had really slowed for most people and I even set up a light up in the water rig but after catching three tiny rudd I gave this up as a bad job. Martin was still catching odd small fish and I could feel another bad section result coming on.
Then I've hooked a good fish and as it's lunged off the bloody hook pulled out! I really felt that could be costly. Ten minutes later I've hooked another and after a tense scrap I've guided a chub of a pound and a half into the net, relieved or what? Martin shouted up that I was now ahead of him, I wasn't so sure. Ashley then landed a chub and his looked bigger than mine. Robin Cox wandered over, he was pegged next to Dave and said he was easily winning, Robin was struggling and had lost a couple of big fish. Richy lost another big fish and then Neil Dring next to him also lost a beast. I upped my feed and started feeding more caster to try and get another chub.
I could see Dave's landing net being used more and more, why can't I draw that peg? Then Ashley landed another chub and Martin had an eel, I was falling behind again. I tried double red maggot and added a few more perch and a small roach but they weren't coming fast enough. I did have another eel which was a little bigger than my first one but with half an hour to go I decided to stick it out on the caster. Just before the end Neil hooked another big fish only for it to plough into a weed bed and he lost it. I never added any more and when the whistle went I had 50 fish which I reckoned would go 4-5lb but I didn't think it would be enough to beat Ash or Martin who were both in my section.
I packed up and waited for Martin and the scales as I was first to weigh, my fish went 4lb 14oz which I was disappointed with. When Ash weighed 6lb 9oz I began to realise how costly that lost chub was. I said I thought he'd frame with that and when Martin weighed 6lb 1oz I honestly thought Ash would be second on the day. I did manage to beat the other two in my section as Alvin Jones had 2lb 8oz and Robin didn't weigh so I was third in my section again. As we all expected Dave was a clear winner with 14 chub for 23lb 14oz and he lost several as well. I was then surprised to find out Graham Field had weighed 9lb 4oz of small fish, mainly on the whip and Malcolm Levy had 6lb 12oz of whip fish.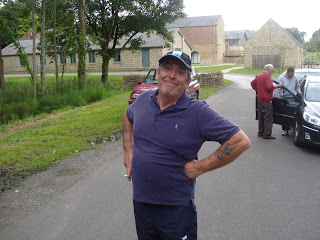 I think Dave enjoyed his bag up session!
So not only had Martin increased his lead over me to three points, Graham was now right on my tail and I've got to miss the next match. Whatever happens I'll have to beat him in the last match to stand any chance of clinging on to second place in the league. I did manage to take a pound off Janders who still hasn't really tested his new pole. I must also say thanks from everyone to Robin Cox and Alvin Jones who gave up last Saturday to clear out the swims and put in some permanent pegs – good job lads. Next week I'm on the resi again and not confident of ending my bad run there either.
Result
1 – Dave Lawrence (Chard Remains) – 23lb 14oz
2 – Graham Field (Ilminster) – 9lb 4oz
3 – Malcolm Levy (Tiverton) – 6lb 12oz
4 – Ashley Tomkins (Yeovil and District Angling Centre) – 6lb 9oz
5 – Martin Heard (Tiverton) – 6lb 1oz
League positions (after seven rounds and dropping the worst result)
1 – Martin Heard – 11 pts
2 – Jamie Rich – 14 pts
3 – Graham Field – 17 pts
4 – Neil Dring – 18 pts