With nothing else on Les arranged for us to have a little match at Chris Haines pond near Frome. Dave Lawrence very kindly picked me up (after going to my old house first!) bright and early and we met the others and set off in convoy. We got there in good time and it looked like it was going to be a lovely day. After buying some bait in Chris's shop it was time for the draw. I pulled out peg 5, which didn't really mean much to me but it was close to where I've been the last two times.
After a short walk to my peg, I surveyed the swim and there were loads of options, an island opposite, cover on both insides and an empty peg to my left with reeds in between. I had Les on my right and Janders was the next angler on my left. I set up three rigs (blimey!), a rig for open water at about 9 metres towards the island and two dibber style rigs, one for the insides (where there was a nice depth) and the other for fishing up in the water. Chris did his usual walk round to tell everyone how to fish their pegs and provided loads of info.
On the start I cupped in some pellets, maggots and pinkies at 9 metres and a big cup full close to the island (mainly just to try and stop any fish going round to Les!). I fed both the insides and this is where I started with double red maggot on the hook (Tubertini 808 size 18). I didn't have to wait long for a bite and was soon netting a lovely little tench. Next put in I had a small skimmer and then another little tench and things were going great. I could hear Les was catching silvers quite well but nobody else seemed to have much at this early stage.
Every put in I was feeding small amounts of pellets and maggots via a tiny pole mounted pot. A decent roach, a small 4oz carp and another little tench followed before I decided to slip on a grain of corn. The float slid along the surface and I struck to see loads of white hydro streaming out, after a brief battle I netted a common carp of about 3lb. It was all going to plan and after the first hour I probably had around 4lb in the net.
Les was still bagging on roach and skimmers despite him protesting otherwise!, Janders foulhooked and successfully landed a 5lb carp which put him back in the running. Things went quiet on my inside so I tried my 9 metres line but this only produced one tiny skimmer. I decided to concentrate on my inside line to the left (the right hand side had only produced a couple of roach). Chris had told me to fish the insides and as they dried up to move along to the next bay in the reeds and then the next. These reeds were constantly knocking and there seemed to be carp everywhere.
Reports started filtering in that Alan Dunn and Steve Bishop were catching well on pegs 9 and 12, although I couldn't see them. Les still seemed to be catching well and with bites for me drying up I decided to try my shallow rig down towards the empty peg with soft pellet on the hook. First put in while loose feeding micro pellets saw the float bury and another small 'pastie' was netted. When this happened next chuck I thought I'd sussed it. I then briefly foulhooked a big fish which saw it bow wave off.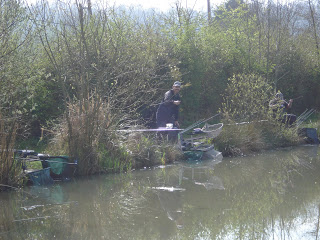 Butch was catching silvers well
With both Butch Baker and Steve Bush netting some nice skimmers, roach and the odd chub and Les still putting fish in the net on a regular basis I knew I had to catch some better fish if I was going to stand any chance. Janders was now struggling although he lost a good fish on a 'Voodoo boilie'. I was finding it frustrating as despite loads of carp moving I couldn't catch one. I was flicking a few pellets over my float and constantly lifting and dropping the rig. Then the float went I was attached to a big fish that tore off. I managed to stop the first run and thought I had it under control when off it went again and smashed me – great.
While trying to sort that rig out I picked up my other inside rig and fished my margin swim again, I hooked two more small carp or tench only for the hooks to pull out of both. A day that had started so well was rapidly turning to rat shit. I tied another hook on my shallow rig and carried on chasing those elusive carp. I did land another pastie before hooking another huge fish. This one didn't tear off and was just plodding about, I had it on for ages and when I eventually saw the fish, it was a good one of 12-14lb. I unshipped to the top four and it kited off towards the reeds and snagged me, it eventually came out and the battle continued. Again I waited until I thought it was tiring before unshipping and it did exactly the same and snagged me in the reeds. This time it was solid and I really thought I'd lost it, by now I'd had the fish on for about half an hour, gentle pressure saw the fish out in open water again.
I was shaking as I knew this fish would get me right back in the frame and I really thought I would now land the fish. Once again I was unshipped down to the top four and the fish was just under the surface and as I was trying to get its head up and guide it towards me the f*****g hook pulled out. Gutted, no other word for it, some sarcastic comments from some anglers didn't help (you know who you are!) and I hope the same happens to you soon. Anyway I just went through the motions for the rest of the match, I did manage one more small carp before the end. Les called the all out and I just wanted to be on my way home.
Chris walked round to do the weigh in and I was surprised to see some anglers had struggled as much as me, Picky had 5lb 6oz, Dave Abrams left early, Mike T had 8lb 1oz. Then Les had 18lb 7oz of silvers, well done mate, he would frame with that. I weighed 6lb 11oz and when Janders only weighed 6lb 3oz the day got slightly better as I pocketed £1's off him and Picky. Butch weighed 10lb 5oz and Steve Bush had 17lb 10oz, Dunner had 10lb 15oz, Dave Lawrence weighed 5lb, Hoff 5lb 3oz and Bishop 16lb 2oz. The bulk of the weights had been silver fish and I was gutted as that fish would have won it for me (did I mention that I was gutted!).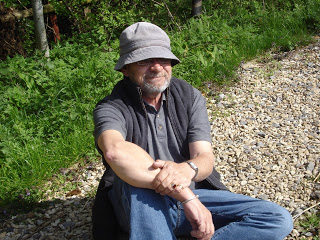 Janders had to sit down after paying me another £1
The results were read out and Les had won his second match in three days – well done partner. Next Sunday and it's back to the Spring League at Perry St, it's also the pairs final so another good result from Les would be good.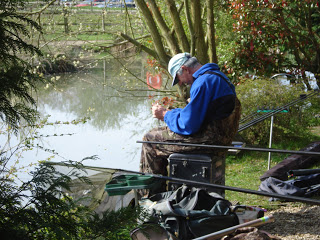 Les did the 'double'
1 – Les Braunton (Chard Remains) – 18lb 7oz
2 – Steve Bush (Chard) – 17lb 10oz
3 – Steve Bishop (Chard) – 16lb 2oz
4 – Alan Dunn (Chard) – 10lb 15oz
5 – Butch Baker (Chard Minnows) – 10lb 5oz