I was quite nervous for this one, me and Les were in the pairs final with Steve Bush and Butch Baker and I really wanted to do well. Both Butch and me had yet to draw corner pegs and we had a one in two chance today and it could decide who won the pairs. We all assembled for the draw and all the anglers who had already drawn corners pegs went first followed by those of us that hadn't. I rather nervously looked at my peg and I had drawn number 11, a corner – yes!, I would rather have had 10 but I wasn't complaining. Things got better when Butch hadn't got one, but now the pressure was on and I needed to do well off it.
In recent weeks, peg 11 has won once (Alan Gage) although on other occasions it hasn't done so well and I can recall both Janders and Dunner struggling off it. I got there and it looked quite nice with a few fish moving. Les came up to offer some advice and let me have some casters, cheers partner. I decided to fish at about 6 metres just past some lilies to my right with another line past it under a tree at about 10 metres. I would also fish an open water line to give my other lines a chance to settle. Opposite on peg 10 was Mark Leahy, a really good carp angler and I knew I would struggle to beat him. On my left I had Mike T for company.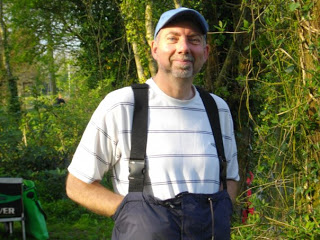 My next peg neighbour, Mike T
On the whistle I cupped in some maggots and pellets at 11.5 metres in the open water followed by more of the same plus corn on both my lines to the right. For good measure I also cupped in some feed on the inside to my left to hopefully stop any fish heading towards Mike. I started on the open water line and after about 5 mins I missed a bite on double red maggot. Next but in the float went again and a fair amount of blue hydro streamed out, I'd obviously hooked a decent carp. After about 10 mins I safely netted a mirror of about 4-5lb, what a dream start. I followed this early fish with a 4oz skimmer before feeding all my lines again.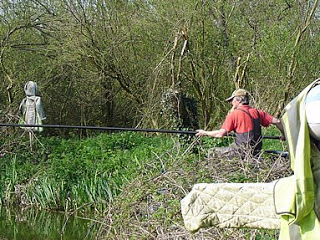 An early carp was the dream start
After an hour I had that carp, two skimmers and two small rudd and was pleased with how things were going, nobody around me had caught much, although Mark had lost one. To be honest I was itching to try the lines to my right, with a few fish moving about near the surface I had a quick go up in the water but after catching a couple of small rudd it was time to try the other lines. I slipped on two red maggots and went in just past the lilies, feeding through a little pole pot. I fully expected to catch quite quickly but when this didn't happen (apart from some small fish bites), so I tried a piece of corn. This was pretty unresponsive to, not to worry though there were still four and a half hours to go.
Mark by now had stopped fishing the open water and had gone long against the edge and straight away was into fish. When he got to about four or five and I hadn't added anymore it was time to try under the tree. Steve Osborne and Terry (Niblett) Green had both caught a couple of carp and I was rapidly slipping down the placings. Mark was now giving a real masterclass in carp fishing and hooking fish regularly and landing the majority with very little fuss, even feeding while playing fish, I was in for a right tonking today. With half the match gone and no more fish for me I had to go longer, I poked the rig under the brambles and immediately hooked and lost a carp, then I had one about 3lb, that's it I thought, cracked it. But then the fish backed away and I couldn't buy a bite.
Mark netted a real beauty that had to be a double and Mike T next to me started hooking carp down his inside towards me. I hadn't fed this line apart from my initial feed at the start and was regretting it now. Between me and Mark there is a cage with barley in it to stop algae blooms and there seemed to be loads of carp moving there but it was a long way out, over 16 metres and we were restricted to 14.5 metres in this league. Still it had to be worth a try so I got a pristine section out of my bag (I don't fish long very often!) and shipped out. Straight away I lost a fish and was just going nowhere and it felt like I'd blown it.
Mark was still catching like a man possessed, with my arms killing me, I took a section off and tried my other lines again but the fish just weren't there. Back out long and I finally added carp number three and was probably only about fifteen behind Mark! I'd given up with the pole pot by now and was loose feeding with the catapult. Another lost fish followed by the fourth one in the net and there was still time for a good finish. Apart from Mark nobody seemed to be bagging, Oz and Niblett were doing ok and Picky next to Mike had landed a couple so my pound could be heading his way today.
I was struggling to feed accurately at 14.5 metres with a catapult and suffered several breakages, which didn't help. There were loads of fish around the cage, as the bow waves testified, but they seemed to prefer it round Mark's side and would only have the odd brief foray round to see me. I'm sure I would have had more if I could have fished 16 metres, although it probably would have killed me! I did manage to catch two more to end with six carp plus a few bits but I really thought I'd cocked it up and thrown the pairs away. Mark ended up putting his third net in, I'd barely used one!
As I was packing up, Les came up and when I said I'd only had six carp he said that Butch and Steve had beaten us. Bushy had caught seven carp and a bream and Les reckoned that although he'd beaten Butch it wasn't by enough – shit, we'd fallen at the last hurdle. As always we started the weigh in at peg 1 and Chris Haines had done well but not as well as I thought he'd do with 26lb, then Steve Chant had done well from peg 2 with 15lb 4oz. The next few pegs had really struggled with Butch only managing 10oz and several people only weighing a couple of pounds. Then Terry Niblett had a level 20lb from peg 8 and as I thought I had about 16lb I wouldn't be scoring many points today. Oz had 14lb and then Mark put a fantastic 80lb 10oz on the scales including one of 12lb 8oz, well done mate it was a pleasure to watch.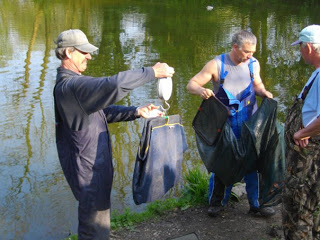 Chris Haines did well again with 26lb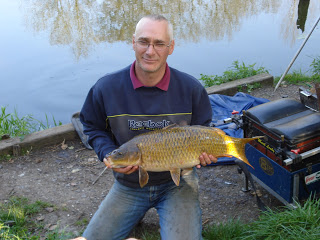 Mark included this beauty of 12lb 8oz in his winning net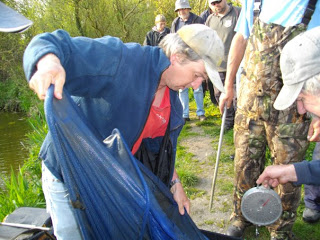 Had I done enough to beat Bushy?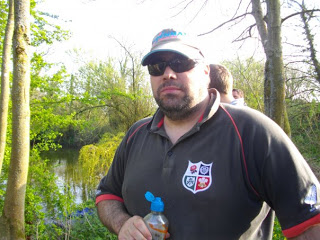 Yep!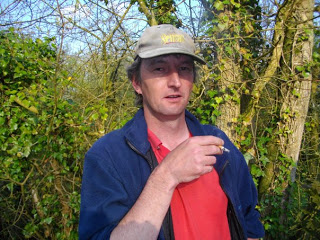 Phew!
I surprised myself when my fish went 20lb 4oz and Bushy said he didn't have that, although I wasn't so sure. I was cursing the fact that a couple more would have seen me push Hainsey and possibly a frame place. Mike T had 8lb 14oz and Picky weighed 11lb 6oz and handed over another squid – cheers bud. Les had really struggled with two carp for 6lb but he at least had several people between him and Butch points wise. Then it was Bushy's turn and it was close, the needle eventually settled on 19lb 14oz and we'd done it, we were pairs champions. Janders only had one small carp for 1lb 8oz so I was two quid to the good.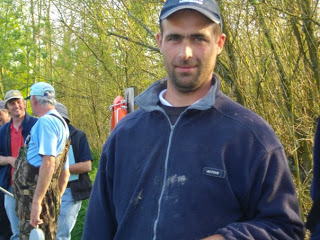 Darren Roberts did well from peg 17
Darren Roberts and Alan Dunn both did well off not so good pegs, weighing 23lb 10oz and 35lb 4oz respectively. Back at the results Mark was read out as the easy winner and picked up £100, Dunner was second and Chris third. Les formally announced us the knockout champions, beating Butch and Bushy 22 points to 15. My day got better when I won the section and picked up £20, the bad news was that although we'd won the pairs, Les wouldn't be paying out the £100 until the end of the series. After 4 matches and dropping the worst result, Chris Haines still leads the league with 57 points followed by Mark Leahy and Alan Dunn on 52. I'm currently fifth with 49, but I miss the next match so lets hope my substitute, Dave Lawrence, gets good points for me.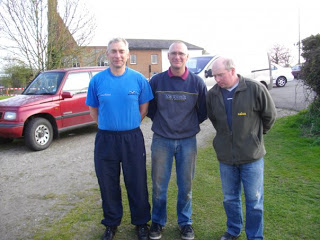 Top three on the day, from left to right, Chris Haines, Mark Leahy and Alan Dunn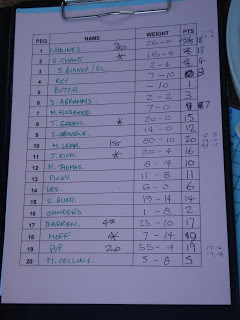 The days results
As I said, I'm not fishing the league next week as I'll be hopefully catching catfish in Spain with Scott Russell and Ashley Tomkins. I'll let you know how we get on.
1 – Mark Leahy (Street) – 80lb 10oz
2 – Alan Dunn (Chard) – 35lb 4oz
3 – Chris Haines (Haines Angling) – 26lb
Sections
A – Steve Chant (Chard) – 15lb 4oz
B – Terry Green (Sillybait) – 20lb
C – Jamie Rich (Chard Remains) – 20lb 4oz
D – Darren Roberts (Street) – 23lb 10oz
Pairs knockout winners – Jamie Rich and Les Braunton