When I heard Scott Russell and Ashley Tomkins was planning to go fishing for catfish in Spain I jumped at the chance to tag along. It was bloody hard work with us all being on the bank for up to 18 hours a day with most nights only getting 4 hours sleep (Scotty's snoring didn't help!). My main aims were to catch a catfish and beat my biggest fish, a carp of 28lb 4oz caught on Chard Resi. I achieved both these aims but didn't manage to hook into that fish of a lifetime, a ton plus cat. Our guide, Ashley Scott was fantastic and a really nice guy, also in our group were two brummies, Simon and Gavin and a geordie called John. We all got along great and hopefully we'll meet up again soon.
Day 1
We fished the Ebro all day and apart from me catching a small carp, we never had a sniff – not a great start!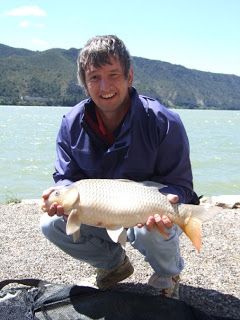 My first Spanish carp but at 5lb not what I'd hoped for!
Day 2
A 6 'o' clock start saw us heading for a stretch of the Ebro called the Top Lake, an area with lots of smaller cats so hopefully we'd see some action. Our guide told us it was actually the same swim that Robson Green fished whilst filming his Extreme Fishing series and that he had been Robson's guide. Ash and Scott had some decent carp on the carp rods and both recorded personal bests with fish between 23 and 24lb. Then Si's cat rod went off and he was into a big fish, after a decent battle, John gloved the fish and what a fish it was! It fell agonisingly short of the ton, weighing 99lb but we had at last seen a catfish.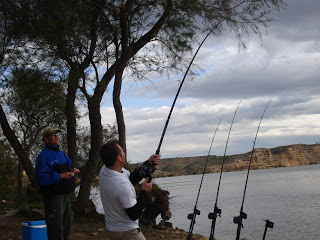 Si hooks into the first cat of the trip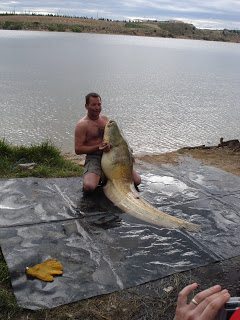 Si with his 99lb cat
Shortly after my rod went off and I had a cat on, it was nowhere as big as Si's but at 35lb it was my biggest fish ever.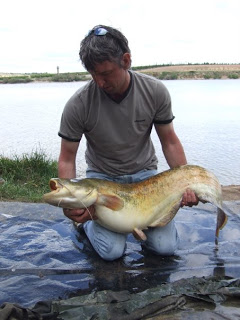 My 35lb cat
There were a few more carp caught but no more cat action, still I won 5 euros each off Scott and Ashley for catching the first cat between us.
Day 3
For our third day we headed back to the Top Lake but couldn't get back on the swim so ended up in another which was soon christened 'Pebble Beach'. The action was fast and furious for a bit and everybody who hadn't caught cats soon had them on the bank. Ashley had one of 25lb, John 44lb 8oz, Gavin 38lb 8oz and Scott had one of 50lb. The best fish of the day was once again caught by Si, who had another beast of 92lb, he also had the best carp at 31lb. It was a bit slow for me and I only had one carp of 17lb 8oz.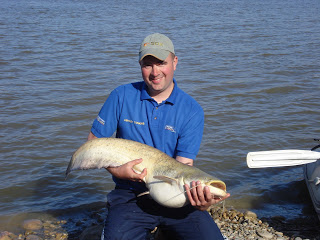 Ash's 25lb cat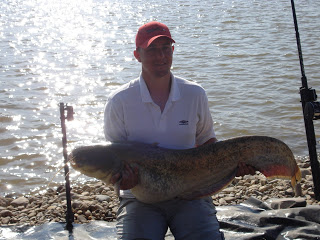 Gavin with his 38lb 8oz catfish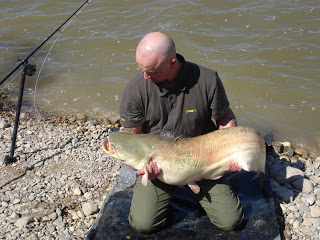 John had one of 44lb 8oz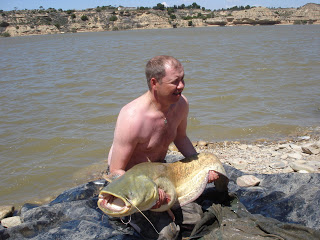 Scotty's went 50lb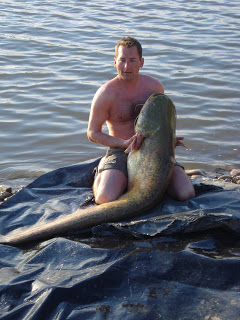 Si put another beast on the bank, this one weighed 92lb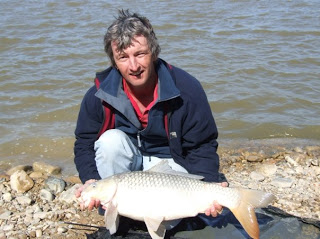 My 17lb 8oz carp
Day 4
We fished the River Segre on day 4 as the other group had banked some good cats around the 140lb mark. But the only action we saw was on Ash's John Wilson travel rod, we all had a go and caught some lovely roach and rudd all over 1lb with Scott landing a fantastic rudd of 3lb 4oz.
Day 5
After the poor sport the day before we were back on the Top Lake and once again the action was pretty consistent in the morning before dying off in the afternoon. I had a 20lb cat and a nice carp of 21lb 8oz. We had quite a few small cats with the best ones caught by John (45lb) and Si had a nice one of 41lb 8oz on a carp rod.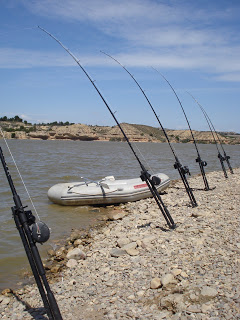 Waiting for a bite
Day 6
For our last days fishing we decided to have another go at the elusive 100lb cats on the Segre but apart from a few roach on the 'Johnny Wilson' we saw no sign of a big fish and it was a bit of an anti climax. The other group landed a monster of 189lb from further up the river so they were about, it just wasn't to be for us.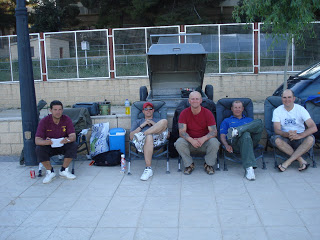 From left to right – Ashley Scott (our guide), Gavin, John, Scott and Ashley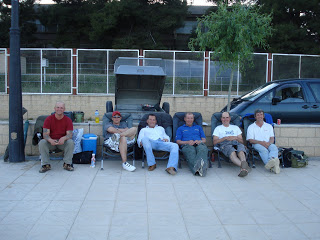 The gang from left to right – John, Gavin, Si, Scott, Ash and me
In summary I had a great time and met some great people and caught my first catfish and my biggest fish ever along with some good carp. Would I do it again?, I'm not sure I'd want to do a week as I'm absolutely knackered but I would like to give it another bash for a few days to try and catch a 100lb+ cat. I'm back in blighty now and quite looking forward to Perry St next week, I wonder if the carp out there will take a string of 22mm pellets?!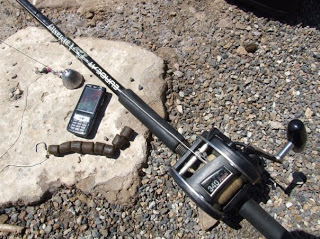 The business end of a catfish rig