First of all I would like to say a huge thanks to everybody who came to my birthday party on Friday. Yes Jamie has reached 40 in one piece, let life begin! I had a great time at my party and the band 'No Closure' were fantastic. I had some great prezzies including a sweatshirt and hoodie emblazoned with the name of my blog – so thanks to Janders and Les.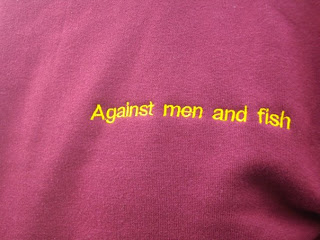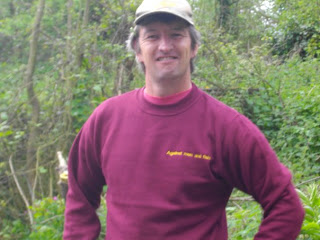 I know it's shame the model wasn't better looking!
It looked like it was going to be a really hot day and as everybody had now drawn a corner peg, we were all in with a chance of getting one in an open draw. Everybody was hoping for peg 10 as this has been really consistent over the last few matches. I stuck my hand in the bucket and although I didn't get 10, I got peg 1 which is a corner and should be worth good points (as long as I didn't cock it up!). Mark Hollister (The Hoff) got the fabled peg 10.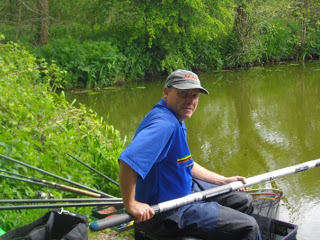 The Hoff drew peg 10, but how would he fare?
I got to my peg and it looked nice, I had Janders opposite on peg 20 and Chris Haines was next to me on 2, not a great peg but he still fancied his chances against me as he wanted a £1 side bet. This could be an expensive day what with side bets with Chris, Janders and Picky.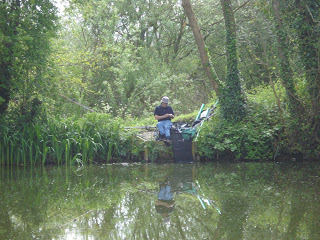 At least I'd be able to keep an eye on Janders!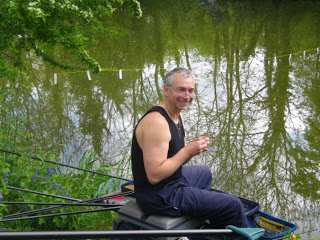 Chris was stripped and ready for action!
I set up a 0.4 Drennan Carp float for open water at 11.5 metres and two identical Trabucco dibber rigs for fishing into the lions den.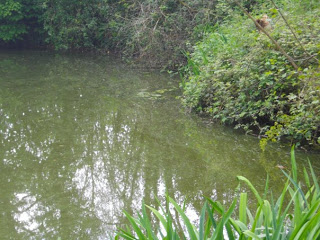 Peg 1 (the lion's den), plenty of cover for the carp!
On the whistle I cupped in some maggots, pinkies, pellets and a pinch of corn on my long line and the same on the inside at about 9 metres. My thinking was that as the fish tend to back off during the day I would try and catch them as short as possible and then follow them as bites dried up. I started out, with double red maggot on the hook and started getting bites straight away, I bumped a couple of fish before swinging in a 4oz perch. More perch and roach followed but the inside beckoned and I couldn't wait to try it. After half an hour I've gone in there and caught a couple more perch, roach and a small skimmer. I then lost a carp which I only had on briefly (foulhooked!), before switching to corn. I had a 3lb carp quite quickly which took the bait as soon as it settled. I then had a small one about 1.5lb, again on corn.
After an hour I was well pleased with how my match was going, I was still getting little knocks on corn but nothing I could strike at. Nobody around me was getting much although reports were coming in that Terry Green-Niblett on peg 4 was catching well. Things slowed up for me so it was time to try further along the cover, this didn't bring the response I'd hoped for and I never had a bite! Also there was loads of floating fluff being blown into mine and Janders pegs which was making it really difficult to get a rig in the water. Janders had caught a carp as had Mark Leahy next to him and he'd lost a couple too. Steve 'Oz' Osborne on 18 was struggling and although Chris Haines hadn't landed a carp, he was catching enough silver fish to worry me.
I had by now tried 11.5 and 13 metres along the inside cover without adding any more fish to my net. Coming back on my original inside line saw me catch a tiny bootlace eel which I was sure wouldn't be there come the weigh in. With half the match gone it was time to bite the bullet and fish past the lilies you can see in the picture at 14.5 metres. I cupped in some feed and went over it with corn on the hook. I didn't have to wait long before hooking a carp which came off on the way in – great!
The fluff was now horrendous and the only bait I could get through it was a grain of corn, I did land a couple more small carp but unless things improved dramatically I wouldn't be getting decent points today. Chris was still catching silvers and the odd eel and the pound was heading his way, also Hoff on 10 was catching although Chanter on 11 seemed to be suffering the same fate as me a couple of weeks ago as he only had a couple of carp.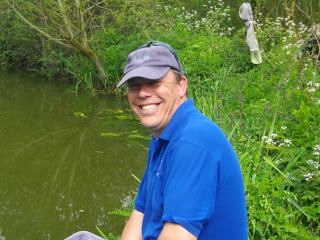 Despite having a bit of a 'mare, the lovely Steve Chant was still smiling
With a couple hours to go I hit a purple patch and landed another three carp and lost one (which trashed my rig) and started thinking a good last hour could see me sneak into the frame. Time was ticking by though and things slowed again, Janders hadn't added anymore but Chris was still catching silvers and landed a carp on his light rig just before the end, had he done me? Les called the all out and I ended with 7 carp plus perch, roach, a small skimmer and that eel for about 14lb which I thought could put me well down.
Les had to weigh Picky in on peg 7 first because he had to rush off somewhere, he'd had a good day to weigh 35lb 8oz and I handed over a £1 before walking back to weigh my fish in. My fish went 16lb 12oz which was better than I thought but not good enough.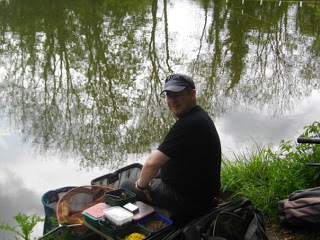 Picky had a good day weighing 35lb 8oz (and taking a £1 off me)
Chris weighed 7lb 8oz so I had finally beaten the great Mr Haines and I would treasure the pound (well 97p and a biscuit to be precise) that he gave me. Mind you to be fair I would have needed my balls cutting off if I couldn't beat him from my peg! Dave Abrams struggled off peg 3 with 2lb 8oz despite a rather fetching hat!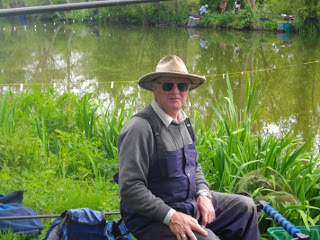 Nice hat Dave!
Terry Green did rather better off peg 4 weighing 37lb 10oz of carp on the paste, although I reckon that after seeing his body the fish just gave up!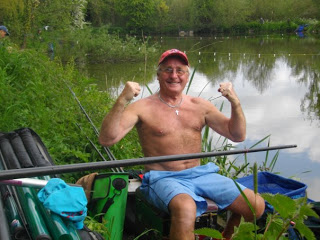 Perry St Pond's very own Tarzan!
Steve Bush did well off peg 6 with 22lb odd to drop me down another place before the weights dropped until we got to Hoff on 10, he had 28lb 14oz of carp and tench. Mike Hosgood came close on peg 13 with 28lb 10oz including one beauty of 12lb 10oz.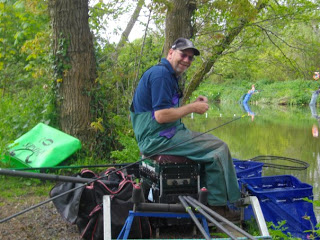 Mike Hosgood came close
Les also had a good fish of 12lb 4oz in his 25lb 14oz total to push me even further down. Luckily I managed to beat the remaining five pegs (taking a another £1 off Janders who had 1lb 14oz) to give me 14 points. I also picked up my section (by default again) and pocketed another £20.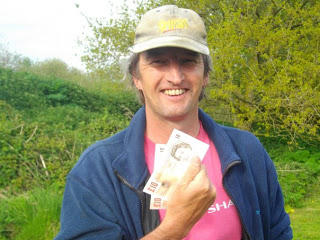 Me with my section winnings
So after six matches and dropping the worst result Chris Haines still leads with 88 pts closely followed by Alan Dunn on 83 and Steve Bush and me, both on 77.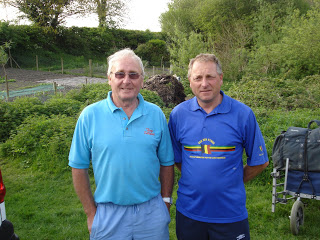 Two of the top three on the day (Terry Green and Mark Hollister)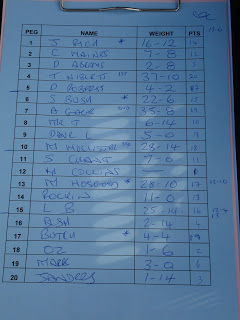 1 – Terry Green (Sillybait) – 37lb 10oz
2 – Alan Gage (Chard) – 35lb 8oz
3 – Mark Hollister (Chard) – 28lb 14oz
Sections
A – Jamie Rich (Against Men and Fish) – 16lb 12oz
B – Steve Bush (Chard) – 22lb 6oz
C – Mike Hosgood (Chard Raiders) – 28lb 10oz
D – Butch Baker (Chard Minnows) – 4lb 4oz
Next week sees the start of Ilminster's Summer League at Dillington and by all accounts it's fishing well so tune in next week to see how I got on.