I was really looking forward to this one after reports that it had been fishing well, although the weather forecast wasn't too good. While sorting my gear out in the morning, the weather didn't look that bad although it was a little blustery. At the draw there was a decent turnout of 12 anglers including Scotty and Ashley from Yeovil Angling Centre so it looked like we were to be mugged again!
The golden peg was drawn and it was number 4, everybody wanted the flier that is peg 1 and when Scotty drew it the talk was all about if he would break the Dillington match record which he set a while back at 27lb 8oz. For my sins I drew the golden peg and knew it was safe for today! We all got to the pond and started setting up, my peg was in a bit of a corner and I couldn't really fish the waggler as I would be casting across Roger Russell's (who was on my left) peg. So I just set up two pole rigs, one deep and one shallow. The first rig was a 0.5 gram Drennan Roach float with 0.12mm bottom and size 18 B611, the shallow rig was a Drennan Squatt float with 0.08mm bottom and size 20 B511.
I plumbed up and found there was a nice depth at 11.5 metres but decided to fish at 10 because the wind was already starting to get up. I mixed up some groundbait, a 50-50 mix of Sensas Matchblend and Lake Black and added a few casters, maggots and a pinch of hemp. On the whistle I cupped in three balls at 10 metres and another at 11.5 metres in case the wind dropped and also to give me somewhere else to go if the bites dried up.
I slipped on a caster and shipped out, the rig settled and I fully expected the float to go straight under, it didn't and I waited and waited. Finally the float slid away and I bumped it! I missed another bite before catching a small roach, great they had arrived – wrong! Robin Cox was on my right and neither he or Roger had caught, it looked like it was going to be rock hard. The gusting wind was making it nigh on impossible to hold the pole and then the freezing rain started. Was I having fun? – nope. By the end of the first hour I had two small roach and a tiny rudd and I was doing well!
The wind was now hideous and I was so cold I had to put my gloves on, after two hours I had only added another roach and rudd, both on maggot. It was time to see how Scotty was getting on. I was surprised when he said he'd only caught a couple of perch although the wind was hitting him hard too. Phil 'Digger' Denslow next to him had only caught a few fish but Ashley on peg 20 was catching small roach well and already had around 30 fish and was looking good for a frame place.
I went back and immediately bumped another fish before catching another small roach and then it died again. I tried my shallow rig as a few small fish were topping but never had a bite on it. I also tried fishing two sections to hand where I had been flicking the odd bit of feed since the start but never had a bite there either. Then out of the blue the float slid away and the strike saw several inches of blue hydro came out of the pole! after carefully shipping back I netted a 4oz eel. Wary of several holes in my keepnet I put it in a bait box before filling it with water and putting it in my keepnet.
To be honest I just wanted the whistle to blow to signal the end, I had a soaking wet ass and when I heard that Janders had a chub I knew I was going to lose a £1 as well. Luckily we had decided to only fish for five hours and it was a relief when Robin finally blew his whistle. I ended up with 6 roach, 2 rudd and that eel, I told you it had been hard. Even with my meagre catch I thought I might be in with a chance of my section! Rob had dry netted and Roger and Alvin next to him had only caught one fish apiece. Digger had around 9 fish and Scotty had finally found a chub after losing two and I reckoned he would frame with that. I just needed to beat Digger for the section.
Rob had the scales and I was first to weigh, my haul went 12oz despite Digger protesting I had brought the eel with me! Digger weighed 9oz and Scotty had 2lb 2oz (just missing out on the match record!) and I just needed him to frame to pick up the section by default. Roger and Alvin both had an ounce apiece, Dave Lawrence had 5oz and Janders gave me a spanking with 1lb 8oz. The pegs on the other side had fished slightly better, Ashley paralysed the match with 4lb 4oz, Bob Hammond had 1lb 6oz and Terry Morgan 12oz. Graham Field on the other side of the bush from Scotty had really struggled for 3oz.
Twelve very soggy anglers awaited the results and Ashley and Scotty were read out as first and second (yep, mugged again!) and Janders was third and seemed more delighted with the pound off me than his pools money! I won my section and picked up £20 and Bob won the other section. Despite everything I actually got off to quite a good start to the league with two section points.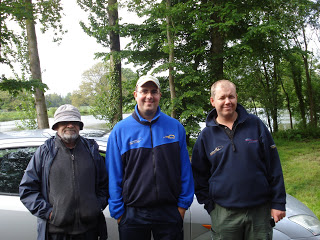 The top three (from left to right, Janders, Ashley and Scotty)
1 – Ashley Tomkins (Yeovil and District Angling Centre) – 4lb 4oz
2 – Scott Russell (YDAC) – 2lb 2oz
3 – John Anderson (Chard Minnows) – 1lb 8oz
Sections
A – Jamie Rich (Against Men and Fish) – 12oz
B – Bob Hammond (Ilminster) – 1lb 6oz
Next week is the penultimate round of Chard's Spring League and I really need a good result to keep me in the running so keep your fingers (and everything else!) crossed for me.