The weather was the complete opposite to last weeks wind and driving rain, the sun was out and everything looked set for a good day. This was penultimate round of the Haines Angling Spring league and as I was currently lying in third place I really needed a good result to keep me in the running. Big Les announced the draw and promptly drew peg 10, some things never change! I pulled out a peg and slowly opened my fingers to reveal peg 12, not a great peg, some things never change! Picky drew peg 11 and Bushy had peg 13 and I reckoned I was in for a battering on both sides.
I drew this peg earlier in the series and got out of jail when the pond fished poorly and I caught a few fish up in the water for decent points, I couldn't see it happening again. As I was setting up Chanter came round doing his photographer bit which is great 'cos I only ever take a couple of photos, so its thanks to Steve once again for the photos in this report.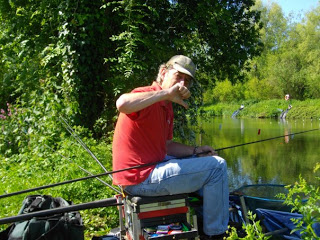 As you can see I wasn't overly impressed with my peg!
On arrival at my peg my attention was drawn to a blinding white light across the pond, on closer inspection it was just the Hoff (Mark Hollister) stripping down to his skiddies to get in the pond to retrieve his landing net which he'd dropped in. I've never seen such white legs and what a fine figure of a man! It was just a good job there weren't any ladies about or he'd have been mobbed!
You even get a free striptease show at Perry St!
The Hoff living up to his name! (although I don't think he was rescuing a swimmer)
I set up a 0.4 gram Drennan Carp float with 0.12mm bottom and size 18 Tubertini 808 for fishing out at 11.5 metres and a little Trabucco dibber style float for fishing the margins and up in the water, again with 0.12mm bottom and another size 18 808. For bait I had maggots, pinkies, pellets and corn and on the whistle I cupped in some on the long line and both margins. I started out with double red maggot, just putting small amounts of bait in via a little pole pot fixed to the pole tip. I waited longer than usual for a bite and then promptly bumped it! I caught a couple of small roach and a little skimmer but it wasn't really happening. Terry Green opposite on peg 9 started like an express train and had two carp quite quickly, this was a bit of a worry as he was only two points behind me in the league.
I then hooked a decent fish which turned out to be a 6oz eel, not exactly what I was hoping for. Bushy then had a couple of carp and when Les on 10 added one of his own, I started to think I was in trouble. Les had just come back from a festival at Stafford Moor and struggled, spending most of it on Josephs, so catching a carp today must have been a new experience! I added another eel and a couple more small fish but was itching to try the inside lines.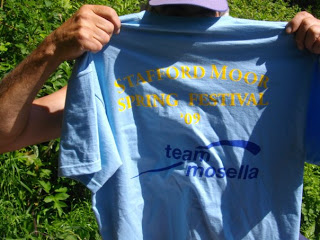 Les the mystery man on peg 10!
After an hour I tried the right hand margin but only had a couple of rudd on maggot so I tried corn but this didn't seem to be the answer, a quick look on the other inside saw me drop off a better rudd and I was already all out of ideas. Bushy was still getting the odd carp although he was losing a few as well and I could feel third place slipping away and with Terry having a few as well I could be dropping right down the rankings. My only saving grace at the moment was that Picky still hadn't caught on peg 11.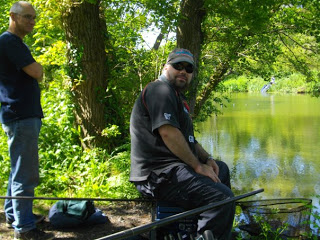 Bushy was flying on peg 13
Then Picky caught a carp and I was slowly resigning myself to a very low points score. From what I could see it looked like Bushy was hooking some of his carp up in the water, so I shipped out the shallow rig with a soft pellet on the hook and started firing out some 4mm pellets. After half an hour and no bites I gave this up for a bad job, back on the inside saw me add a couple of perch to my bulging net! I did hook a carp which tore off and snapped me up, things were going from bad to worse. We were now at the halfway point of the match and I hadn't got a pound yet. I could see odd carp cruising so it was back out with the shallow rig but it was pointless, the carp just didn't like the pole over their heads. I think Les had the right idea, he was fishing a pellet waggler and although he wasn't bagging he had two or three carp.
A couple of times I saw carp taking stuff off the surface and plonked the bait right in front of them but they'd just bow wave away. Then finally one showed some interest and I lifted the float and the fish was on, after playing it with kid gloves I netted a carp of about 5lb – phew. The trouble was I was still a long way behind Bushy, Terry and Les and Picky was now on two fish. He'd lost a couple of fish as well, I thought he was fishing paste but evidence may now suggest otherwise!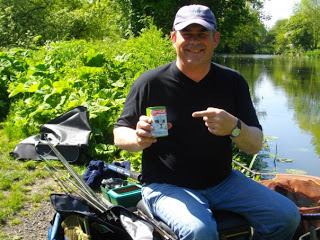 Picky likes his pussy!
After an hour and a half of constantly feeding pellets and lifting and dropping the rig I'd had no more inquiries. With only an hour left I decided to concentrate on my right hand inside line with corn on the hook. First drop in and the float dipped a few times before sliding away, a good fish was on and it went airborne at one point before I netted a lovely tench of about 3lb. I then missed a couple of good bites before hooking a decent carp which turned out to be foulhooked in the tail, but at 5lb it was a welcome bonus. Picky had seen I was getting bites and he too started fishing to his left and was soon into fish as well. I added another small carp of 1lb and next put in the float went before it had fully settled and another big fish was on. After a long scrap I netted a fish of about 7lb, foulhooked in the side of the head. I was praying for one more but aside from a couple of indications, that was the last of the action.
I still thought I hadn't done very well though as Picky ended with five carp, Les had eight or so, Terry had nine and Bushy had twelve although he reckons he lost the same number too. I packed up and as I walked back to the car, all the anglers to the left of Bushy had struggled so maybe I hadn't done as badly as I thought. As always the scales started at peg one, they weren't there for long however as Rocking Roy didn't bother weighing and Dunner on peg two had 6lb 6oz so hopefully I'd pull a few points on him. Janders had 3lb and paid me a £1, Oz had 5lb and the Hoff was the top weight of the early pegs with 17lb (I reckon the fish were attracted by his lily white legs!).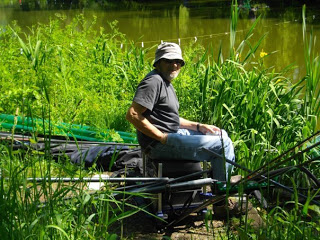 I thought Janders was at Perry St but it looks more like Vietnam!
Chanter had 10lb 2oz of peg six and Darren Roberts a level 11lb next door, Mr T (Mike Thomas) had a bad day at the office weighing 1lb 6oz and then Terry Green-Niblett plonked 19lb 4oz on the scales to go into the lead although I thought he had more than that. Terrys lead didn't last long though as Les weighed 21lb 10oz which wasn't bad considering he'd only caught tiny fish! Picky then stuck five more small fish on the scales for 20lb 4oz, then it was my turn and as I pulled my net out Les reckoned I'd beaten him but the needle stopped on a level 20lb and Picky had beaten me by a poxy 4oz – bugger.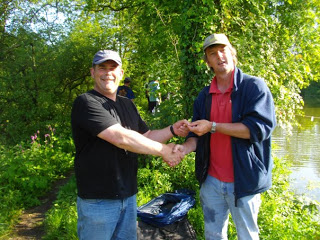 The ritual handing over of the £1
Bushy's twelve fish went 25lb 2oz to take the lead and that's where he stayed as the top weight for the rest of the pegs was Chris Haines with 11lb 6oz. At the results I won my section by double default again and picked up £20. More importantly I'd got out of jail again with 17 points and although Bushy had leap frogged me and Dunner to go into second place, I'd also overtaken him so I was still in third place. It's all very tight though and will go down to the wire in the last match. Chris Haines and Terry Green both won their semi finals and will face each other in the individual knock out final at the last match.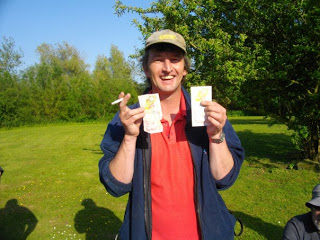 Another section win for yours truly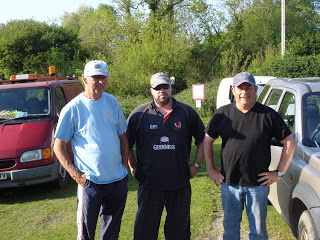 The top three from left to right – Les Braunton, Steve Bush and Picky
1 – Steve Bush (Chard) – 25lb 2oz
2 – Les Braunton (Chard) – 21lb 10oz
3 – Alan Gage (Chard) – 20lb 4oz
Sections
1 – Mark Hollister (Chard) – 17lb
2 – Terry Green (Sillybait) – 19lb 4oz
3 – Jamie Rich (Against Men and Fish) – 20lb
4 – Chris Haines (Haines Angling) – 11lb 6oz
The league positions dropping the worst result after 7 matches
Chris Haines – 102
Steve Bush – 97
Jamie Rich – 94
Alan Dunn – 92
Terry Green – 91
Alan Gage – 89
Les Braunton – 86
Next up is an evening match at Dillington on Wednesday, lets hope it fishes better than last Sunday!