Even though I managed a minor pick up on Wednesday night, I was still a long way off the pace out here. I can't compete with Martin, Graham or Bruce on the small fish and the caster approach isn't working so I thought I'd try something a little different today. I had half a kilo or worms left from Chris's last Sunday so I was gonna have a good go for some bonus's today. There were only eight of us fishing today so exactly half of the turn out for the first match. I really fancied peg 16 although peg 1 would do me, of course I drew peg 14. It was also a golden peg so worth an additional £113, well that was it I had to go for it.
The pond looked nice although my peg was quite weedy, I borrowed a weed cutter from Bruce Hunt (cheers mate) and tried to sort it out a bit. This didn't leave me much time to set up, so I quickly set up my usual two rigs, a 0.5 gram Drennan Roach for open water and a 0.4 Drennan Carp for the chopped worm. I mixed up some Sensas Matchblend and Lake Black and added a good portion of chopped worm to it (instead of the usual casters and hemp). Neil blew the whistle (Robin was fitting a kitchen!) and off we went. I cupped in three balls of worm laced groundbait at 9 metres and a load of choppie in an alcove in the weed to my left.
I started off out but despite my earlier efforts the weed was still problematic and I was a little slow to get going, my first fish was a 3oz perch and then I started getting roach. After the first hour I had 19 fish and would be happy if I could keep that catch rate going. I got to 22 fish just past the hour mark and then heard Bruce shout across to ask Martin how he was getting on and he already had 70 odd fish! My swim was already slowing although from the banter around the pond I was keeping pace with Bruce and Graham, for now!
I was still getting odd fish but itching to try my chopped worm swim, after a few more fish I could resist it no more. I put on the head of a dendra and went over it, I didn't get a bite for ages and when I did it was only a small perch! I tried double caster and had to wait even longer for a bite but again only a small perch was the result. I cupped in some more choppie and went back over my other line, this was hard work as well and already I knew the golden ball was safe.
I kept putting odd fish in the net and trying over the chopped worm but was putting little in the net and the longer it went on the more I needed a bonus fish. Moses was on peg 1 and hadn't hooked a chub yet, Bruce was on peg 16 and struggling like me, although I think he was slightly ahead on numbers of fish. Typically Bruce reckoned his fish were smaller than mine. In the back of my mind all the time was the fact I was on the golden peg so I kept trying for a big fish but it just wasn't happening.
I tried maggot over the groundbait and added a couple more small roach and tried just sitting out with caster on the hook for the eels but nothing doing. I kept asking Bruce and Graham how they were doing and they were 20-30 fish in front of me and Martin had passed the 100 mark and was well on his way to yet another victory. I crept up to 56 fish by the whistle and thought I had around 4lb, which would get me nowhere. I packed feeling a little disheartened. Bruce got to me first with the scales and I was disappointed to only register 3lb 15oz, Bruce did slightly better with 4lb 8oz, Steve Parker had 3lb 5oz and Malcolm Levy did well with 6lb 5oz.
The other section fished alright too, as expected Martin walked it with 10lb 11oz, a great weight of small fish, Moses had 4lb 1oz, Neil Dring had 3lb 13oz and Graham had 4lb 10oz. So it was all quite tight and I wished I hadn't bothered going for big fish, but on a golden peg I had to try. At the results we were all stood about when two young attractive girls turned up and preceded to strip down to their smalls before leaping into the pond! My mood was suddenly lifted, this is how fishing should be! Graham kept asking me to get my camera out but those of you that know me will know I'm not like that! Graham did nick their clothes but Neil arrived on his white charger and returned them, well done Sir Dringalot. Well girls I hope your dip cooled you off 'cos you certainly raised our temperatures.
So on the fishing side it was disappointing for me but the average weights were up a bit which was encouraging.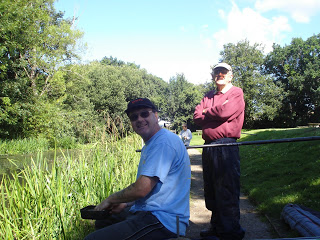 Martin and Malcolm made it a Tiverton one-two, yep mugged again!
1 – Martin Heard (Tiverton) – 10lb 11oz
2 – Malcolm Levy (Tiverton) – 6lb 5oz
3 – Graham Field (Taunton) – 4lb 10oz
Not sure where I'm fishing next week yet, so will let you know.