After a pretty shitty day at work it was a relief to leave the office at three, the weather was glorious for a change and I was looking forward to a few hours fishing. I got to the pond and after all the recent rain there was quite a bit of colour to it and it looked nice. Including me there were seven of us fishing tonight, as always Robin let us draw two pegs and choose which one we wanted to fish. I really wanted to have a go at peg 16 as I haven't drawn it yet this year but drew 2 or 12 and decided on the latter.
It was a bit of a rush to set up so I quickly mixed up some Sensas Roach and Matchblend and set two rigs up, the usual Drennan 0.5 gram Roach and a 0.4 gram Drennan Carp for fishing the insides and it could also double up as an up in the water rig. I plumbed up and with all the extra water, it was deeper than normal so I settled on fishing at nine metres instead of the usual 11.5. Martin Heard who was the next peg along on my right came round for a quick chat before the start. I had Alvin Jones on my left but couldn't see him. Alvin has been unstoppable in the evening league winning four of the five matches so far and was second in the other. Barring a disaster he'd won the league already, I had no chance as I'd missed two and had pretty mediocre results in the three I'd fished. I did manage a second place in the first one but it had gone downhill since.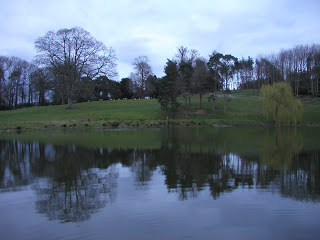 Dillington pond
Rob tooted on his whistle and we were off, I cupped in three balls of groundbait at 9 metres and went straight over it with caster on the hook. Things were slow to start with, a change to double red maggot saw me swing in a 3oz perch. Back on caster and slowly but surely the swim improved and I started getting bites. After the first hour I had 22 fish (mainly small roach), Martin asked how I was getting on, told him and he said he'd had 48! blimey was well behind already although he did say his were mostly tiny fish.
Couldn't really see much of what was happening so stuck with it, I was catching most of my fish on the full depth rig, but on the drop. I did try the shallower rig but the fish were smaller so I quickly reverted to the deep rig. I was getting the odd better fish of 4oz or so but also missing a few bites and bumping fish. Even so the second hour was better and I had 24 fish. I was fairly pleased with my progress and as 5lb is normally a decent weight I felt I was on target as the last match I had 57 fish for 3lb 14oz.
Scotty Russell turned up for a walk round and said that Stu on peg 18 was getting a few and Alvin was getting a fish a chuck on 15, in fact most people were catching lots of small roach. With the light fading fast the third hour was better still and I put another 27 fish in the net to give me a total of 73. I felt I had 5lb+ although I was sure Martin had beaten me by a mile. Near the end there were some good fish swirling for the loose feed and I just wish I could work out how to catch them.
It was a bit of a rush to pack up before the light went completely and Janders handed me some scales and said I had to weigh Stu, Moses and Alvin in while they did the rest. Stu asked how many fish I had and when I told him he said that I'd done him, he weighed 4lb 6oz and I did think that perhaps I had more than that. Moses had a wind up torch with him which proved to be invaluable, Moses just pipped Stu with 4lb 9oz and then Alvin plonked 7lb 5oz on the scales to take the lead. We got to my peg and my net was up the bank!, Rob had already weighed me in. I packed the rest of my kit up and drove back for the results, still not knowing what I'd weighed.
First person I met was Janders who said I'd had 4lb 11oz (so I still can't break the 5lb mark) but as Janders had weighed 2lb 13oz I pocketed his pound with some glee! Rob had caught 3lb 10oz although he'd lost a bream which would have seen him frame. Martin had 6lb 3oz which was a lot less than I thought, so Alvin had won for the fifth time in six matches and made sure of the league title. Martin was second and I sneaked into third and picked up £16, meaning my total for the year had edged past £600 (£613.50 to be precise). An enjoyable evening although I wish I could pick out those bigger fish.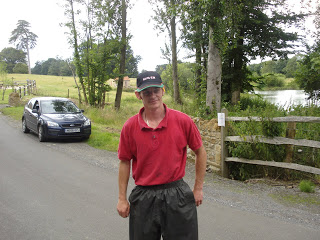 Evening league winner Alvin Jones
We're back on here on Sunday and Alvin is away on holiday, not that it matters 'cos he can't seem to transfer his Wednesday form to Sundays anyway!
1 – Alvin Jones (Chard) – 7lb 5oz
2 – Martin Heard (Tiverton) – 6lb 3oz
3 – Jamie Rich (Against Men and Fish) – 4lb 11oz
Final league positions
1 – Alvin Jones – 5 pts
2 – John Anderson – 16 pts
3 – Robin Cox – 17 pts