Dave picked me and off we went for brekkie where Steve Bishop and Steve Osborne met us, not long after another Steve (Chant) arrived with Picky. After filling up for the day ahead (some more than others, eh Dave?) off we went. We made good time and were soon at the venue. Les did his best to rid us of all our cash and then it was time to draw. I really fancied the peg I had last time but drew one away as peg 11 stuck to my hand. Still it was a reasonable peg and Butch had nearly 20lb off it last match. In fact Butch drew the peg I wanted, Picky drew peg 13 just by the gate which never seems to do much good so hopefully I'd stand a chance of nicking a pound.
My peg looked nice as it was between two islands and carp could be seen cruising in the gap but I was determined to once again go all out for silvers and hopefully pick up the odd carp as I went along. As I said earlier I had Butch to my right, on the other side I had Steve Bishop who was also going to target the silvers so I'd be able to gauge how I was doing. For bait I had maggots, casters, pellets, meat and worm. My plan was to fish chopped worm at 5 metres and also feed pellet and meat under the tree on the right hand island, just in case!
I set up the usual two rigs, a Drennan 0.4 gram for open water and a little Trabucco dibber for the island. With plenty of time before the off, I had a quick walk round the pond. Match organiser Les was suffering with a bad back and as a consequence was sat in some weird orthopedic/bed chair arrangement sat on bricks to level it, I thought you needed planning permission for that kind of thing! At least he was comfortable. Janders was next to him and then Dave Lawrence was in creature corner. Steve Bush had drawn the flier again and would be tough to beat. Chanter had also drawn the same peg he'd won off last time and was feeling confident. He also had a walk round taking photos for me but apologies in advance as he hasn't let me have them yet! So this weeks blog might be a little short of snaps (oops, sorry Steve I meant photos, you'll see what I mean later).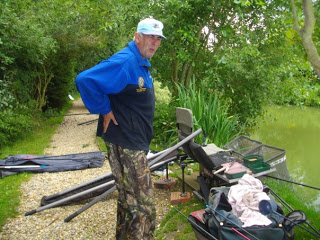 Les had a bad back (hence the orthpedic chair!)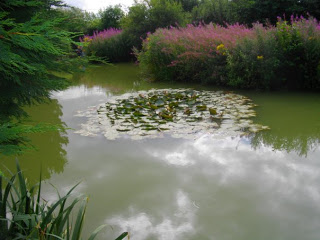 Chanter's peg
Anyway I got back to my peg and it was time to start, I put in a pot of worm and caster at five metres and a load of micro pellet and meat under the tree. I nipped the head off a worm (as this had been the best bait last match) and shipped out. After a few minutes the float slipped away and I was soon swinging in a 3oz roach, right I thought 20 fish an hour should put me there or thereabouts. I had another small roach before the swim died and I couldn't buy a bite, this wasn't in the plan! I asked Steve how he was getting on and he replied the same, and from the comments around the pond it seemed like all the rain we'd experienced had put the fish off. The pond also wasn't as coloured as normal and I started to think my initial target of 25lb might be way off.
After the first hour I'd only had six fish and bumped a couple, I'd also hooked a carp which I thought was under control when the hook pulled out! Bish and Butch had also endured slow starts although judging by all the splashing, Butch was getting a few now. Loads of carp could still be seen cruising and my thoughts started to turn to my island line. I did see one big dark shape and plonked the hookbait right in front of it and to my surprise it took it! I was waiting for the fish to tear off but it didn't and a 3lb bream just plodded about before I netted it, a right bonus and it put me right up there.
After another uneventful 15 minutes I couldn't resist trying by the island and shipped out a cube of meat, no bites were forthcoming and I soon found myself just plonking the bait in front of cruising fish, none of which were interested. Bish was getting odd fish and starting to eat into my early lead and I reckoned Butch was just ahead by now so I came back in on my worm line. I was just sat there and the float was motionless despite loads of blows right over my feed. I shouted up to Steve who said he was still struggling and we couldn't believe it was the same pond as two weeks ago.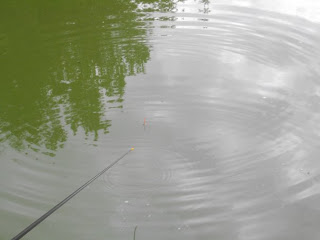 'Please go under!'
Then my float just sailed away and I was into another carp, as before I just about got it under control when the hook pulled out – shit! I just knew that come the weigh in, those two lost fish would cost me. Then it was back to catching nothing, I could hear Butch catching fish and Bish was still getting odd fish, I was just getting desperate. I tried caster and maggot on the hook but it made no difference and I was fearful of scaling down in case I hooked another carp. I did drop the rig in front of another big carp which took the bait before screaming off and snapping me, it was now 3-0 to the carp and I was resigned to not only a bad day but a battering both sides.
Bish was still getting odd roach and I was sure he was catching up in the water so desperate to put something else in the net I followed suit. I started loose feeding casters at 5 metres and I soon had some swirls from roach, some good fish too including the odd chub could be seen taking the odd floating caster off the surface. But could I catch them?, could I hell as like! All I could manage was the odd small roach and rudd, again I thought about scaling down but then bang! and another carp was on. There was blue hydro everywhere and the fish even snagged me solid under my feet but I eventually got it out and at 4lb it put me back in the hunt.
Apparently Chanter was getting the odd carp opposite but I couldn't see what was happening because of the island. I became rather hypnotised by the swirling roach and chub and spent ages trying different depths and moving shot around, nothing really worked although I did add a 12oz chub and a couple of roach. Bish started getting the odd chub and carp and I was sure I was right out of it. With an hour to go I decided to stick with fishing on the bottom over the chopped worm so I dumped in a load of worm hoping that the fish would go down over it. All of a sudden there was a load crack from Chanter's direction followed by his voice shouting 'Not a f*****g again' and yes Snapper had indeed busted his second pole in three matches! Fair play to him though as he landed a decent foulhooked carp despite the wrecked section. Dave Lawrence nearly killed himself laughing although remember that famous saying 'What goes around, comes around'?
Bish with friend
and another feathered friend
Anyway, miracle of miracles I started getting bites again over the worm and in the last half hour I added six more roach and a 12oz skimmer before Les shouted the all out. I ended with 26 fish which I reckoned might go 7-8lb, Bish was admitting to 14lb or so but I thought he had much more and I honestly thought it would be between Butch and Bish for first place as Butch seemed to catch steadily all day. I packed up and walked past Picky who said he'd had a crap day, I replied mine wasn't up to much either!
Les started the weigh in ass about face again which made me think perhaps he'd done ok this week. Picky hadn't been lying and weighed 5lb odd, Bish weighed 18lb 4oz followed by me with 11lb 4oz (which was more than I thought), Butch really surprised me when he only weighed 9lb 8oz, I thought he'd absolutely stuffed me. The next few pegs really showed how hard it had been before Steve Bush put a respectable 14lb 4oz on the scales to push me down to third. Then we reached Dave Lawrence's peg to find two keepnets drying in the sunshine, he'd chucked back 12-14lb as he thought it would get him nowhere (oh dear, he who laughs last laughs longest, I think is the saying!).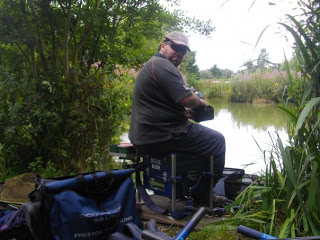 Bushy framed again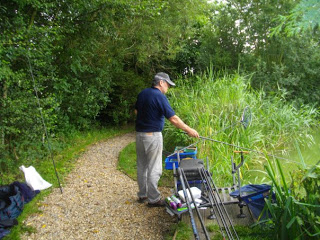 Dave didn't weigh in from 'Creature corner'
Janders weighed 4lb 4oz to hand over a £1 which joined the one Picky gave me earlier, Les had struggled despite the comfy chair! and then Snappy Chanter just missed his second win on the trot with 17lb 14oz, but still had some more money for his new pole fund. Back at the results and I was read out in fourth place (cheers Dave) and picked up £40, blimey! another pick up at Clivey! Well that £40 takes me to £597.50 for the year, a little under last year at this point but it's still ticking over. Next up is an evening fixture at Dillington on Wednesday night, so tune in to see if I can break £600.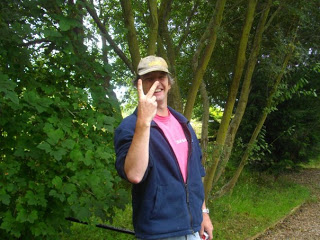 Yep that's twice in two matches at Clivey
1 – Steve Bishop (Chard) – 18lb 4oz
2 – Steve Chant (Chard) – 17lb 14oz
3 – Steve Bush (Chard) – 14lb 4oz
4 – Jamie Rich (Against Men and Fish) – 11lb 4oz
5 – Butch Baker (Chard) – 9lb 8oz
Once again it helped if your name was Steve, perhaps I should change my name by deedpoll, Steve Rich, what do you reckon?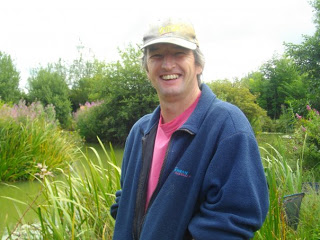 Steve Rich!!!!!