As I hadn't fished last weekend I was really looking forward to getting back on the bank. There were only nine of us at the draw and if the golden ball didn't go the money would be paid out today. If it went, just the top three would be paid out, if not the top four and two sections would be paid. I drew peg 6 on the field side and it's normally a good area. We all got to the pond and I had to to a bit of swim clearing as there were loads of reeds in my peg.
I mixed up some Sensas Noire and set up two rigs, the usual 0.5 gram Drennan Roach float and a little Drennan Squatt float for up in the water. I was determined not to put in a big fish line and just get my head down for the roach and perch. It was quite overcast when we got there but as the sun came out I could see a big bank of weed right in front of me. The next angler along from me was Martin Heard on peg 6 and on my left was Moses Holbrook on peg 12. Although there was no chance of a league placing for me, things were really tight at the top going into this match with Martin and Bruce Hunt on 13 pts followed by Graham Field on 14. Bruce had also drawn the golden peg and we were all praying he wouldn't win off it.
Robin blew the whistle to signal the all in and I cupped in three balls of groundbait containing some hemp, maggot and casters and 10 metres. I shipped out with caster on the hook and missed the first three bites! I did eventually start catching perch and roach but even at this early stage I knew that weed bank would be a problem and every time I shipped back with a fish on they would get caught in it. Things were quite slow for me and I only had 11 fish in the first hour. I did quickly try the shallow rig but only had one small rudd on it.
The second hour saw my catch rate improve and I had 20 fish including some better roach but the wind was being a pain and I was still losing fish in the weed bed. Hour three was slightly better again and I had 21 fish to take me to 52 fish and I set my sights on 100 fish which I thought would give me around 6lb. I was quite pleased with how things were going until I heard Bruce shout across to ask Martin how many he'd had and they both had over 100 fish already!
Hour four was pretty good with another 23 fish to give me a total of 75 and I only needed to catch 25 in the last hour and a half. Typically things slowed and I really wasn't sure whether or not to put another ball of groundbait in. I decided against it and tried double maggot for the first time and added a couple more small perch and roach. By now it was obvious it was going to be between Martin and Bruce as they were both approaching 200 fish but could Martin stop Bruce winning the golden ball?
I switched back to caster for the last half an hour and added three or four fish to take my final total to 92 fish, just short of my target. I packed up knowing my only chance of coin was if the golden ball didn't go and I might sneak the section. Martin had the scales and we started weighing at Robin Cox on peg 1, had he fared any better than I did last match? He did land one chub, but he lost two and a big carp and weighed 3lb 14oz. Roger Russell pulled his net out and had a nice bag of fish for 7lb 3oz, Martin had 10lb 5oz but would it be enough? My fish weighed 6lb 12oz which was my biggest weight of the series and if I hadn't lost so many fish to that weedbed I probably could have done Roger.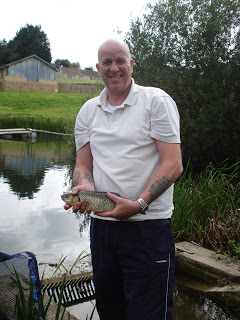 Robin with his chub
By this time the other scales had reached Bruce and when he finished weighing, Martin shouted across to ask what his weight was, 10lb 14oz came the reply – bugger, I couldn't see anybody else catching that. The pond had actually fished really well, Moses had 8lb 3oz for third place, Graham Field had 7lb 6oz and Malcolm Levy had 6lb 14oz (all on borrowed maggots!). The average weight was over 7lb per man. Realistically I knew I couldn't have done Bruce or Martin but I reckoned I should have been closer to Moses's weight. Bruce did indeed win the match and the golden ball and took home over £200, it wouldn't have mattered to me though as Roger would have had the section anyway.
As both Bruce and Martin won their sections, the league was decided on weight in Martin's favour. Graham Field held on to third place in the league.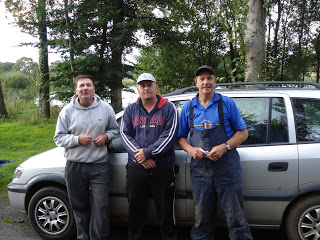 The top three on the day from left to right, Martin Heard, Moses Holbrook and Bruce Hunt
1 – Bruce Hunt (ALS) – 10lb 14oz
2 – Martin Heard (Tiverton) – 10lb 5oz
3 – Moses Holbrook (Ilminster) – 8lb 3oz
4 – Graham Field (Taunton) – 7lb 6oz
5 – Roger Russell (Ilminster) – 7lb 3oz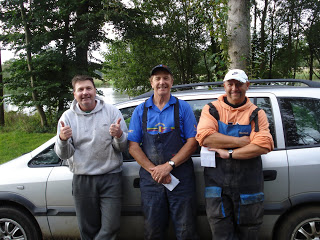 The top three in the league from left to right, Martin Heard, Bruce Hunt and Graham Field
Final League Standings
1 – Martin Heard – 14 pts (on weight)
2 – Bruce Hunt – 14 pts
3 – Graham Field – 17 pts
So once again we'd been mugged and the lions share of the money was headed to Tiverton. I would just like to say a big thankyou to Roger Russell for his very generous sponsorship of the league and to Rob Cox for organising the matches.
Next week I'm on the resi, what do rods and reels look like again?