With the Dillington league over, I thought I'd give the resi a bash. On my arrival I received much good natured banter about me being lost and why wasn't I out the pond, even my poor blog got a slating about the fishing at Dillington being like having teeth pulled (thanks Mark!). Looking around the draw queue it was like a who's who of the South West match circut with Tony Rixon, Dean Malin and Nicky Collins plus all the usual resi experts. Before the match I asked Scotty Russell which pegs I needed to draw and he said bream had been showing on 37-39 so I was delighted when I pulled out 39.
I got to my peg and had a nice surprise in that Janders was on the next peg so at least I could have a laugh and keep an eye on how my pound was doing. Further down from John were Mike Hosgood and Scotty, Mike would be breaming it and Scotty was going for the roach. I set my box and keepnet up in the water and mixed up some groundbait (Sensas bream with some fishmeal added) before setting up my Drennan Stillwater feeder rod with a simple feeder rig and size 16 B611 to 0.12mm bottom. Despite it being quite bright there was quite a bit of ripple up our end and I was hopeful of getting a few pull rounds.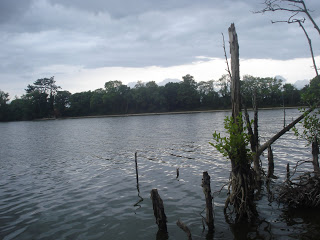 The resi
Les shouted the all in and I had a couple of quick casts to get some feed in at about 40 yards or so before casting out with double red maggot on the hook. I started to get the odd twitch but nothing to strike at, I looked round and Janders was netting a skimmer and already had a couple. I then missed a couple of bites before connecting with one which turned out to be a good bream of 4lb or so and I was off and running. The first hour was steady and I added four skimmers, Janders was catching too but I was ahead thanks to the slab.
Couldn't really see what else was being caught, Mike Collins on my left had a slab and a couple of skimmers and Butch Baker next to him was catching roach on the pole. I set myself a target of 8 bream which would give me around 40lb which I thought would see off most of the roach weights. Hour two was better for me and I added two more bream and some skimmers and bites were coming more regularly. Janders was still catching skimmers but hadn't caught a slab as yet. Going into hour three I pulled out of a bream and things went quiet.
My mate Andy turned up for walk round and while he was there Janders landed three more skimmers while I couldn't get a bite. Then a tentative bite saw me strike into another bream and I was halfway to my target with half the match left. I think Scotty was catching roach and I think I heard Mike say he had three bream. The trouble was I couldn't now buy a bite, Janders was still catching skimmers, fishing a shorter line than me, but he still hadn't had a proper bream.
I was really struggling although I did manage a better skimmer of 2lb, the anglers on the mid forties seemed to be catching well and I was falling behind. I tried casting to the left and right of my feed area but only added the odd skimmer. I pinned my hopes on the last hour and as it approached I unclipped and pulled a few yards of line off the reel before clipping up again. The idea was to see if the bream had backed off the feed. To be honest this didn't really help much either and I only added a couple more skimmers and a roach. I ended with four proper bream, two better skimmers and twelve smaller skimmers plus that roach for about 25lb or so.
The scales started at Mike Thomas who had 8lb 2oz then Scotty put 303 roach on the scales for an excellent 37lb 8oz and I knew I didn't have that. Mike Hosgood did even better with 47lb 4oz and Dean Malin reckoned he'd struggled but put 36lb 14oz of mainly skimmers on the scales – blimey! Janders weighed 18lb 10oz and then my fish went 29lb 2oz and I was already lying fourth in the section and knew there would be no brown envelope for me today. Mike Collins had 12lb 7oz and Butch had 20lb 5oz of roach.
Then we got to the pegs in the forties that had been catching bream consistently, Dennis Stepney had 52lb 8oz, Brendon Ions had 31lb 8oz and Chris Whitefield had 52lb 3oz. Dave Abrams had 28lb 15oz of roach, Nicky Collins had 29lb 9oz of roach, Les had struggled for 15lb 13oz, Ashley Tompkins had 31lb 7oz of roach and Roger Russell had 25lb 9oz so it had fished really well.
The dam wall had also fished with Steve Chant putting 39lb 13oz of bream on the scales (I presume he was catching so many that he didn't have time to take any photos for me!) and Mark Leahy coming close with 37lb. If only I could have kept those fish coming I would have been there or thereabouts as two more bream would have got me fourth place.
Still I can have another go next week as we're having a fiddle on the dam wall, I'm going through a right dry patch at the moment and no brown envelopes for four matches.
Pretty impressive reading
1 – Dennis Stepney (Chard) – 52lb 8oz
2 – Chris Whitefield (Chard) – 52lb 3oz
3 – Mike Hosgood (Exeter) – 47lb 4oz
4 – Steve Chant (Chard) – 39lb 13oz
Sections
A – Mark Leahy (Street) – 37lb
B – Scott Russell (Yeovil and District Angling Centre) – 37lb 8oz
C – Brendon Ions (Chard) – 31lb 8oz