With no proper match on this week, Les organised a fiddle on the resi for committee members. At the draw there were nine of us and Les had put us on pegs 32-39 and I really fancied another crack at 39, I came close when I pulled out 38. Alan Dunn drew peg 39 and Les said he'd empty it as a pleasure angler had bagged up yesterday. Once again it was a glorious day although with it being quite bright, not ideal for bream fishing. Out of the nine anglers only one, Steve Bishop, was going all out for the roach and I reckoned he'd be hard to beat today.
I reached my peg and set my box up in the water, on my right I had Alan 'Picky' Gage who owed me a squid from last week so it would be double or quits today and Janders, my other regular side bet, was next to him. As per usual we were all set up with plenty of time to spare. When Les finally called the all in, all our feeders landed on roughly the same line and I had a quick few casts to get some bait down. We didn't have long to wait for the action to start and Picky and Janders were straight into skimmers. I kept waiting for my tip to go round and it eventually did and I netted a skimmer. By the end of the first hour I had five skimmers and both Janders and Picky had double that. Still five hours to go so no need to worry yet.
I was still getting odd fish but poor old Dunner was a long way from emptying it and only had a couple of skimmers. From what I could see Bish was catching roach like a man possessed and with the constant procession of skimmers to my right, I needed to catch some proper slabs to stand any chance. Then I had one and was back in the hunt, Dunner was still stuck on three skimmers. I was still getting the odd skimmer and even had a small perch while my rig was down the edge!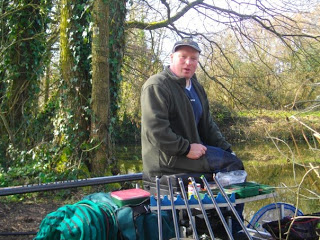 Dunner was struggling
Halfway through the match I was still behind by my reckoning but not by much as I had three good bream, a skimmer of 2lb and 8 or 9 smaller skimmers. The wind kept dropping and my bites tailed off, Janders and Picky slowed up as well but they were still putting odd fish in the net and pulling away again. I had my fourth decent bream but bites were few and far between. With a couple of hours to go my mate Andy turned up on his bike, while he was there Dunner had another skimmer and a decent bream but I never had a bite. Just as he left my tip went round and the strike resulted in firm resistance but only briefly as I bumped it! – bugger. I could really have done with that one.
It wasn't long before another visitor turned up in the shape of Baz Morgan who had just got back from France and was checking the fishing out before the Chris Patten memorial match next Sunday. While he was there me and Dunner sat like gnomes while Picky and Janders kept putting fish in the net. Baz reckoned Bish was going to do 30lb+ of roach and I still had him as odds on for victory. Time was ticking away when a slight pull on the tip saw me land another skimmer before next chuck I had another better skimmer of 2lb or so. I had time for another cast but no more bites and then Les called the all out, as I picked up the rod to reel in there was a fish on! Unfortunately not a bream but an eel of about a 1lb which was welcome none the less. My final tally was 4 good bream, 2 better skimmers, about 10 smaller ones plus that eel and a small perch, which I reckoned would go about 23-25lb.
I started packing up and asked Picky and Janders how many they ended up with, Picky replied he'd had 44 skimmers and Janders a similar amount although he had some roach and eels in that number and I reckoned I'd be handing out the pounds today. The scales started at the other end and Oz had 13lb odd and Dave Lawrence 19lb 8oz, Dave Abrams didn't weigh and then Bish had 32lb 9oz of roach, a lovely net.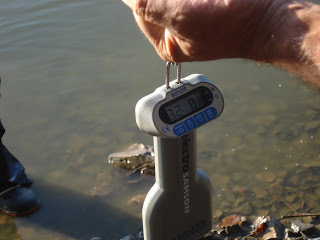 Bish's net of roach weighed 32lb 9oz
Les had a couple of bream and weighed 13lb something and then it was Janders turn and when he weighed 27lb odd I was cursing that lost bream as I reckoned it had cost me. Picky's 44 skimmers went 34lb 10oz to take the lead and then I pulled my net out and Les said it would be close, the digital readout settled on 29lb 14oz and that lost bream would have pushed me close to Picky's weight. Dunner weighed 8lb something so at least I'd won my section and taken a pound off Janders. So I wasn't too far away and the £30 section winnings stopped my four match barren run and I was now looking forward to next weeks match, I just need a decent draw now.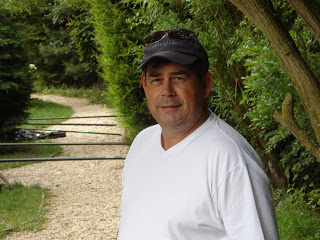 Match winner Picky
1 – Alan 'Picky' Gage (Chard) – 34lb 10oz
2 – Steve Bishop (Chard) – 32lb 9oz
Sections
A – Dave Lawrence (Windwhistle Inn) – 19lb 8oz
B – Jamie Rich (Against Men and Fish) – 29lb 14oz