Once again I was privileged enough to receive an invite to this popular event and was quite looking forward to it as the resi is fishing really well at the moment. I got to the carpark fairly early and it was already nearly full! Les had driven back from his holiday especially for the event and was already in full organisational mode! There was a good turnout of people to pay their respects to Chris again and his brother gave a little speech to thank us all for turning out. My mate Andy had even turned up to fish his first match for ages.
It was soon time for the draw and I really fancied a peg in the high forties and came close with peg 41. The trouble with my peg and the ones either side is that they are set back a bit. Andy drew 48 and was well chuffed and I reckoned he was in the right area. For company I had Picky on my right on 39, which has been a pretty consistent peg and Dave Lawrence on 42. Luckily Les let me put my box on his buggy or the walk might have killed me before I started! Today Les was paying the overall winner and the top two in every five peg section. I finally arrived at my peg and realised it was the same one I had the 28lb carp off, same again would be nice although I'm not sure I could handle another near two hour fight!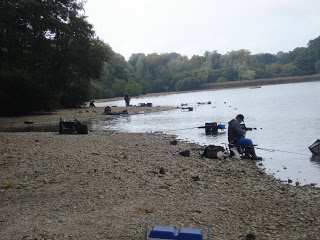 Looking up the resi to the high forties
It didn't take me long to set up, the only difference to my normal set up was my groundbait mix. I had some Sensas Feeder with some Dynamite Bait Swimstim added to give it a fishmeal 'kick'. I just about finished setting up when Andy wandered down for a chat, just in time to put my banksticks in for me (well it was quite deep and I only had wellies on!). Picky turned up and was confident of taking a pound off me. We wandered up to see Les and he got Andy to put his marker board in for him but just wasn't satisfied where ever Andy put it and at one stage I thought it was going to be flung into the lake!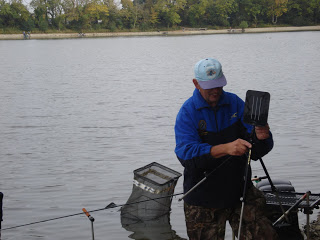 Les and his marker board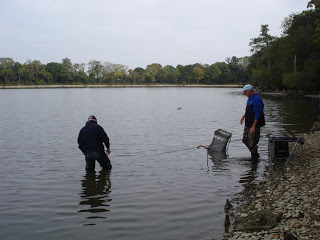 It'll be fine there Andy!
Soon enough it was nearly time to start and we all went back to our respective pegs just before Les hollered the all in. I baited up with double red maggot and scooped a few casters into the feeder before plugging both ends with some groundbait and casting out to around 40 yards. I decided to wait a few minutes before casting out again to get some more bait out there and was rewarded with a pull round and I was soon netting an 8oz skimmer – good start. Dave had started on a much shorter line and was getting the odd roach, Picky hadn't caught as yet. I got to about three skimmers before Picky got his first fish which turned out to be a proper bream and despite my flying start, I was behind already!
By the end of the first hour I had eight skimmers and a roach and Picky had around the same number plus the slab. Dave had now switched to the whip and was catching roach and perch regularly. Les next to Dave had five skimmers and John Loader next to him was catching a few on the whip. Hour two saw me slow up a bit and I had six more skimmers and Picky was pulling away from me, Les was catching up as well and Dave was still catching roach. Hour three and I was still getting skimmers and set my sights on 44, which gave Picky over 34lb last match.
Les shouted down that Mike Hosgood and Andy were both catching proper bream and it looked like the title would be going to one of those two. It was turning into a right head to head between me and Picky, he would edge ahead before he endured a slow spell and I'd catch him up but all the time I was aware he had the cushion of that bream. Dave was now back on the feeder and after a slow start was catching some skimmers too. I started catching really well with a couple of hours to go and had my nose in front of Picky on numbers of fish, although I did bump a couple and lose one at the net, which Picky found highly amusing.
With half an hour to go I had a good bite and the strike resulted in solid resistance, at last a proper bream, I was playing it in when it nodded three times and the poxy hook pulled – bugger. I knew it wouldn't matter too much as Andy and Mike now had nine slabs apiece but it might have helped take a pound off Picky. I fell a little short of my target on the final whistle with 41 skimmers (and three roach) but still felt I was in with a chance of the section (Picky was in the next section down). I packed up and Les enlisted my help with the weigh in and we started at the first peg in the woods where Alan Dunn put 11lb 8oz of mainly roach on the scales, Graham 'Dino' Pepper was next and had over 22lb of skimmers. There were odd proper bream caught in the early pegs, Roger Russell had one and Rog Coombes had two. Dino lead until we got to Picky who had 30lb 6oz and then it was my turn, I pulled my net out and plonked them in the weigh net, Les said it was going to be close and called out 30lb 2oz – bugger, it had been a lot closer than I thought but I still lost the pound.
Dave had over 24lb, Les weighed mid double figures and said I'd be second in the section as Cecil Green on the last peg in our section had eight big bream. Cecil weighed 52lb 2oz to take the lead. His stint at the top of the leader board only lasted until the next peg where Mike Hosgood put a fantastic 62lb 2oz on the scales, Baz had a nice double figure net of roach and Andy came close with 50lb 2oz of bream. The last angler to weigh was Butch Baker who had the best roach net of the day with 24lb 4oz. Les then rushed off to weigh the dam wall section where Scotty Russell was top with a bream and skimmers for 26lb 10oz.
We all then headed to the Windwhistle Inn for the results and a nice carvery. Les read out the results and Mike Hosgood was the fourth angler to take home the coveted trophy. Cecil Green was second and Andy enjoyed his first match back to take third place. I picked up £20 for my second in section and put £10 in the pot for charity, as everyone who picked up did. Phil Rainford then did his usual sterling job of selling raffle tickets before Les announced the cabaret!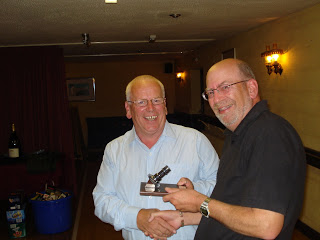 Baz presenting the trophy to Mike Hosgood
Now when Les said cabaret I immediately though of scantily clad women but had to settle for Mike Collins getting his hair cut! But Heather Morgan did a fantastic job with the scissors although Les wasn't so impressive with the clippers! Still when they'd finished, Mike looked half respectable and had raised another £90 for the pot, well done Mike. Then it was time for the draw and there were some great prizes on offer including a fishing holiday in France donated by Baz. Everybody on our table won a prize, I got a Garbolino t-shirt, Andy had a crate of lager and Janders got a rather fetching hat (oh did I mention I won a pound off him but gave it straight to Andy!).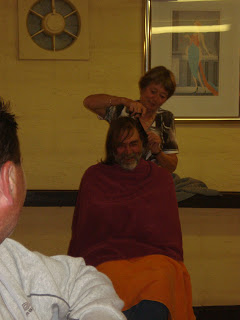 Mike Collins having the snip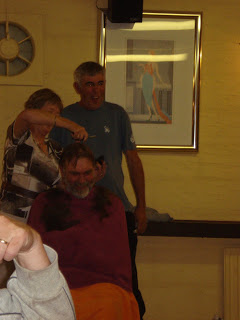 Don't give up your day job Les!
The total raised when I left was over £680, which is just fantastic and as John Loader had won the holiday and decided to auction it off, there would hopefully be even more to add – well done John, very generous. All in all it was a good day (again), loads of fish caught and more importantly loads of money raised for cancer charities – well done to everyone involved. A special thanks to Baz Morgan and Les Braunton for organising the event, thanks to Dave Lawrence and Sally at the Windwhistle, thanks to Mike Collins and all the anglers who donated prizes for the raffle and gave some of their winnings back – a fantastic effort.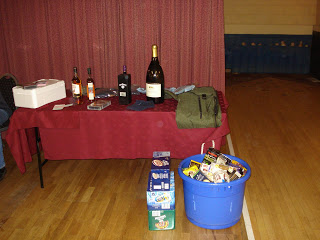 Some of the fantastic prizes
Next week I'm on the resi again, peg 46 please!
1 – Mike Hosgood (Exeter) – 62lb 13oz
2 – Cecil Green (Chard) – 52lb 2oz
3 – Andy Langdon (Chard) – 50lb 2oz
Section A
1 – Andy Langdon (Chard) – 50lb 2oz
2 – Butch Baker (Chard) – 24lb 4oz
Section B
1 – Cecil Green (Chard) – 52lb 2oz
2 – Jamie Rich (Against Men and Fish) – 30lb 2oz
Section C
1 – Alan Gage (Chard) – 30lb 6oz
2 – Martin Heard (Tiverton) – 21lb 9oz
Section D
1 – Graham Pepper (Taunton) – 22lb
2 – Roger Coombes (Chard) – 13lb 11oz
Section E
1 – Steve Bishop (Chard) – 16lb 2oz
2 – Jock Mattravers (Chard) – 15lb 3oz
Section F
1 – Scott Russell (Yeovil and District Angling Centre) – 26lb 10oz
2 – Bruce Hunt (ALS) – 15lb 10oz