The weather had been quite rough on Saturday and with mild winds were forecast for Sunday and I was hoping the bream would feed with a vengeance, I just needed a decent draw now! All the usual suspects were at the draw and as Baz Morgan would say 'If the devil could cast his net now!' I really wanted to pull out a peg in the forties and after I'd drawn I had a look and saw a four, followed by a nine, peg 49. I had mixed feelings about the peg as it's a known roach peg because it's quite shallow but I didn't have the kit for roach and really wanted to catch bream as these nearly always feature in the top weights. I still felt there was a chance though as my mate Andy had 50lb off peg 48 last week.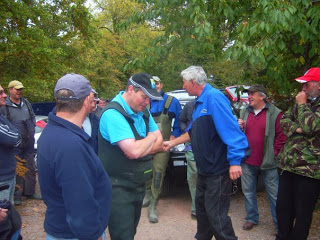 'If the devil could cast his net…'
I got to my peg and made myself comfortable, I had Mike Collins, with his new haircut, on my left and Paul Blake on my right. Next to Paul was Janders so I would have a good idea of where my pound was heading. Down along from Janders was Picky on 45 and as this is a good bream area I thought I would struggle to hang on to that pound. As per usual I set up a feeder rod and mixed up some groundbait (a fifty-fifty mix of Sensas Feeder and Crazybait Gold) and was ready in plenty of time. I also opened a tin of corn in case I got roached out, which can happen on these pegs.
Les hollered the all in and I baited up with double red maggot before casting out to around 40 yards (the same distance as Andy fished last week), it wasn't long before I had a fish which turned out to be a 4oz roach, as I was bringing it in I saw Janders also reeling one in. Paul then had a skimmer and I was soon into one too, here we go I thought. But then I was just getting ragged out by roach and despite trying a grain of corn I was putting very little in the net. After the first hour I'd only had two skimmers and two roach, Janders had around the same and Blaker a little more. I wasn't too worried though as sometimes it takes the bream a while to find the bait and you only need a good couple of hours on the bream to do a weight.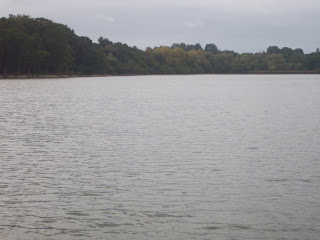 Looking up the resi from the dam wall
Hour two continued in the same vein and I was starting to get concerned, Janders was pulling away from me and Blaker was getting spells of catching well and I was just getting the odd skimmer. More worrying was that Picky was apparently catching well and had landed a couple of bream – goodbye pound! At least it meant the bream were feeding so maybe they would find their way up to us. Corn was a non starter with only the odd indication and maggot meant roach and I was lagging behind. I did notice Blaker was fishing a shorter line than me and fishing a much shorter hooklength. Both him and Janders said they were fishing four or five maggots on size 14 and 12 hooks. I put three on my 16 but this just resulted in another roach.
I was still getting the odd skimmer but three hours in I was fed up and starting to wish I'd fished for roach. The trouble with that idea though, was that the roach weights were dropping off and although I might be able to do 20-25lb, I felt sure this would get me nowhere. I struggled on, I shortened my hooklength but this didn't really help and it just felt like there weren't many skimmers here. Blaker was now catching regularly and was on for a decent weight.
The end couldn't really come soon enough for me although I did have a purple patch right near the end catching two skimmers in two chucks with the last one coming on the whistle. I ended with 12 skimmers and half a dozen roach and when Janders asked what weight I had I reckoned on about 6-8lb, he was admitting to 12lb so that pound had gone on as well. The scales arrived and Picky was leading with 45lb odd and Mike Hosgood had 39lb and there were several good backing weights and I was in two minds as to whether to weigh or not. Janders had over 14lb and Blaker had an excellent 30lb 10oz. I weighed a lowly 12lb 6oz and handed over a pound to Janders, Mike Collins had a worse day than me and had 4lb something.
Back at the results and Picky had indeed won again and couldn't wait to collect my pound, well done mate. Mike was second and Dave Abrams was third with 33lb 10oz. Section wins went to Denis Stepney, Butch Baker, Les Braunton and Paul Blake. Next week is the first match back on the river and I'm really looking forward to it, although with no rain for months it's painfully low and clear. The last match I won was on the river way back in January and my results haven't been great since, as for my yearly total, I'm way down on last year and can't see me hitting the grand this year.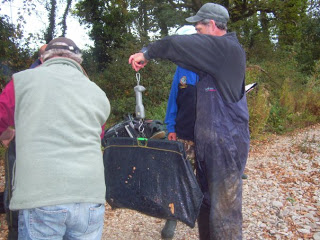 Section winner Butch Baker weighing in Denis Stepney who won the dam wall section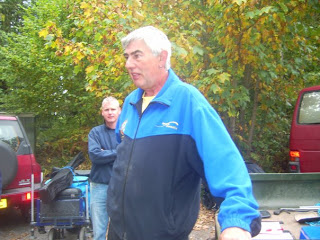 Les won his section with over 28lb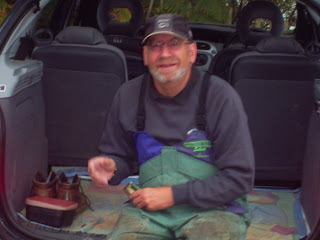 Mike 'the feeder' Hosgood was in the money again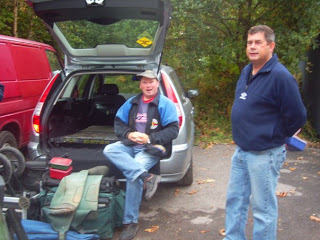 Match winner Picky (right) and Alan Dunn
1 – Alan Gage (Chard) – 45lb 8oz
2 – Mike Hosgood (Exeter) – 39lb 4oz
3 – Dave Abrams (Weymouth) – 33lb 10oz
Sections
A – Denis Stepney (Taunton) – 19lb 7oz
B – Butch Baker (Chard) – 24lb 5oz
C – Les Braunton (Chard) – 28lb 4oz
D – Paul Blake (Chard) – 30lb 10oz
P.S. almost forgot to say thanks to the lovely Steve Chant for the photos, cheers buddy.