I was really looking forward to getting back on the river although with no rain for months it was painfully low and clear and very weedy in places. I got to the Crown and there was a new face in the shape of Graham Bulgin, who I hadn't seen for years, along with Alvin Jones and Bob Hammond who hadn't fished for ages. Robin had pegged upper and lower Coxes along with four pegs at Isle Brewers, including the flier, peg 125, that everybody wanted. I stuck my hand in the bucket and pulled out peg 27, the first swim in the copse. Not a bad peg but usually only worth around 6-7lb and I reckoned pegs 14, 125 and 126 would all eclipse that and there were some other good pegs in too. Still at least I should get a few bites.
I got to the river and it was extremely clear with hardly any flow on it. It's quite a fishy looking peg with a bay opposite and to the left, ivy on the far bank. Graham Field had the next peg down, the big bend, which usually fishes well early on and Roger Russell had peg 29 (the stump) which can produce some nice chub weights. I set up a 0.75 gram Drennan Carbo for the bay opposite, which actually had quite a deep hole in front of it and a 1.5 gram Carbo for fishing by the ivy. The lighter rig had 0.10mm bottom and blue hydro through the top two and the heavier rig had a 0.12 mm bottom and white hydro. Both rigs had Kamasan size 18 B611's at the business end.
I just had time to pop down and see Graham before it was time to start. He was sat on the island and I thought this might have been a mistake. I got back and baited up with a caster and shipped out before feeding some casters and hemp. I started getting bites from small dace straight away and set my sights on 60 fish as this would give me around 6lb. After three dace I hooked a fish that felt heavier and plodded around before I netted a 12oz perch – bonus! I carried on catching dace and small chublets along with the odd chunky 4oz roach and even had a 1lb trout, which count in our matches, to give me 33 fish after the first hour. This was a great start and I was over half way to my target with four and a half hours to go.
The trouble with this swim is that you know sport is going to slow at some stage, hour two arrived and I was still catching fish regularly and added another 6oz perch and a little trout of the same size along with a chub around the pound mark. I had another 21 fish to give me 54 in total and I started to think a good weight could be on the cards. Going into hour three and bites slowed right up, a change to double red or bronze maggot saw a quick flurry of fish before that dried up as well. I thought I'd give my main catching area a rest and try down by the ivy.
I had a couple of dace before I went back to being biteless and at the end of the third hour I'd only added 11 more fish. What to do next? Another try opposite only saw me add a couple more fish. Graham wandered up to say he was really struggling and only had ounces. Just after he wandered back, Roger came up on the opposite bank and he too was struggling with one chub and a couple of perch. While he was there I had a dace and a decent roach. He walked up to have a look above the bridge and came back to report there were loads of fish in the shallows above me.
After he'd gone back and with no more bites forthcoming I decided to start flicking some casters above me and after doing this for a bit, I went up there at 11.5 metres with the shallower 1.5 gram rig. I started catching but they were very small chublets and it was quite hard work, after five or six I gave this up as a bad job as I wasn't adding much to my weight. I was now on 77 fish and thought I must be approaching 7-8lb with just over an hour to go. Another try in the bay was fruitless so I went back down by the ivy and had a couple of dace and a gudgeon before they spooked.
I went back across to give the ivy a rest and had another dace and this set the scene for the remainder of the match, a couple of fish from the ivy before resting it. Doing this I had another half a dozen dace and chublets including a better one of a pound or so. I had one right on the whistle to end with 89 fish, much better than I thought I'd do. I packed up and went down to weigh Graham in, he'd found a chub but also lost a bigger one to weigh 1lb 14oz. My fish went 13lb 10oz and I was well chuffed although I kept thinking I'd be lucky to win my section if 14, 125 and 126 had fished. I took some of my kit back to the car and went down to weigh Roger in, he had two good perch and a chub for 5lb 1oz.
Back at the pub and people started filtering back, Alvin was first back and had struggled from peg 20 for 1lb 9oz, he said the top weight from higher Coxes was Malcolm Levy's 5lb 12oz – so far, so good. I knew it wouldn't last though and sure enough Martin Heard had put a fantastic 21lb of roach on the scales, but what about 126? Robin had 9lb 7oz and with no other weights I was second and picked up £30. A good start to my river campaign and I picked up one section point as well, with Martin topping the bottom section.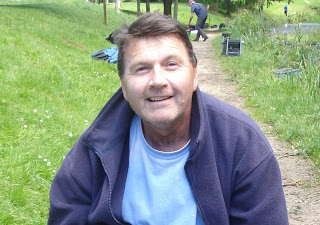 Martin was victorious again
1 – Martin Heard (Tiverton) – 21lb
2 – Jamie Rich (Against Men and Fish) – 13lb 10oz
3 – Robin Cox (Ilminster) – 9lb 7oz
Section A – Malcolm Levy (Tiverton) – 5lb 12oz
Section B – Roger Russell (Ilminster) – 5lb 1oz
I must apologise for the lack of photos (where's Steve Chant when you need him!). Next week we're back on the river for the first match of the V.E.S. league, I would dearly love to win this league and have managed second and third in the last few years but first place eludes me, wish me luck.