After a cracking day last Sunday I was eager to get back on the 'ditch' for the first match of the V.E.S. Winter League and was hoping for more of the same. On reaching the Crown Inn, I was a little concerned that Rob had put in some new pegs and areas that aren't normally prolific. There were still some good pegs in, like 85 (the big bend at Ashford) and 123 (the fence at Isle Brewers) and also I thought that maybe one or two of the new pegs might throw up a surprise. This match also saw the return of Janders, welcome back mate, although quite a few of the normal regulars were yet to put in an appearance and there were only 12 anglers fishing today.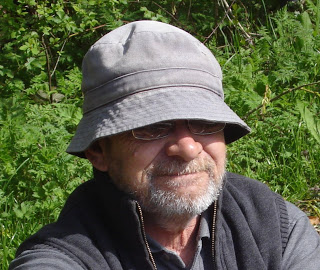 Janders, back on the river
I paid my pools and had a quick cup of coffee and was having a chat when somebody said that Tommy (the landlord) was calling it a day, which is a real shame as he has supplied us with excellent breakfasts and chip butties after the match, along with sponsoring one of our winter leagues for ages. Many thanks Tommy, you've been fantastic and you will be missed. Anyway it was soon time to draw and I stuck my hand in the bucket and pulled out poxy peg 95 (the one below the bridge at North Bradon), it's not great and I've never done much off it, my match was over before it started. Also at North Bradon were Janders (on hot peg, the roach hole), Moses Holbrook (on 96, another good peg) and Martin Heard (on new peg, 91).
Tommy, a fantasic landlord. Thanks for all your support over the years, you will be missed
We reached the river and my peg looked shit and I was having a right old whinge, I walked up the river with Janders (as he was going to fish the opposite side of his peg because he didn't like the look of the bull in the field!). As we reached the peg above the road (which isn't normally used), a load of fish bow waved away from the shallows and I commented that I'd rather fish here than my peg. Janders said he didn't mind if I fished it instead and Moses said the same. A plan started to form in my evil mind, so I phoned Robin and he said he was ok with it too, so that was that and I made my mind up to fish here instead.
After helping Janders clear out his swim, I went back and unloaded my kit. The river was very low and clear and you could see the bottom in loads of places but there were some dark, deeper areas in my peg. With this type of peg I just knew it would be feast or famine, I would either bag up and be a hero or catch very little and be a zero, I was hoping it wouldn't be the latter. With not much time to set up I quickly assembled my kit and got 'old faithful' out of my rig tray and plumbed up. I had some reedy things opposite which looked quite fishy and the main flow went under my feet. I was late starting and kicked off by the reeds with caster on the hook and feeding caster, maggots and hemp.
I fully expected to catch straight away but this didn't happen and I was soon searching other areas of the swim. After an hour and a half it looked like it was going to famine. I gave it a bit longer but couldn't even get a minnow bite on maggot so a walk up to see how Janders was getting on was in order. On the walk up I saw several chub in areas between pegs in the shallows and wondered if I would get to see one up close today, I didn't think so! On reaching Janders he seemed quite happy (despite a stinking cold) and said he'd had a chub and some small fish, I watched him for a bit and he had a small chublet, before I headed back.
I got back and after trying all over the swim, no bites and I just knew I was going to blank. I decided to put the pole down with the rig in the main flow under my feet and have a sandwich. The float was there a few minutes before it bobbed a couple of times and sailed away, I struck and white hydro streamed out as the chub charged all over the swim trying to shed the hook before I netted it. It looked to be a good 2lb+ and I thought a few more of those wouldn't go amiss. I thought there might be a few more about but after trying caster, double caster, maggot and lobbie I hadn't had another bite.
Moses walked up and he'd had two good chub in the first half an hour! He stayed with me for a bit, during which time I never had another indication. I went through the motions and all of a sudden started to get the odd knock, had they arrived? I kept getting indications but they wouldn't develop properly and as just the end of the caster was nipped I was sure it was minnows. Time was running out and I was pinning my hope on the golden last hour, with half an hour to go Moses arrived after packing up early, he'd only added two small roach. In fact the golden last hour turned out to be anything but and I never hooked another fish.
I packed up and Moses weighed my solitary fish in at 2lb 2oz, which was a little smaller than I thought, before walking up to weigh Janders in. I was loading my car when they got back, Janders had caught two chub plus bits for a respectable 5lb 11oz. Moses then set off up the other side of the river to weigh Martin in, meanwhile I paid Janders a pound and waited for Moses's return so I could weigh him in. He got back and said Martin had weighed a lowly 2oz and wasn't happy – whoops! I walked down with Moses and his two chub and two roach went 5lb 3oz and said he might have a chance of the section.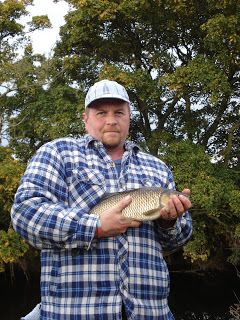 Moses with one of his chub
Back at the results and as people started coming back it became apparent how poorly the river had fished. Graham Field was top weight on the day from peg 83 (which I wouldn't have fancied at all) with 6lb 8oz of small fish, Janders was second and Graham Bulgin was third with 5lb 8oz from peg 123 at Isle Brewers. Martyn Brook won the top section from fancied peg 85 with 4lb 10oz and Moses won our section. Robin Cox could have been up there as he lost two chub and dropped off loads of roach after trying to swing them in due to a broken landing net handle.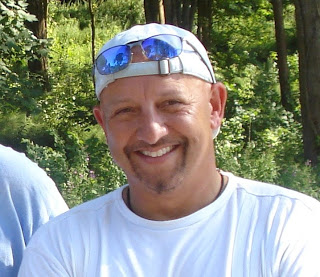 Graham won with a net of small fish
1 – Graham Field (Taunton) – 6lb 8oz
2 – John Anderson (Donyatt) – 5lb 11oz
3 – Graham Bulgin (Ilminster) – 5lb 8oz
Section A – Martyn Brook (Ilminster) – 4lb 10oz
Section B – Moses Holbrook (Ilminster) – 5lb 3oz
With a bit of luck we'll get some rain before next week as the river desperately needs it.