After some much needed rain the river was near enough perfect and there were some good pegs in and a good turnout of fifteen anglers. Justin Charles and Frank Woodard were fishing for the first time in ages and it was great to see them. I stuck my hand in the bucket and pulled out 126, a great peg with a bit of extra water on it and Robin had 9lb 7oz off it, the last time it was pegged, I couldn't wait. Martin Heard reckoned I'd walk it, but he hadn't drawn so badly himself (peg 29 in the copse).
I got there and it looked lovely with a tinge of colour, the trouble was that there are two places you can fish it, at the top leading into the bend or on the bend itself. The last time I fished it, I won by fishing up towards the top of the peg so decided to sit there. I didn't have long to set up, so once again 'old faithful' came out of the rig tray and I plumbed up, there was a nice depth by a raft of rubbish opposite and the water was a little slacker there.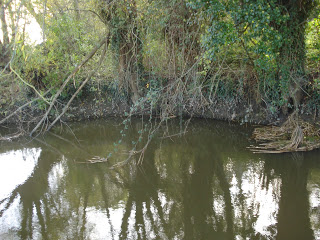 Peg 126 (with the rubbish where I caught most of my fish on the right)
On the whistle I baited up with caster and was straight into little dace and chublets, the trouble was they were about an ounce apiece and I wasn't catching fast enough to put a weight together. I stuck with it, hoping that the big roach would move in. I tried a piece of hemp and the float slid away and I netted a good 10oz roach, despite a pike's best efforts to nab it, bingo!, hemp was the answer. Oh no it wasn't and I went ten minutes without another fish. Back to caster and small dace then and after an hour I had fifteen fish for just over a pound and this wasn't going to plan at all.
Another try with hemp saw me swing in a 4oz chublet and adding another section of pole to take me the other side of the rubbish saw a quick flurry of fish before that died, they just wouldn't settle. Double caster saw me bump a good fish before a pike took the next one and I reckon it was the pike unsettling the fish. After two hours I'd struggled up to twenty five fish and it was getting harder. I was starting to get minnow problems, even with double caster! I kept trying down past the rubbish but this was only bringing odd fish.
I tried running the float through with the flow and this produced a few more fish including another better roach but it didn't last long. With an hour to go I added two more sections and went right down the peg, a bite straight away saw another roach grace the net but then I had to go to 13 metres to get a bite and added another roach and a couple of chublets. I ended with 65 fish plus loads of minnows and I thought I'd be lucky to do 4lb and I was gutted and should have fished lower down. Although saying that, I might have struggled there too.
I packed up and as I had the scales, went up to weigh Rob Cox in, he'd struggled for 1lb 5oz and Graham Bulgin on 124 had 3lb 5oz, my fish went 4lb 12oz and I thought there might be an outside chance of the section. Any hopes of the section win soon disappeared back at the pub though. Martin Heard claimed another victory with 13lb 12oz from peg 29, Bruce Hunt was second with 13lb 2oz and Frank Woodard was third with 12lb 2oz form peg 85. Frank snapped his pole on a snag and his top four was in the river attached to it so he tried using his landing net pole on the end of the rest of the pole and then this came off as well. With nothing else for it, he stripped off and went in after it all, I think he's warmed up now though! I reckoned he was just trying to create a feature in his swim!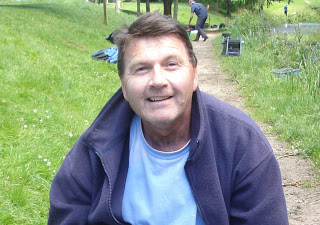 Martin was victorious again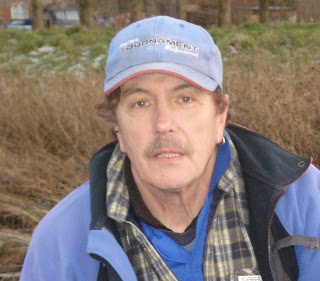 Bruce was second with 13lb 2oz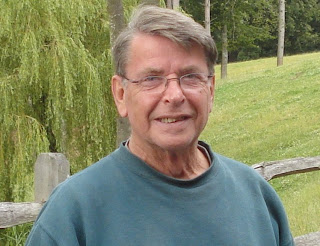 Section winner Roger Russell
My section was won by Roger Russell with 6lb 5oz and Graham Field won the top section with a level 8lb. At this early stage, Martin leads the league with a maximum two points. Next week it's a double header for me, Durleigh reservoir on the Saturday followed by round two of the V.E.S. on Sunday, lets hope for two good days.
1 – Martin Heard (Tiverton) – 13lb 12oz
2 – Bruce Hunt (ALS) – 13lb 2oz
3 – Frank Woodard (Ilminster) – 12lb 2oz
Section A – Graham Field (Taunton) – 8lb
Section B – Roger Russell (Ilminster) – 6lb 5oz