I was up at 6:15 for the first of two matches this weekend and met Chris Watkins at the Happy Eater in Ilminster at 7:00, before heading off to Durleigh reservoir near Bridgwater. Today was a team match involving the Environment Agency (my team) and other water industry teams from Wessex Water and Bristol Water among others to raise money for Wateraid. Our team consisted of myself, Chris Watkins, Ben Evans, Jody Grabham and a chap from Wessex Water (as we couldn't get enough people). I've never fished Durleigh before but knew it holds a good head of roach and skimmers along with some big carp.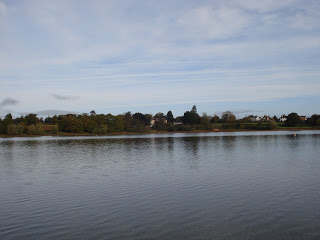 Durleigh reservoir
Luckily I managed to draw a short walk and set off for peg C13, which was apparently a very good area. I set up a feeder rod and a 0.5 gram Drennan Roach float for the pole and I had a nice depth at 11.5 metres. Both set ups had 0.12mm bottoms and Kamasan B611's (16 for the feeder, 18 for the pole). I mixed up some Sensas Feeder mix and added some fishmeal and was ready for the off. On the whistle I cupped in three balls containing hemp, maggots and casters at 11.5 metres before starting on the feeder.
The chap on my right had a fish quite quickly and after a few casts to get some bait down I started getting indications too. My first fish was a skimmer around 12oz followed by some smaller ones between 4-8oz and after the first hour I had seven skimmers and a roach. The chap on my left only had a small perch and I reckoned I was doing well in my section of six. All the time I was feeding hemp and maggot over my pole line. Hour two saw my neighbour start to catch some decent 2-3lb bream on corn and he was soon ahead of me, I added another five fish including one decent fish of 2lb+ but the majority of my fish were smaller skimmers so I was soon rummaging in my bait bag for a tin of corn.
A friend from work, Si Roe, turned up and while he was there I tried corn but never had an indication so decided to try the pole. First put in the float buried and I netted a 1lb skimmers, I followed this up with a roach and a smaller skimmer before the next bite saw me strike into solid resistance, before the fish moved off. It was pretty big whatever it was (carp maybe?) and I was never going to stop it with number five elastic and 0.12mm bottom and sure enough it tore off and snapped me. Back on the feeder with corn on the hook and after ten minutes I had a good bite and struck into what felt like a skimmer. I was reeling in when a few rodlengths out it woke up and screamed off, I just managed to get the anti reverse off in time.
It was a big lump and I had it under control and seriously thought I had a good chance of landing it, the carp was going round in circles and even Si started to get excited when all of a sudden it swirled and made off and the line went slack – shit! So back on the pole I went, the chap on my left was still catching the odd bream and must have had eight or nine by now. Si said he was going round to see how Ben was getting on and just as he left, Will Olsen (another work colleague) turned up. While Will was with me I started catching skimmers, roach and perch really well and was making in roads into my neighbours lead as he had slowed up.
Si turned up again, with Ben!, who hadn't caught as his peg was really shallow and he didn't have a feeder rod with him. I was still getting the odd roach but the skimmers had disappeared and I'm never sure if I should put more groundbait in at times like this. By now it was clear that the chap on my left was going to win the section but nobody else seemed to be doing much, so I plugged away at the roach. With 15 minutes left I decided to go back on the feeder and managed two more skimmers with the last one coming right on the whistle. I ended with 45 fish and thought I might have around 8lb.
While I was packing up I noticed the level of the resi had come up quite a bit which might explain why I suddenly stopped catching the skimmers! I walked up to watch the weigh in, Chris had two kilo something as did Jody (who also lost a carp), what was noticeable was that the team who were pegged next to us had all caught decent weights of bream using little PVA bags of pellets and straight leads instead of feeder set ups. One of their guys had nearly 19 kilos and the angler next to me had 13 kilos something, my fish went 7 kilo 400 grams which was a lot more than I thought and I think it was enough for second in the section.
The chap on the next peg did well
Back at the results and Wessex did us proud by laying on soup, rolls, pork pies and sausage rolls, which was very welcome. The team next to us won easily despite having a man not weigh in, I'm not sure where we came as I haven't had the full results but as we had two blanks (Ben and the Wessex guy) I think we must have been near the wooden spoon position. Still loads of money was raised for Wateraid and I even won a prize on the raffle!
Well tomorrow it's back on the Isle and I could really do with a good result as I'm going through a rather barren patch at the moment.
Update
Just been sent the full results and I actually won my section and picked up £10, the chap on my left was in another section (pegs 7-12), my section was me and the two anglers on my right plus three others on the opposite bank, so a better day than I thought.