The weather was much better than forecast and as I was still in with a chance of a corner peg I was praying I'd get one to stop my free fall slide down the league table. I didn't get it and in fact I drew the one peg I didn't want, peg 6, the scene of last weeks disaster. I was also in the pairs knockout this week and my randomly drawn partner was Mike Collins and he'd pulled out corner peg 20, the trouble was, we were up against Picky and the Hoff and they'd got corner pegs 10 and 11 (the best two pegs on the pond) and for us to stand any chance they would both need to fall in and not get out for six hours!
My mate Andy was fishing today for the first time in ages and was standing in for Rockin' Roy but had drawn peg 19 which has no form at all. Janders was next to me on peg 5 so at least I'd be able to keep an eye on my pound. I got to my peg and as always there were quite a few carp mooching about but could I catch them this time? I'd actually made some new rigs up and set up a dibber for fishing up in the water along with a Carpa 2 float for on the deck in open water and a Drennan Carp for the insides. On the whislte I cupped in some micro pellets and corn on the left hand margin before starting to the right with the shallow rig with maggot on the hook. There were carp moving in the lilies but after 40 mins I'd just had a few small rudd, still I'd avoided the blank.
Janders lost an early carp but at this early stage there weren't many carp being caught, even the corners were quite quiet. I started fishing off the end of the tree with my shallow rig with a S-Pellet on the hook and feeding hard pellets. I was getting the odd knock but no positive bites. Les had a foulhooked carp which he netted safely and then Hainsey opposite on peg 14 had a couple as did Mike Hosgood on my left. All of a sudden my pole tip was wrenched down and I gingerly played and netted a 2lb carp (my first from peg 6!) and I hoped this was the start of good things to come. Hoff and Picky started getting odd fish and Butch on 16 had a couple and lost a couple, they were waking up.
I added carp number two and with the best part of four hours to go I thought I might do a half decent weight. Chris by now had several and was proving what a class act he is. Janders had lost another and then there was a tremendous CRACK and Dino had snapped his pole on a fish in peg 1! I had no more indications out and Mike had added a couple more from his inside line toward me and I was itching to try mine. I slipped on a grain of corn and filled the toss pot with micros and corn and went in just past the lilies. I had a couple of liners but it wasn't happening so after an hour I was back out on the long, shallow line. This was dead too although I could see fish moving about, they just wouldn't take the bait.
There were loads of blows coming up so I tried my shiny new rig with corn on the bottom, I had a couple of bites which I missed. Andy came round and reported he'd only had four small fish, while he was stood behind me, the float slid away and we were both waiting for the elastic to come streaming out, I struck and a half ounce roach flew out the water! how did it get a grain of corn in it's gob? Time was running out and I couldn't catch from any of my lines. Chris was now bagging with most anglers at the top end of the pond getting a few, our end was slightly harder. Janders and Dave Lawrence hadn't caught carp yet and nor had Darren Roberts, Andy or Mike T.
Eventually I had a bite on corn on the long line, only to bump it – bugger. Then there was another loud CRACK and Mike Hosgood had snapped his pole too! He wasn't out of action long and was soon netting another carp. Chris added a foulhooked eel to his bulging carp net and it was starting to look like he could pull off the win from a peg that wasn't a corner. I was going through my lines but just couldn't get a bite and trashed a rig in the poxy tree. With quarter of an hour to go I had a decent bite on the inside and a good fish was on, I thought I had it under control when it went under the tree and snapped me (deja vu) and that was the last of the action.
Andy wandered round and he was fed right up and I don't reckon we'll see him for a fair while. I packed up and watched the weigh in, knowing I'd done really badly again. Dino had done ok on peg 1 despite his broken pole and weighed 12lb 13oz, Paul Blake on peg 2 had done really well to weigh 20lb 10oz, Oz had two fish for 8lb 11oz, then the weights dropped somewhat. Mike T had 4lb 4oz, Janders struggled for 8oz and handed over a £1 and I weighed a lowly 4lb 15oz. Mike Hosgood did really well from 7 to weigh 30lb 6oz, Bushy had over 19lb and had lost several. Surprisingly pegs 10 and 11 had relatively struggled, Picky had 26lb odd and Hoff just over 20lb. Dunner had a lovely double figure carp in his 34lb 15oz. Les had 16lb something and then Hainsey had 13 carp for a brilliant 44lb 1oz. Dave Lawrence who was standing in for Bish had 7oz, Butch did well with 10lb 13oz and then the weights dropped again apart form Terry Green-Niblett who had over 20lb from peg 18.
Darren Roberts didn't weigh, Andy had 2lb 5oz and my partner had 14lb 12oz from peg 20 and I'd let him down somewhat – sorry Mike. I scored 6 points and have now dropped to 12th in the league and that's that unless I win the remaining fixtures – not likely. We got knocked out of the pairs and I had to hand over Janders pound to Picky, not a good day. I really can't get my head round it out here. So for my man of the match there are several contenders including Blaker, Mike H, Terry G, Pup and Hainsey but it has to be Chris for winning off a peg that's not a corner – well done mate. Oh and Les chucked my hat in the pond again, don't know what he's got against it?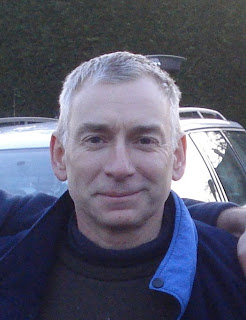 Man of the match – Chris Haines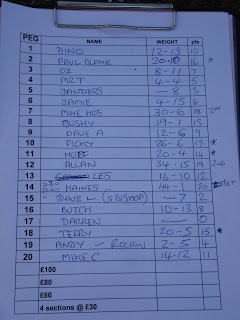 Quite good weights but some areas fished poorly
Also Les has to go into hospital for an operation soon and we all wish him luck and a speedy recovery. Next Sunday I'm back at Dillington so lets hope I can get back to winning ways then.
1 – Chris Haines (Haines Angling) – 44lb 1oz
2 – Alan Dunn (allezbaz) – 34lb 15oz
3 – Mike Hosgood (Exeter) – 30lb 6oz
Sections
A – Paul Blake (Chard) – 20lb 10oz
B – Alan Gage (Chard) – 26lb 6oz
C – Mark Hollister (Chard) – 20lb 4oz
D – Terry Green (Sillybait) – 20lb 5oz