I was quite looking forward to this one and hoped I'd get a few bites like the last Wednesday evening match. There were 11 other anglers gathered at the draw and it was nice to see Justin Charles fishing today. Pegs 1 and 22 by the bush were in and everyone fancied drawing these, I managed to avoid them per usual and pulled out peg 7 on the far bank. The two lucky anglers were Graham Field and Moses and it was odds on I'd be handing him a pound today.
It was scorching hot and the level of the pond was right up as the farmer was filling it up in readiness for pumping water to his crops. I set up the usual Drake crowquill whip rig and a Drennan Roach for fishing at about 8 metres just past a weedbed. I mixed up some Sensas Lake and was just about ready when the whistle went. Roger Russell was the next peg along on my left and Graham Bulgin was on my right. I cupped in three balls laced with hemp, casters and maggots at 8 metres before starting on the whip. I baited up with red maggot and flicked the rig out followed by a little nugget of groundbait.
Bites came quite quickly and my first fish was a nice rudd and another three followed with a couple too big to swing in, I bumped off a fish then had a couple of 4oz perch. It wasn't hectic though and after an hour I only had seven fish but they probably weighed around a pound or so. It seemed to be a struggle for most with only Alvin catching well on peg 17. The second hour was much the same and the fish just wouldn't settle. I tried laying off the groundbait and just loose feeding but this didn't seem to make any difference. Justin netted a decent eel and with my whip line dying I tried over the longer line. I expected to catch straight away but apart from two tiny perch and a small roach this line was a waste of time.
Back on the whip saw me add a couple but I was going nowhere fast, as always there were loads of roach topping so I set up a Drennan Squatt rig for fishing up in the water but this was a complete waste of time and I just had a small roach on it. Also a rather cold wind was getting up and making presentation difficult and I even had to put my fleece back on! Both my lines had dried up so I cupped in a load of caster on my 8 metre line with a view to sitting it out for eels and went for a wander to let it settle. Roger was getting the odd small fish and Steve Parker was struggling, Graham Bulgin was admitting to a couple of pounds and Justin said he'd had a 1lb perch and a decent eel, Moses was really struggling and had only caught a couple of perch and at this stage both our nuggets would be heading to Alvin.
With it looking like Justin was leading our section I went back and had a quick go on the whip and added two more rudd before it died again. Desperate to make bites I tried cupping in some slop to create a cloud but this didn't work either so it was time to try for eels. Two tiny perch and a small roach on maggot and nothing on caster saw me back on the whip with an hour to go. I started to catch a few fish and wondered if this was the 'golden hour' syndrome again? I also stopped feeding casters and was just flicking out a few maggots and the odd small nugget of groundbait and was actually catching quite steadily and got to 48 fish to finish with a flourish. I thought I had between two and a half and three pounds and needed Justin to frame to stand a chance of the section.
I quickly packed up and went to watch our section get weighed in, Graham Bulgin had the scales and had to weigh Graham Field in, even though he was in the other section on peg 22. Good job really as he had caught three chub plus some bits for 9lb 15oz and I didn't think anyone would touch that until Justin said he'd caught a bream! and when he pulled his net out, his perch was nearer 2lb than the 1lb he told us!, his total weight was 9lb 5oz, close but not close enough. Graham Bulgin had 2lb 4oz and I thought I might just have pipped that and was pleased when my catch registered 3lb 5oz and I thought I might sneak the section by default. Then Roger pulled his net out and I was sure he'd done me but the needle stopped on 2lb 12oz – phew! Steve had struggled for 10oz then the other section started. Neil continued his hate affair with the pond and didn't weigh in, Leightin Cox had 3lb 9oz and Alvin had a lot of fish for 5lb 5oz and third place. Rob Cox had struggled for 1lb (and yes Rob you were right, you are third in the evening league) and Martin Heard had 4lb 9oz to take the other section.
I picked up £15 for the section but had to hand over a £1 to Alvin, I had two section points which with dropping the result where I didn't fish, leaves me with 4 points and along with four others (Alvin, Roger, Leighton and Graham Field) we jointly lead the league. The trouble is, I miss the next match because it clashes with Perry St and that will be my league over. Still at least I've got the evening league to go at and the next match is on Wednesday so tune in to find out how that goes.
I must also congratulate Graham Field on finally getting his 50th club match win – well done mate.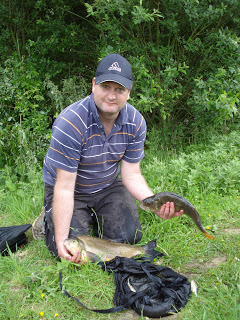 Justin with his second placed 9lb 5oz (including a 1lb! perch)
1 – Graham Field (Ilminster) – 9lb 15oz
2 – Justin Charles (Ilminster) – 9lb 5oz
3 – Alvin Jones (Enterprise Angling) – 5lb 5oz
Sections
A – Jamie Rich (Against Men and Fish) – 3lb 5oz
B – Martin Heard (Tiverton) – 4lb 9oz