Oh God, isn't it ever hot? Today was blisteringly hot and supposed to be the hottest day of the year. I was still in with a chance of a corner peg but alas today wasn't the day and I pulled out peg 16, which hasn't got a lot of form but at least I'd have the shade of the trees. I had Oz on my left and Mike Collins on my right and he's still moaning about letting him down in the pairs last match (sorry again mate). Steve Bishop was opposite and my side bets (Janders and Picky) had drawn rubbish as well (pegs 18 and 3 respectively).
I set up three rigs, a Carpa 2 for my six metre line, a Drennan Carp for my margins and a Trabucco Dibber for up in the water, all had 808's at the business end coupled with 0.14mm bottoms. On the whistle I cupped in some micros, corn and meat at six metres and on both inside lines before starting with the shallow rig with double maggot just by the lilies on my right hand inside line. I was soon getting bites but bumped a couple of small fish before catching a rudd to avoid the blank. Andy had turned up and wanted to get some snaps with his new camera (as soon as he lets me have them, I'll put them on here) and it wasn't long before he was taking some action shots of Bish and Janders who both had early carp.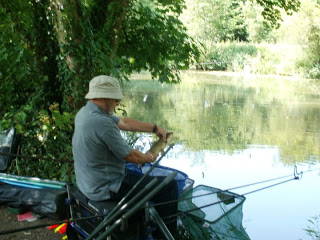 Janders got off the mark early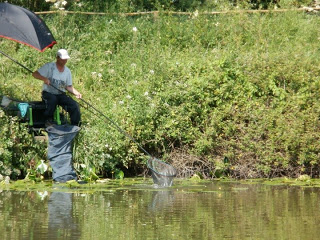 Bish started catching really well
Talking of Janders, he's bought yet another hat (see photo) but it looks just like all his others, I wish he'd get a bit more adventurous, Dave Abrams on the other hand had a cracking hat on – that's more like it! Mike C had a nice carp early on the feeder. There were loads of carp cruising and I couldn't wait to go out with the shallow rig so I slipped on a 6mm Sonu baits S-Pellet and started feeding 6mm hard pellets regularly.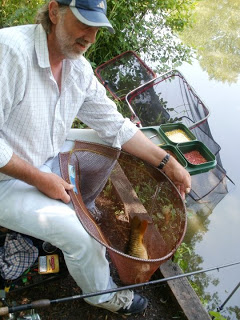 Mike Collins had a nice carp early on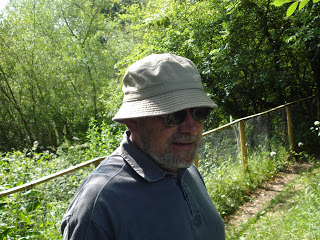 Janders new hat – spot the difference!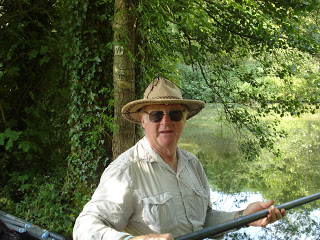 Dave with his extravagant hat!
I was getting a few indications (if you can call having the pole wrenched down an indication!) and I missed three like that! Then I hooked a decent fish that tore off across the pond and just as I thought I had it under control and took some sections off it buried itself in the lilies under my feet! It was pretty solid and not budging so I grabbed the elastic and started pulling and the fish was still on, I could see it wrapped round a lily and managed to slip the net under it – result! Andy found it highly amusing but at around 4lb I wasn't too bothered. Bish started fishing up in the water and started to catch and was looking good at this early stage.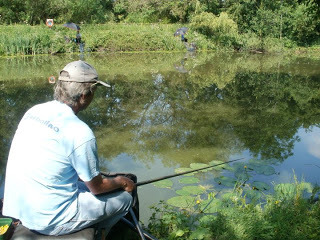 Come on fish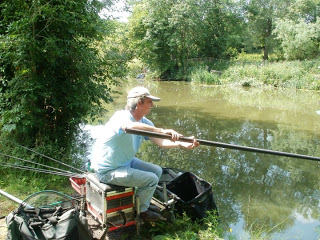 Fish on!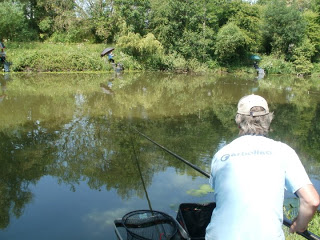 Slow down!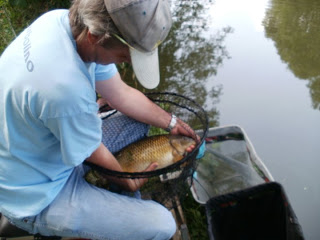 First carp in the bag (after some hairy moments!)
League leader Chris Haines had drawn peg 10 but was really struggling and Les (who was back with his new leg) had drawn peg 6 (where I was the last two matches) and said he only needed three fish to be my man of the match – cheeky git! Although at the moment he hadn't caught one, let alone three! Picky had a fish which meant the side bets all had one fish apiece. I still had loads of fish mooching about but I had no more indications. I noticed Bish was fishing a lot shallower than me at about six inches so I shallowed up and lost a foulhooked fish straight away. I then hooked one which I had under control when the hook just fell out – bugger.
I had two more decent carp and a roach and although I was behind Bish I was up around there at the halfway point. I really fancied I would get a few more but started to worry when Les and Dunner next to him had a couple of fish and after a bad start, Hainsey was getting few too. I was stuck on three and Bish was now on about five or six, my side was still fishing hard though and Janders and Picky hadn't added to their early fish and Oz only had one. The footy had kicked off and after half an hour we were already 2-0 down to the Germans – not good.
I stuck at fishing shallow and not getting any indications when I knew I should be trying my other lines, Bish did just that and added several more fish. Les had a late run to end with five fish (I think he really wanted the man of the match award!). My section of five pegs had been hard, Oz and Janders only had a single carp each and Dave (and his hat) had gone for an early bath, the other peg in my section was corner peg 20 and I heard he'd had four or five carp so that was that I thought.
I packed up and turned the radio off (we lost 4-1 and were awful) and as I walked past 20 I asked how he'd got on and he replied he'd had 3 carp, so this could be close. The scales started as always as peg 1 and Butch had struggled for 6lb 6oz, Blaker had 5lb 14oz off peg 2 and Picky's single carp went 2lb 12oz and he handed over a £1 (6-7 now) and Rocking didn't weigh, our end had fished really poorly. Then Bish plonked 29lb 2oz on the scales and the weights started to improve. Les had 14lb 14oz, and Dunner 15lb 8oz, Dino didn't weigh but Terry Green-Niblett had 16lb 9oz next door. Hainsey had found some fish in the end and had 20lb 8oz to go into second place.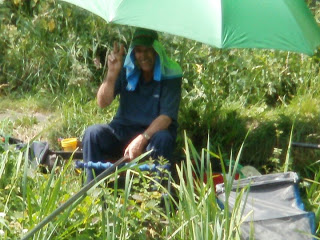 Rocking Roy (or was it Lawrence of Arabia!)
Darren Roberts on 11 didn't weigh and I don't think we'll see him again, the Hoff continued his good run with 17lb 7oz to go into third place, Dave L struggled for 4lb 9oz and Bushy then leap frogged the Hoff with 19lb 13oz. Mike Collins had 12lb 1oz and then my three went 11lb 14oz and I got some stick for admitting to 8lb! Oz had 3lb 4oz and Janders 2lb 11oz and I collected my second £1. The lad on 20 (one of Hainsey's mates who was standing in for somebody) had three carp for 8lb 13oz so I'd won the section and picked up £30!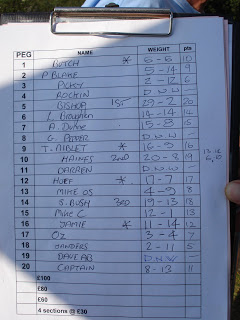 Why is it that whichever end I'm at the fish are at the other!!!
Bish won and gets my man of the match award, followed by Hainsey and then Bushy and the other sections were won by Butch, Niblett, and the Hoff. After eight matches Hainsey leads with 131 points followed by Hoff on 116 and Les and Dunner on 112.
1 – Steve Bishop (Chard) – 29lb 2oz
2 – Chris Haines (Haines Angling) – 20lb 8oz
3 – Steve Bush (Chard) – 19lb 13oz
Sections
A – Butch Baker (Chard) – 6lb 6oz
B – Terry Green (Sillybait) – 16lb 9oz
C – Mark Hollister (Chard) – 17lb 7oz
D – Jamie Rich (Against Men and Fish) – 11lb 14oz
Next for me is the Dillington evening league so hopefully should get a few bites. Also I can't go without mentioning the junior match that was fished the day before (results below), there were some decent catches.
Chard AC juniors had a match on the pond the day before and weights were good. Conor Moon did well to land several carp for 13lb 8oz and first place. Brad Chard was second with 5lb 5oz and Ethan Collins took third place with 3lb 12oz. The club would like to thank Clark and Cridge and Roy Fowler for their kind sponsorship.
1 – Conor Moon – 13lb 8oz
2 – Brad Chard – 5lb 5oz
3 – Ethan Collins – 3lb 12oz
4 – Scott Overd – 3lb 6oz
5 – Sean Attio – 1lb 1oz