With nothing local on, I put my name down for an open at Summerhayes near Bridgwater. An 11 'o' clock draw was very civilised and I was one of the first there, Pete has a nice set up and after paying pools and having a free coffee, I had a bacon sarnie to set me up for the day. More anglers started arriving including Roger and Scott Russell, Alvin Jones and Martin Heard. I had a walk round the pond with Roger and there were lots of small fish moving and the reeds were knocking in the pegs that had them.
The draw was announced and I pulled out peg 39, which is by the inlet and Martin won a match a few weeks back with 48lb odd off it. Scotty sorted me out with some micro pellets and some expanders for the hook, cheers mate. Scott has been doing really well fishing for silvers down the track and that's what I planned to do today although I obviously couldn't afford to ignore the inlet. I set up a little dibber for fishing tight to the island and a Drennan Carp for fishing down the track and towards the inlet. So not to confuse myself I decided to just feed two lines to start with, against the island and the inlet. I also decided not to fish too tight to the walkway over the inlet as the posts would be an obvious target for any carp I hooked.
On the whistle I cupped in half a pot of micros at about 8 metres towards the inlet and around the same plus some corn tight to the island. I started with a 4mm expander on the hook and had to wait a while for my first bite but I wasn't too worried as Martin on my right and Scotty a few pegs away on my left seemed to be in the same boat. My first fish was a 4oz skimmer so I tried an 8mm expander and this resulted in a 2lb skimmer, that's more like it! But then it died and I had to wait ages for a bite and then it was a foulhooked carp and I came back with a scale on the hook. I was potting in micros every put in but was surprised at the lack of indications. Then I had a small carp and shortly after another but it wasn't a bite a chuck.
After an hour I had six fish for about 3lb or so and shouted down to ask Martin what he had, he said he'd had ten fish and Scotty had nine so I wasn't too far off the pace. Hour two was pretty much the same with small carp, the odd skimmer and a lovely little golden tench. Then it just died and Martin said it had for him as well, Scott was still catching well though. I cupped in some more feed by the island with an eye to trying it shortly. I did lose another foulhooked fish so I cupped in some more micros by the inlet before going across with a banded 6mm hard pellet on the hook. I was getting indications but the first positive bite saw me swing in a 2oz chublet and I decided to leave it alone for a bit.
A couple more fish by the inlet was a bit of a false dawn and I went back to struggling, a few people were walking which I took to mean it was fishing hard all over so got my head down. With Scotty catching I made the decision to put two more lines in, one closer to the walkway and another down the track. I was still getting the odd small carp and also slipped the net under a nice little 1lb tench from my main line, before trying the track for the first time. To be honest it was a struggle here too and although I was getting the odd bite I was missing most of them. I did manage a couple of nice roach here and lost a carp, so I started swapping between these two lines, pinching a fish from one before feeding and fishing the other.
I was a long way behind Scott but was gradually pulling away from Martin (and we had a £1 on it), Roger walked up to see Scott and then me, in that period I had two carp, a little tench and a skimmer and was starting to get a few bites from both my lines. Strangely I never had a bite from the line closer to the walkway but I hadn't been feeding it regularly. The last hour of the six saw me concentrating on my initial main line as my bites stopped down the track and I had another four or five carp and a skimmer, landing a carp on the whistle to give me 44 fish, which I thought would give me around 20lb.
Martin reckoned I'd frame (yeah right!), I was first to weigh and had just over 8lb of silvers and 18lb of carp to give me a 26lb 5oz total, Martin had 17lb odd so I was a £1 up, then as we got down the bank with all the reed bed cover the weights shot up and there were several 40lb+ weights including Alvin so I handed over my £1 to him! On the bottom bank there was a near 70lb weight of mainly carp and this remained the top weight. Scotty had over 30lb of silvers and a few carp for 44lb odd and just missed out on the main frame but he won the silvers pool and has really got the skimmers sorted. Alvin was second with over 45lb to keep up his good form of late.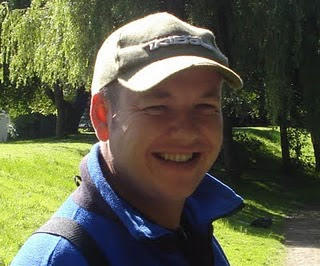 Skimmer King Scotty
So on my virgin visit I hadn't disgraced myself beating the anglers either side and probably finishing about midway in the match. I'd like to give it another go on a peg where I can concentrate down the track for the silvers. I must say it's a nice set up and there was free coffee and biscuits after the match as well and I'm looking forward to getting back for another bash soon.
Next week it's back on Perry St and my league chances have gone and I've been knocked out of both the individual and pairs competitions so I haven't got much to look forward to. I'm still due a corner peg although I'll probably get 1 or 20!