First of all, sorry for the lateness of this weeks blog but I've just moved house and I never had any internet access and I've been climbing the walls!
The penultimate round arrived and although I was out of the running in the league, I was still in line for a corner peg (as were 7 others). I stuck my hand in the bucket and only went and pulled out peg 6 again! (the third time in four matches) and although a decent peg, I just can't seem to get my head around it. It did look nice though and there were loads of fish moving. The weather was a bit more overcast and I reckoned the pond might fish quite well. I had last week's winner Steve Bishop on my right and he was on the same peg he won from last time, would he do well again? Mike Collins was on my left although I couldn't see him, I could see Picky and Janders so would have an idea how the side bets were looking.
My peg had changed quite a bit from the first time I drew it, alongside the margin lilies there were also some at around 8.5 metres by the submerged tree and there were loads of blows coming up near them. There were also loads of carp showing themselves in and around the tree but I didn't want to have to go too tight for them as I knew I'd lose loads of gear. I set up a dibber for fishing shallow, a Carpa 2 for the 8.5 metre line and a Drennan Carp rig for fishing the margins.
On the whistle I cupped in some damp micro pellets and corn on the longer line as well as in the margins to my left. I started with my shallow rig with double red maggot on the hook by the lilies to my right to try and catch a few small fish to avoid the blank. I missed a couple of bites but couldn't find a rudd so I stuck a couple of sections on and fished just off the lilies at 8.5 metres. Oz opposite on peg 14 got off to a flying start and had already landed a couple of carp. My float buried but instead of a rudd flying out of the water, my elastic streamed out and a carp had taken a liking for the two grubs. After a few minutes I netted a 3lb carp and the blank was avoided.
Les had been giving me stick over not doing too well off the peg on my previous two visits and said if I could beat the five fish he had off it last match, he'd make me man of the match! With the pressure off a bit, I shipped out again, the float dipped and I had a 4oz roach, it was time to try my longer line with the depth rig. I buried the size 16 Tubertini 808 in a grain of corn, put some micros and a couple of grains of corn in the attached toss pot and shipped out. The float settled before sliding away, I struck into thin air! This happened next put in as well and with all the fizzing going on, there were obviously a few fish there!
I didn't miss the next bite and the plodding fight indicated a bream and I was soon sliding the net under my first 'slab' of the series. This was all going rather well and judging by the comments around the pond, it was fishing hard. Dino and Hainsey on pegs 15 and 16 hadn't caught carp yet and more importantly nor had Janders so that pound was safe for now. Along with toss potting in some feed every chuck, I was firing a few hard pellets off the end of the tree for the shallow rig later. I lost a foulhooked bream before catching a small 8oz carp and then lost a better one that snapped me. My next two fish were foulhooked bream and I added another carp, so after only two hours I was on six fish (man of the match then Les?) and although I was a couple of fish behind Oz I was up with the leaders at this early stage.
Bish had got off the mark, as had Mike C next to me and Hainsey although Dino was still blanking. A few more fish were being landed and Les, Picky and Terry Green on peg 11 all had carp. I was still getting bites but I couldn't hit them and after catching two decent roach in quick succession, I wondered if they were the reason for all the missed bites. I gave it a little longer but the carp off the end of the tree were calling so just after the half way point in the match, I went out with the shallow rig and a banded 6mm pellet.
I was constantly flicking a few pellets over the top and lifting and dropping the rig and after five minutes the float disappeared and elastic streamed out but before I knew it the fish had reached the sanctuary of the tree and snapped me. I safely managed to land the next two carp but every time I got close to Oz, he would pull away again. I was careful to feed the 8.5 metres line every hour or so but the bubbling had stopped so I stuck at it on the shallow rig. Dino was still carpless and hacked right off, his cause wasn't helped when Oz lost a carp and somehow ended up attached to Dinos rig! Seeing them two pulling against each other was hilarious and I wish I'd got some snaps.
I was still getting the odd fish off the tree and I'd lost a couple as well, the fish could be seen right under the tree but you can't get to them and only odd fish would venture out. I did lose a rig to a fish and wasted time getting set up again. Hainsey now had three carp including a bonus ten pounder on his maggot rig, Dino only had a small fish to show for his efforts. Terry Green had landed quite a few but lost even more, I'd seen Picky land a couple but Janders was still stuck on a couple of roach. I did try by the lilies again but the fish had gone and they weren't fizzing anymore. I didn't try my margin line at all and perhaps I should have done instead of fishing off the end of the tree for the last hour without adding anymore fish. The final score stood at 10-6 to me.
I ended with seven carp, three bream and three roach and reckoned on having about 18lb or so as several of my carp had been on the smallish side. I packed up and as we all gathered around peg 1, it became apparent how hard that end of the pond had fished again, Dave Lawrence had a 1lb of small fish and the lovely Chanter (welcome back mate) had 15oz off peg 2. Dave Abrams had an early bath again, Mike T had done ok with 12lb 12oz and Bish continued his charge for a league placing with a level 17lb. My fish actually went 24lb 15oz but I knew I needed a couple more fish to challenge Oz. Mike T had 4lb 4oz and Blaker had six fish for 21lb 11oz on peg 8 and when Butch weighed 8lb 4oz and Rocking Roy didn't weigh off peg 10, I knew I'd won the section.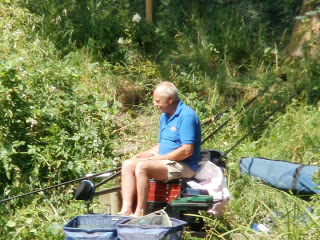 Blaker won his section with 21lb 11oz
Terry Green-Niblett had ten fish for 38lb 14oz and looked shell shocked as he'd lost around the same number! Les had 15lb 9oz and Picky had a level 10lb (the score is now 7-7 between us with the decider in two weeks time). Oz had 31lb 10oz which meant I was still hanging onto a frame place. Dino didn't weigh and Chris had three carp for 16lb 7oz, Janders had 4oz and handed over a pound, the Hoff had 1lb 4oz to put a dent in his league chances, Dunner had 9lb 4oz and Bushy had 15lb 14oz from peg 20. So I was third and picked up £60 and although I have no chance of a league placing, I do have a corner to come next match with a 50-50 chance of drawing a decent one (10 or 11). Section wins went to Bish, Blaker, Les and Hainsey.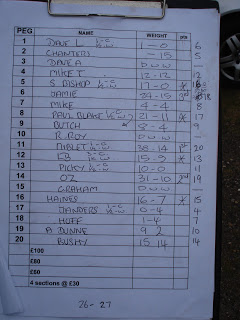 Woo-hoo, finally got a result off peg 6
In the league Hainsey is now uncatchable with 146 points although the race for 2nd and 3rd is interesting with Les on 125, Hoff on 123 and Dunner on 122. It was also the final of the pairs knockout and Les and Bushy beat Picky and Hainsey by a single point. That only leaves me to award my man of the match award and although I'm tempted to give it to myself, I feel it has to go to Hainsey again for yet another good performance off a mediocre peg.
1 – Terry Green (Sillybait) – 38lb 14oz
2 – Steve Osborne (Chard) – 31lb 10oz
3 – Jamie Rich (Against Men and Fish) – 24lb 15oz
Sections
A – Steve Bishop (Chard) – 17lb
B – Paul Blake (Chard) – 21lb 11oz
C – Les Braunton (Chard) – 15lb 9oz
D – Chris Haines (Haines Angling) – 16lb 7oz
Next Sunday I'm either at Dillington or a private pond which could be very interesting, I'll let you know.