For round five we were fishing a private pond and I couldn't wait as there were supposed to be big roach, rudd, skimmers and tench and big weights were expected. The pond is primarily a carp venue and we decided to make it a silvers only match. There were thirteen of us at the draw and I pulled out peg 1 which meant nothing to me. We reached the pond and it looked nice with loads of carp moving and odd small fish topping. My peg was on the far side and an end peg, I had Martin Heard and Ashley Tomkins to my left and I could see Roger Russell and Moses opposite.
I mixed some groundbait and set up a couple of rigs, on plumbing up I couldn't find anywhere deeper than three foot and nor could anyone else from the comments round the pond. The lack of depth made me think this might not be the bagging session I'd hoped for. My plan was to fish a line at 11.5 metres over groundbait, while loose feeding casters at 5 metres. I set up a Drennan Carp for the long line and a Drennan Choppa for the caster line, both rigs had 0.12mm bottoms and size 18 B611's. I was concerned that it looked like Martin and Ashley were going for the whip/small fish approach.
On the whistle I cupped in two balls at 11.5 metres laced with maggots and casters before flicking out the shallow rig on just my top two to see if there was much about. I missed a couple of bites on caster before catching a 2oz roach (not the specimen I'd hoped for!). I was getting the odd roach but they wouldn't settle so I had to add a couple of sections on but I was still missing/bumping quite a few before experiencing lengthy blank spells. Already Martin and Ash were miles ahead as were Graham Field, Alvin and Moses who had also gone for small fish. I did catch a 12oz eel but looking across the pond, apart from the anglers fishing the whip, no one else was doing much.
I went out and tried my long line with corn on the hook and started getting bites but only from 4oz roach and a single rudd/bream hybrid. The bites soon died off so I fed two more balls of groundbait before coming back on the 5 metre line but this was still hard going as well. Neil Dring netted a decent perch but looked to be struggling as well. I decided to go for a walk, Martin and Ash were still catching loads of small fish and would be hard to beat unless some quality fish showed. Scott was struggling as was Robin, I walked down to see the other anglers and Steve Parker, Leighton Cox and Justin Charles were really struggling and had hardly any depth, in fact Justin only had around 6 inches (you wish!). As I was walking back Roger netted a 4lb tench, so there were some decent fish to be had.
I went back and kept trying both lines but it was a real struggle, although I did lose a decent eel that snagged me. I was on around 35 fish and Martin and Ash were already up around 160 plus! I just went through the motions until the end of the match and had got this one badly wrong. I ended with exactly 50 fish and knew I wouldn't be picking up any brown envelopes today. Worse still it looked like our £1 winner takes all bet would be going to Heardy.
I was first to weigh and put 6lb 2oz on the scales which was more than I expected, Heardy had 16lb 7oz and said Ash would beat him as he had more fish but he actually weighed 15lb 15oz, close but no cigar! Scott had 10lb 13oz which was pretty good for someone who was struggling!, Fieldy had 13lb 2oz and Rob had 3lb 10oz but had struggled with a big snag in his swim. Alvin was the first peg in the other section and had 9lb 6oz, Moses had 8lb 12oz and then Roger had 9lb 9oz which turned out to be the top weight in that section as the rest struggled, Neil had 5lb 6oz, Steve Parker 2lb 2oz, Leighton 3lb 2oz and Justin 4lb 6oz (although he did have a 12lb carp which didn't count).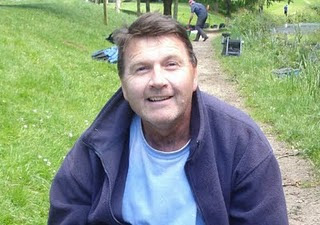 So a different venue but the same result, a Heardy victory!
A disappointing day and not the big weights I'd hoped for, next up is an evening fixture on Wednesday, so lets see if I can get it right then!
1 – Martin Heard (Tiverton) – 16lb 7oz
2 – Ashley Tomkins (Yeovil and District Angling Centre) – 15lb 15oz
3 – Graham Field (Ilminster) – 13lb 2oz
Sections
A – Scott Russell (YDAC) – 10lb 13oz
B – Roger Russell (Ilminster) – 9lb 9oz